President Obama Goes Underwater to Escape Trump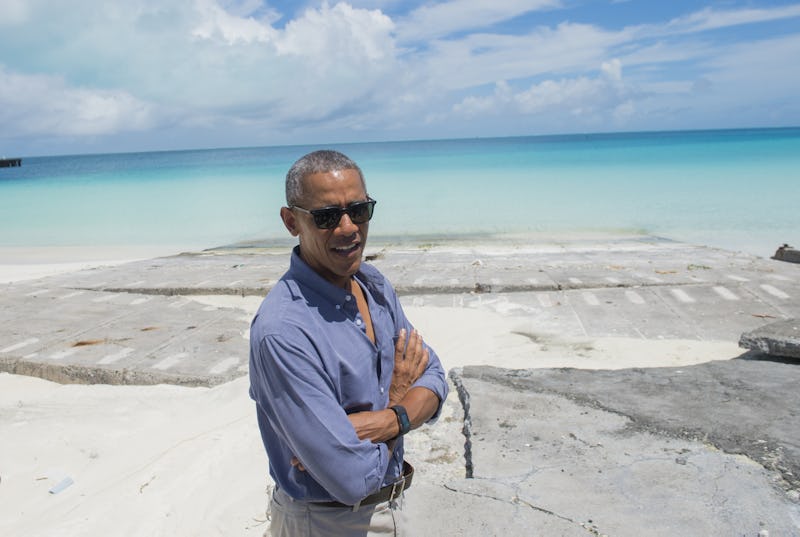 SAUL LOEB/AFP/Getty Images
Just because we're used to seeing Barack Obama buttoned up in suits and ties doesn't mean the Commander-in-Chief can't kick back and enjoy some leisure time. But being the leader of the free world does mean there's always a camera nearby — even in the middle of the Pacific Ocean. That was the setting for a stunning photo captured by National Geographic photographer Brian Skerry, who went snorkeling with the President off the coast of Midway Atoll, a small Pacific island located about halfway between California and China. (History buffs will recall that Midway was the site of a decisive naval battle in World War II, where the U.S. Navy bested Japanese forces just six months after the attack on Pearl Harbor in 1941.)
The President was technically on official business, surveying the clear blue waters he'd just helped protect by extending the Papahānaumokuākea Marine National Monument, which National Geographic explains includes "several islands off the Hawaii, including Midway." But Skerry says the president seemed grateful for the freedom of movement he had in the water — a far cry from Obama's Washington schedule, which is planned to the minute. Skerry added that Obama was a strong, athletic swimmer who seemed to relish both the exercise and the natural beauty of the place. Though he'd already gotten a few shots he was happy with, Skerry positioned himself in front of the president to get this incredible image:
The photo might be the first of a sitting president taken underwater, and reflects a uniquely intimate moment with Obama that echoes his childhood spent in Hawaii, where the president presumably first learned how to snorkel and hold a deep respect for the ocean.
(The candid shot also lets Americans see more of our president than we're used to seeing — including those impressively toned pecs. Thanks, Obama!)
In addition to the natural beauty on display in the shot, the photograph's publication underscores one of many contrasts between the priorities of the outgoing president and his successor. National Geographic reports that Obama, more than any other president, has used his executive authority to designate national monuments that include many "landscapes and seascapes of ecological significance." The Obama administration has been proactive in its efforts to combat climate change and reduce carbon emissions globally.
But Trump has promised to undo many of the environmental regulations implemented under Obama, arguing that they are bad for business. The President-elect himself has given typically noncommittal answers on whether he believes the overwhelming scientific evidence that climate change actually exists, and he's nominated a top climate change skeptic to run the Environmental Protection Agency.
So before getting lost in a daydream about snorkeling with the leader of the free world, remember that the majesty on display in Skerry's photo is in real danger of disappearing if Trump's anti-environmental policies are allowed to take root. It's hard to imagine an equally powerful photo emerging from the lagoon at Mar-a-Lago, Trump's estate in Southern Florida. Sure, alligators are cool, but they can't compare with the delicate beauty of a shallow-water coral reef captured so perfectly in Skerry's photograph.