What Trump Scribbled On His Notes About His Russia Comments Is Making Twitter Lose It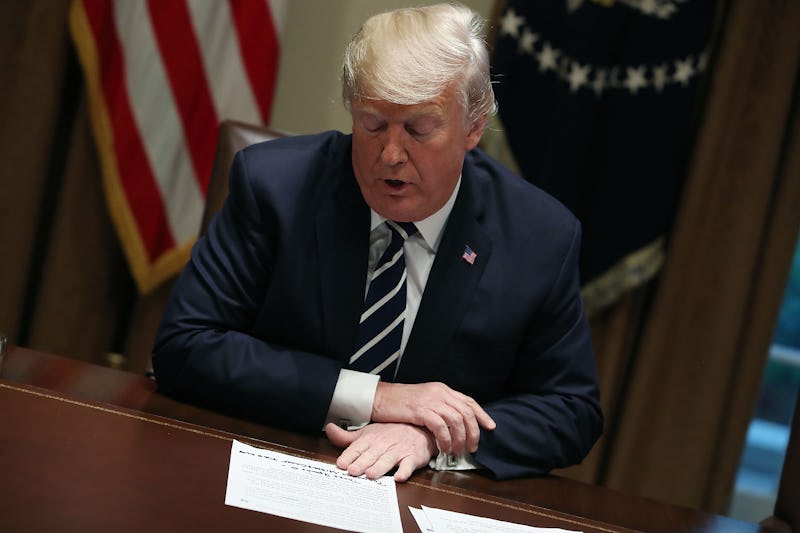 Mark Wilson/Getty Images News/Getty Images
If you've ever spoken in public, you're probably aware of how helpful notes can be as a prompt. It seems as if Donald Trump, too, used the same strategy on Tuesday as he clarified his Russian meddling remarks. Trump's notes, which were captured on camera, included a reminder in bold letters, scribbled with a Sharpie: "THERE WAS NO COLLUSION."
CNN's David Gelles shared an image of the president's note on Twitter, shortly after Trump attempted to clear up his remarks from his press conference with Russian President Vladimir Putin in Helsinki the day before. "In a key sentence in my remarks," the president said at the White House on Tuesday, "I said the word would instead of wouldn't. The sentence should have been, 'I don't see any reason why it wouldn't be Russia.' Sort of a double negative. So you can put that in, and I think that probably clarifies things."
However, Trump also maintained that there had been no Russian influence on the 2016 American presidential election. His Tuesday comments didn't seem radically different from what he said on Monday. "My people came to me — Dan Coats came to me and some others — they said they think it's Russia," Trump had said. "I have President Putin; he just said it's not Russia. I will say this: I don't see any reason why it would be." He then talked about the theory of a missing Democratic National Committee server that has been debunked.
Trump added: "But I have — I have confidence in both parties. I really believe that this will probably go on for a while, but I don't think it can go on without finding out what happened to the server."
As people saw the note on social media, some pointed out that the word "collusion" had been misspelled to "colusion."
Others had their own theories about why Trump used a thick Sharpie.
Of course, the memes began as well and who could keep The Simpsons out of it?
There were also other little bits about the note that some couldn't help but notice.
Time and again, people kept returning to notice that the word "collusion" had been written incorrectly.
In addition to Trump's note, the president's attempt to clarify matters that took place on Monday seems to have backfired. In spite of telling the press that he had slipped up and used "would" instead of "wouldn't," many observers have recalled Trump's comments from Helsinki. Standing only a few feet away from Putin, Trump said, "There was no collusion at all. Everybody knows it. And people are being brought out to the fore. So far that I know, virtually none of it related to the campaign. And they're going to have to try really hard to find somebody that did relate to the campaign."
For reference, Trump also said, "But just to say it one time again — and I say it all the time — there was no collusion. I didn't know the president. There was nobody to collude with. There was no collusion with the campaign."
Both liberals and conservatives called Trump out for his performance in Helsinki, including the likes of Neil Cavuto of Fox Business. Lawmakers on Capitol Hill like House Speaker Paul Ryan and Senate Majority Leader Mitch McConnell have spoken out as well. But before the avalanche of criticism fell on him, and perhaps in an attempt to allay the concern and apprehension of his critics, Trump told his press audience on Monday, "We ran a brilliant campaign, and that's why I'm president."