This Photo Of Women At SOTU Wearing All Black Just Became Instantly Iconic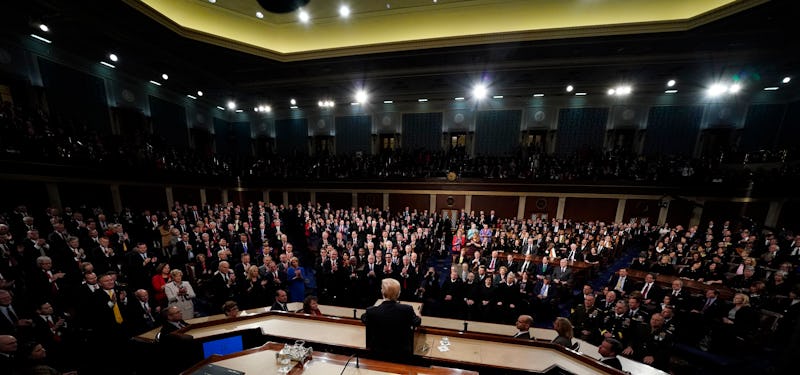 Pool/Getty Images News/Getty Images
Trump's first State of the Union address wasn't just about his remarks or his vision for the future of the United States. This year, it seemed like the event was as much about the messages sent by congresspeople and their guests. One particular photo of Democratic women wearing all black at SOTU, for example, shows how powerful symbols can be. In fact, the photo might as well become an instant icon.
In this case, women decided to wear all black at SOTU to raise awareness about sexual misconduct and show solidarity with survivors. Seeing as the president himself has been accused of sexual misconduct by 19 women (he firmly denies the allegations), this decision was incredibly significant.
Florida Rep. Lois Frankel explained to Vox that the women wanted to send "a message of solidarity with those who are seeking economic security and a cultural shift that enables men and women to work side by side, in safety and dignity, free of sexual harassment, and be paid fairly for the value of their work."
Similarly, California Rep. and Minority Leader Nancy Pelosi explained the decision to The Cut, also emphasizing the women's determination in the fight against sexual assault and harassment.
We are supporting the brave women in every industry and every corner of the country who are making their voices heard. We are at a watershed moment in the nationwide fight against sexual harassment and discrimination, and we must continue to keep up the drumbeat of action for real change.
Along the same lines, Michigan Rep. Debbie Dingell told Glamour that "Black has become the color of solidarity for women in the country right now to show this movement is real. Every person needs to feel safe at work, and we've got to look forward to how we do that and how we really change the climate."
The Democratic Women's Caucus isn't the first group to wear black in support of women who have said "me too." Dozens of actresses wore all black to the 2018 Golden Globes earlier in January to show support for survivors. And just days prior to Trump's State of the Union, performers wore white roses to the Grammys for the same reason.
Of course, Trump didn't mention the Me Too movement whatsoever during his State of the Union. And why would he? Despite being accused by over a dozen women of sexual misconduct, he was elected to office and has continued to hold office. He's not going to come around now. And that's why it's so important that his guests show him — and even more importantly, the nation — that they haven't forgotten or given up.
In addition to wearing all black, many members of the Democratic women's caucus also wore red pins saying "Recy." The pins honor Recy Taylor, a black woman who was raped by six white men in Alabama in 1944. She became a fierce advocate for sexual assault victims and Oprah Winfrey recently honored her as a "brave woman and a fighter" while accepting the Cecil B. DeMille award at the Golden Globes.
Perhaps there's always been this much activism and visible opposition. But for millennials, in particular, it feels like people are standing up to the injustices in society like never before. Maybe that photo of Democratic women dressed in all black will make you nostalgic one day down the line. Maybe it'll remind you of when you were so strongly compelled to make a statement, just like those congresswomen. The Trump administration isn't popular, but it's certainly lit a fire within people. And when people, like those Democratic women, combine their fires, they make a statement for the ages. It's inspiring, to say the least.