This Plus-Size Model Recreated Rihanna's Met Gala Gown — With Ham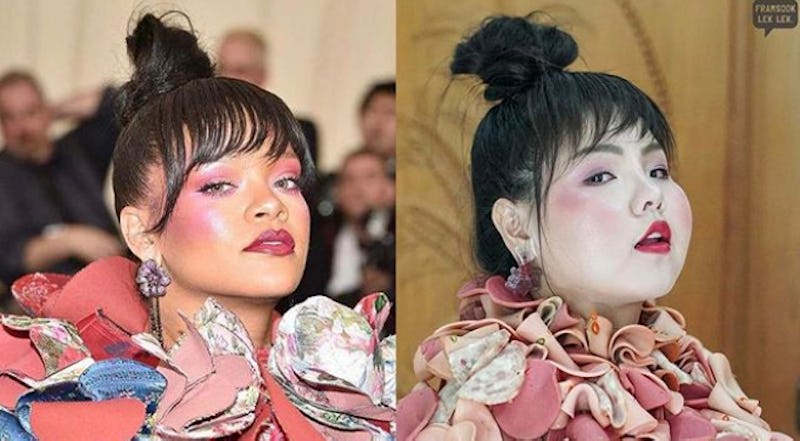 framsook_lek_lek/Instagram
Ahh, the internet, AKA the home to some of the best creations put on display by incredibly talented people. The latest Instagram sensation to drop jaws is the cosplaying Benjaphorn "Sine" Chetsadakan, a plus-size model that recreates red carpet looks out of food.
Thanks to social media, you've likely seen it all. You've got your beauty gurus that can transform natural hair into 3D sculptures, makeup artists that use real bugs in beauty looks, and so much more creativity and skill bursting from everyday users on the 'gram. But there's nothing quite like the fashion Sine is designing using items from your dinner plate. They'll make your mouth water and have you scrolling through her Instagram feed in utter shock.
She's a 22-year-old Ratchaburi, Thailand native that recreates celebrity looks and iconic character costumes using edibles in a way that makes her a quasi food connoisseur/fashion designer. Thanks to her knack for transforming a meal into a couture gown, she has amassed over 64K followers on Instagram. From Rihanna to Disney's Princess Ariel to the double-tailed Starbucks mermaid, every single food creation the cosplayer has done will make you see your favorite snack in an entirely new light.
It was only two years ago that Sine first went viral after reimagining a dress Thai actress Chompoo Araya wore to the Cannes Film Festival, Buzzfeed discovered. The model used prawn crackers to impressively mimic the peachy hue, beautiful layers and infinite ruffles of Araya's gown. It's the creation that Sine says is her favorite, given that it's the design that first got fans hip to her work. And since then, her food couture has only gotten deliciously better.
There's this floor-sweeping lettuce gown Since created after a mint green and silver dress worn by Chinese actress Fan Bingbing to Cannes. The actress even regrammed Sine's split image of the similar dresses with the caption "So cute", giving her nod of approval to the food fashion.
Using red peppers in place of a bold wig, she once cosplayed the one and only little mermaid. So, Sine's work extends beyond celebrity transformations.
She has even played dress up as the Starbucks siren, imitating the creature's crown and cascading beach waves so perfectly with veggies.
Perhaps, most jaw-dropping of all was her recreation of Rihanna's 2017 Meg Gala look, a sculptural masterpiece that was one of the singer's most daring outfits. With such intricate folding and layering, Sine transformed herself into Rih Rih using — wait for it— ham.
If it wasn't obvious before, the model is clearly a food whisperer, doing the impossible every time she gets her hands on edibles.
Sine says it was her "love of fashion and love to eat" that inspired her to bring food and cosplay together so skillfully. Designs can take the model anywhere from four to 12 hours to complete, proving her dedication to her craft is so real. She receives her inspo from any and everywhere, whether it be an iconic cartoon character, celebrity fashion, movies, a magazine cover, or a logo.
No food is off limits either, when it comes to her designs. Tons of instant coffee packets, bags of chips, vegetables, noodles, fruit and so much more have all made their made into Sine's wardrobe. But don't worry about the boatload of perishables going to waste. The model says, "I eat it", once photos of her designs and the posting to IG is all said and done.
Sine's talent can only be described as mind-blowing and empowering. It's not only inspiring to see a plus-sized beauty displaying such confidence in her own skin, but also refreshing to watch her push boundaries in such a yummy and creative way.