Comma Press Responds To Trump's EO In Amazing Way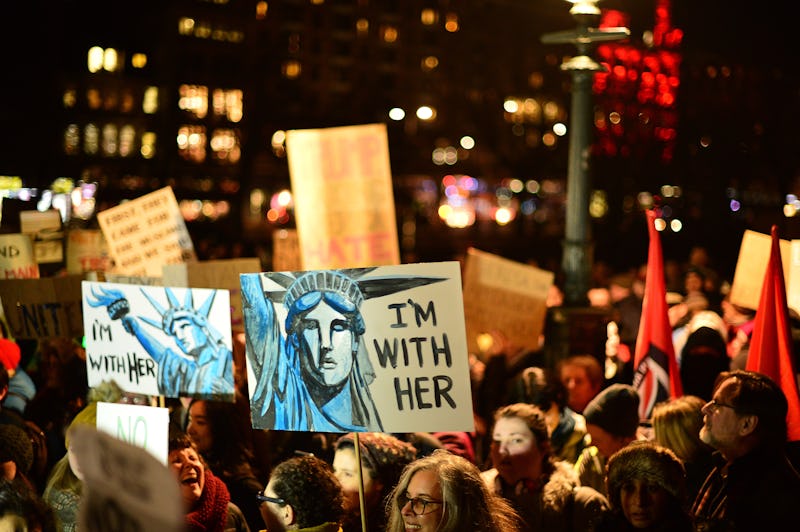 Mark Runnacles/Getty Images News/Getty Images
The books world has responded to Donald Trump's executive order on immigration with a one-finger salute. Some authors from across the pond have refused to return to the U.S. until refugees are allowed to enter the country, and Comma Press will only publish books by authors from countries affected by the immigration order in 2018.
The not-for-profit publisher has worked previously with authors from the seven countries affected by Trump's executive order. The Guardian reports that "all 20 contributors to two prose collections" published by Comma Press hailed from Iran, Iraq, Libya, Somalia, Sudan, Syria, and Yemen.
Comma Press CEO and Publisher Ra Page isn't mincing words about his business decision or his opinions of the new U.S. policy:
If the only narrative America wants to export right now is the narrative of hate, then we need to look elsewhere. We need to consciously turn our backs on the circus that America is descending into ... We need to fight this. And make no mistake it will be a fight.
One Comma Press author, Hassan Blasim, will be unable to attend U.S. literary events this year, "despite huge success [stateside] with his 2014 novel The Iraqi Christ." Page notes that Blasim fought his way through the savagery of Saddam Hussein's regime to come to Europe, but "[n]ow he finds himself starting all over again; with a new monstrous demagogue, and a new set of inhumane border policies."
Some authors fear they will be deported to their home countries, where they may face serious backlash as a result of writing critically about the people and institutions in power. Others, who were born in one of the countries listed in the immigration order, but have since become citizens of U.S.-allied nations, still do not know whether they will be able to travel to the U.S. while Trump's order is in effect. Somali-British author Nadifa Mohamed cites the now-infamous case of the Somali mother and her children who were detained at Dulles Airport in Washington, D.C. for 20 hours without food or water, saying: "Instances like that make me very worried, as does the fate of refugees from Dadaab[, Kenya] who have been waiting years for resettlement to the US and have planned their whole futures around it."
Here's how you can help the refugees and immigrants affected by Trump's executive order.