This Recording Of Immigrant Children Crying In A Detention Center Is Heart-Wrenching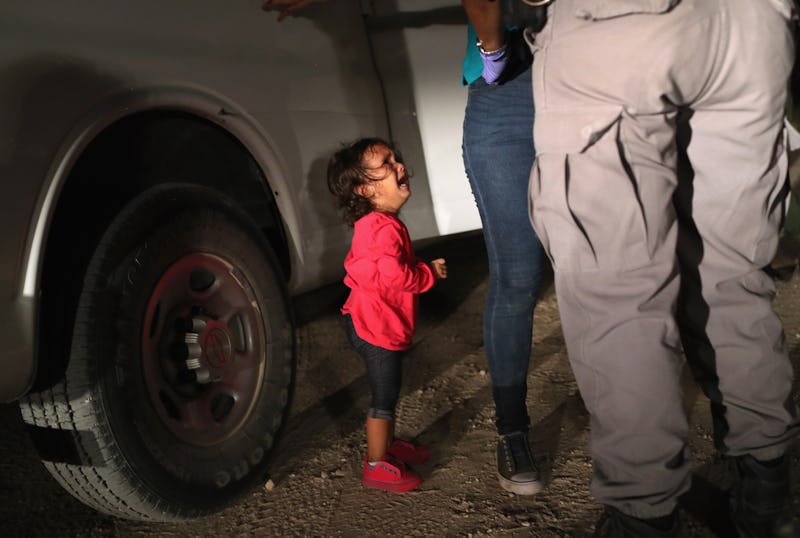 John Moore/Getty Images News/Getty Images
It's an excruciating piece of audio that reveals the toll Donald Trump's immigration policy is having on children's emotions. In ProPublica's secret recording, immigrant children cry for their parents, including a six-year-old Salvadoran girl. The child reportedly said, "My mommy says that I'll go with my aunt and that she'll come to pick me up there as quickly as possible."
At the beginning of the recording, another child can be heard whimpering, "I don't want them to stop my father. I don't want them to deport him." ProPublica reported that the audio was taken at a United States Customs and Border Protection facility in the wake of the Trump administration's aggressive zero tolerance policy, which has led to children and parents being separated. ProPublica reported that the children heard in the recording were between ages 4 and 10.
At one point in the heartbreaking recording, ProPublica identified a Border Patrol agent saying, "Well, we have an orchestra here." As the children's wails echo in the background, the agent says in Spanish, "What's missing is a conductor."
Recently, a group of journalists was allowed to see the inside of one detention center in Brownsville, Texas, where over 1,500 boys are reportedly detained. In a statement to The Wall Street Journal, Department of Health and Human Services (HHS) spokesperson Kenneth Wolfe said, "HHS is legally required to provide care and shelter for all unaccompanied alien children referred by [Department of Homeland Security], and works in close coordination with DHS on the security and safety of the children and community."
The young child who stood out in the ProPublica recording reportedly uttered her aunt's number and was begging to call her. According to ProPublica, the publication called the woman who confirmed to them that her niece and her mother had fled Salvadoran gang violence like she and her own daughter did two years ago.
"They're on the buses. They're in the banks. They're in schools. They're in the police. There's nowhere for normal people to feel safe," she told the publication.
Gaining access to hear and view audio and visual material from the detention centers has been, so far, difficult. But in recent cases, some journalists were given permission to see inside a Walmart-turned-detention center in Southern Texas. The descriptions were, just like the ProPublica recording, harrowing.
In the detention center, over 1,500 immigrant boys remain where they are being given two hours outside for physical activity.
In spite of difficulty around access, people within Trump's immigration system are slowly coming out, blowing the whistle on his policies. In the case of ProPublica's recording, it was a figure within the United States Customs and Border Protection center who shared the audio. Ginger Thompson wrote, "It was recorded last week inside a U.S. Customs and Border Protection detention facility. The person who made the recording asked not to be identified for fear of retaliation."
"That person gave the audio to Jennifer Harbury, a well-known civil rights attorney who has lived and worked for four decades in the Rio Grande Valley along the Texas border with Mexico," Thompson added.
In another instance, an insider for the facility that runs the Walmart-turned-detention center in Texas — Southwest Key Programs — quit the organization and said the company was unequipped to handle the influx of unattended and emotionally distraught minors. The company disputed the ex-employee's claim through spokesperson Cindy Casares who said, "Our staff have great expertise in dealing with this population. We have very high professional development standards."
As public concern over Trump's immigration policy grows, it seems like the issue is bringing Democrats and Republicans together as well. At least six top-ranking Republicans have slammed Trump for allowing the zero-tolerance policy to remain in place.