This Republican's Comments To A Woman Are Unacceptable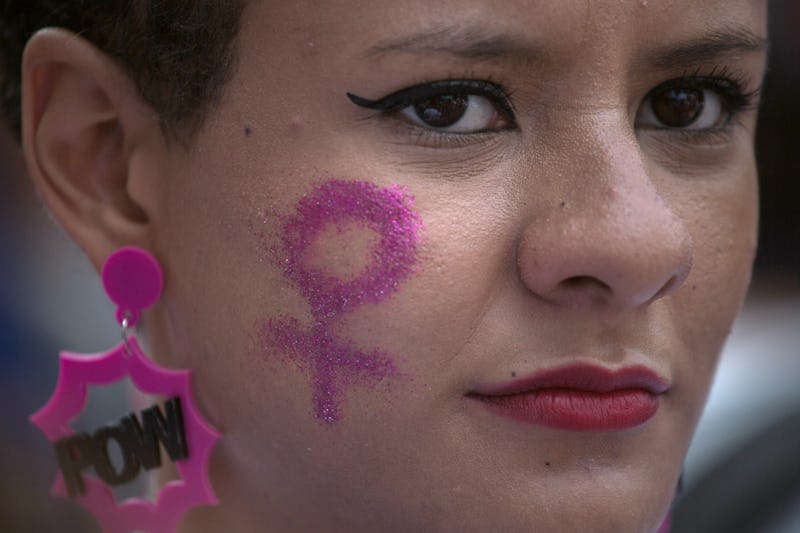 Victor Moriyama/Getty Images News/Getty Images
A Republican candidate in a competitive race for the New Jersey General Assembly lost his support from GOP lawmakers on Thursday after a video surfaced of him making inappropriate comments to a woman at a bar. Republican Brian McDowell told a woman to have sex with him in a video that was reportedly captured in March, and has since denied that his comments are at all relevant to his ability to govern.
"Let me tell you right, now," McDowell can be heard saying in the video to an unidentified woman. "You should f--k me. It could be really good. Listen, you never know."
McDowell, a former contestant on NBC's The Apprentice, announced his candidacy last month, and although the Cape County May district in South Jersey is considered to be one of the most competitive in the state, local Republicans have rescinded their endorsement for McDowell, while other have even urged him to drop out of the race.
"The GOP is very supportive of women and women's rights. We have three women who have been elected as freeholders, several women constitutional officers. Supporting women and women's groups is one of our core values," Cape County May GOP Chairman Marcus Karavan said, according to Politico.
But McDowell refused to back down. In fact, he defended his comments by stating that politicians need not be perfect.
"There are human errors and even Jesus dropped the cross three times," McDowell said. "I'm not running to be the Pope. I'm running to make New Jersey more affordable."
This defense is problematic for many reasons — even aside from the obvious Jesus comparison. For starters, it shows a clear lack of understanding for the essential role that politicians play in shaping public policy that is fair for all citizens, regardless of gender.
McDowell claimed to be concerned with making New Jersey affordable. But he doesn't seem to recognize that poverty, development, socioeconomic status, and gender equality are all intertwined. A politician can't simply focus on the economy. He or she has to question how to create a society in which both women and men are able to access resources, equal pay, and medical care. When women are sexualized and subjected to inappropriate comments — which can often lead to abuse — it is more difficult for them to be respected in the workplace and access a wage that makes living affordable.
McDowell's comments are also part of a larger, alarming trend of male politicians using derogatory language about women. Donald Trump's infamous "grab them by the p---y" comment, for example, did not hinder his ability to assume the highest office in the country, even though it was highly disrespectful to say the least. McDowell supported President Trump's candidacy, and served as his Cape County May campaign coordinator.
What McDowell was trying to say in his response to the video that has cost him GOP support — and perhaps the race — was that mistakes happen. Everyone is human. No one is perfect. But the nation need politicians who work to ensure that women's rights are protected and inappropriate sexual comments are not tolerated, especially by our lawmakers in office.