'RHOC's Lydia & Shannon Go Toe-To-Toe In This Sneak Peek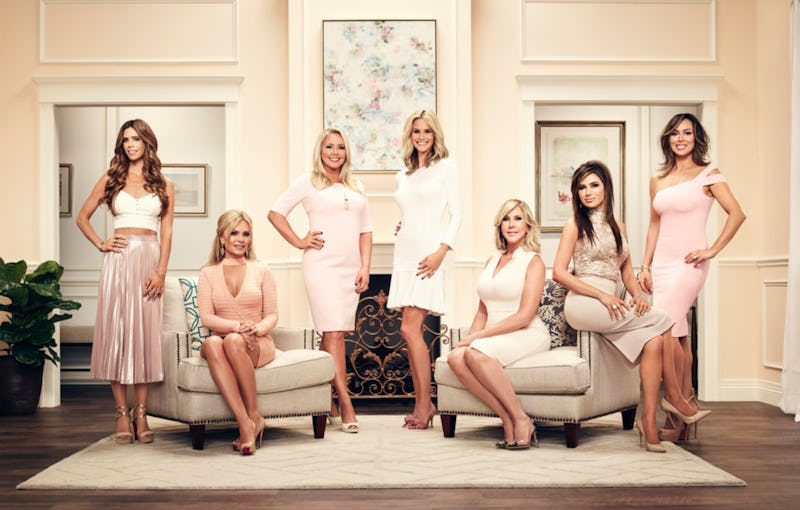 Tommy Garcia/Bravo
It looks like The Real Housewives of Orange County alumnus Lydia McLaughlin puts her proverbial shoes on the proverbial couch at a proverbial holiday party, i.e., really mixes things up on Season 12. In a sneak peek of the forthcoming season, McLaughlin and Beador get into a verbal altercation at what appears to be a kid's birthday party. It's been three seasons since we last saw McLaughlin hold an orange in the reality show's opening credits, but she's back in the main cast and ready fight. Even in front of a bunch of children who are just trying to get their hands on some ice cream cake. You can watch the clip in all of its glory here.
At the top of the video, we learn that McLaughlin said Beador gave off Vicki Gunvalson vibes. I repeat: McLaughlin said Beador reminds her of Gunvalson. Gunvalson, as RHOC viewers know, is Beador's sworn enemy. So, that remark doesn't exactly sit well with Beador. Who wants to be likened to their nemesis? (Whew. You really took it there, didn't you, Lydia?)
Beador explains that she isn't cool with McLaughlin comparing her to the OG of the OC, and McLaughlin more or less tells Beador she's making a mountain out of a lemon bowl. Things escalate quickly. Tamra Judge occasionally interjects, but her efforts to make peace fall short. The heated exchange culminates in Beador storming past a bouncy castle, dropping expletives as she reaches for her mic pack. Oh, and McLaughlin calls her a "lost soul." It's electric.
McLaughlin acts like she doesn't understand why telling Beador she's like Gunvalson is an issue, but she probably understands on some level, right? She has to know about Beador and Gunvalson's incredibly disastrous relationship, right? She saw the Season 11 trip to Ireland, right? She knows about what happened during that ill-fated shuttle ride to the Shannon Airport, right? McLaughlin had to know that comment would strike a nerve, right?
Or maybe McLaughlin didn't know the ins and outs of Beador and Gunvalson's history. Maybe it really was a well-intentioned remark. Maybe she didn't get a chance to catch up on RHOC before she came back to the show. Maybe she doesn't know about the airport shuttle fiasco. Maybe it's just her opinion.
Whatever McLaughlin's intent may be, I. Am. So. Ready. For. July 10.