Treat Yourself Every Day With This Incredibly Easy Rice Pudding Recipe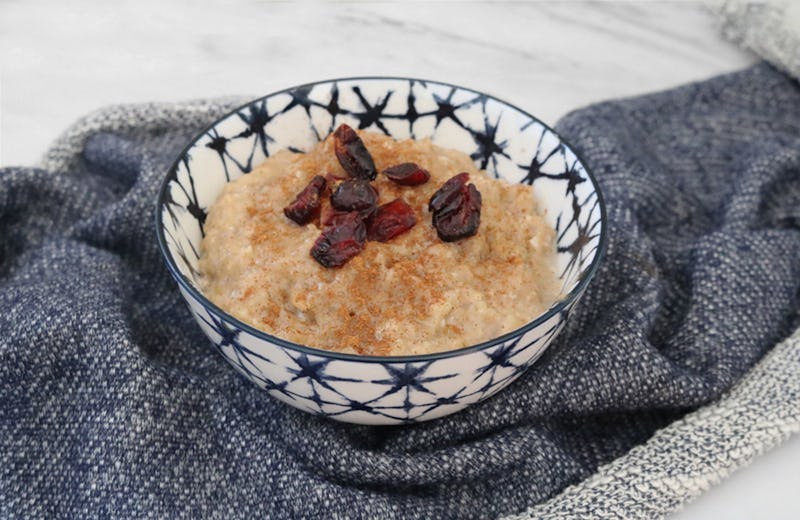 Kirsten Nunez
Rice pudding might very well be one of the most comforting desserts out there. It's rich, creamy, and the definition of simple and sweet. To top things off, it's surprisingly easy to make at home. But what happens if it's just you and Netflix for the night? Cooking up a full batch will just leave you with dry leftovers — so treat yourself to a single serving of rice pudding from this recipe for one person instead. With this recipe, this adorable homemade dish doesn't call for fancy skills, ingredients, or equipment.
If you can't help but think about the store-bought stuff, hear me out for a second. Rice pudding from scratch will taste a million times better; it's also a delicious and resourceful way to stretch leftover rice. (And yes, that rice from last night's Chinese food totally works.) Making this recipe for one can also be personalized to your heart's desire, whether you're all about raisins, nuts, or all of the above. You can also adjust the consistency by adding more or less milk, heavy cream, or sweetened condensed milk, depending on what you have on hand. That's the beauty of making dessert from scratch.
You'll also be happy to know that homemade rice pudding is extremely forgiving. It's hard to mess up, even if you are a beginner in the kitchen.
Ready to meet your new favorite treat? Check out the single serving for one, below.
Rice Pudding For One
1 cup milk of choice
1/3 cup uncoooked rice or 1 cup cooked rice
1/4 cup sweetened condensed milk
1 tablespoon heavy cream
1/2 teaspoon pure vanilla extract
1/4 teaspoon ground cinnamon
2 tablespoons sugar, maple syrup, or honey
1 egg
1 tablespoon butter
1. In a small pot, combine the milk and uncooked rice. You can also use water instead of milk, but keep in mind that the finished product won't be as creamy.
If using cooked rice, combine with 1/2 cup milk of choice, simmer for 5 minutes, and skip to Step 3.
2. Bring the mixture to a gentle boil. Reduce to a simmer and cook for 20 to 25 minutes, stirring frequently.
The rice should be cooked, yet soupy. Do not remove the pot from the stove.
3. Add the condensed milk, heavy cream, vanilla extract, cinnamon, sugar, and butter.
4. Mix until thoroughly combined. Simmer for 5 minutes.
5. In a separate bowl, crack open the egg and whisk gently.
6. Add the whisked egg to the rice mixture pudding and mix. Simmer for another five minutes, stirring continuously.
And just like that, you have a beautiful single serving of homemade rice pudding.
While everyone has a different take on rice pudding, you can't go wrong with an extra helping of ground cinnamon and raisins. (Or, in my case, dried cranberries. It will taste just as awesome, I promise.)
To customize your charming little dish, check out these ideas for tasty variations:
Chocolate
From chocolate chips to chocolate shavings, this option is definitely a win. Mix it right into the rice pudding or add as a garnish. You can also make chocolate rice pudding with one tablespoon of cocoa powder — or better yet, with chocolate milk. Score.
Nuts
Want an extra crunch? Add walnuts, almonds, or your favorite nuts into the mix.
Cookies
Cookie crumbs are another way to add texture and crunch. Something tells me this would be amazing with crushed Oreos, gingersnaps, or snickerdoodles.
Fresh Fruit
Brighten up the dish with chopped fruits like strawberries, apples, or cherries.
And just like that, rice pudding from the tub is now a thing of the past.
Check out more Single Serving recipe ideas here for when your speed is less "entertaining my crew" and more "watching Netflix alone on my couch."