You Can Now Show Your Love Of Face Masks With A Cute Tee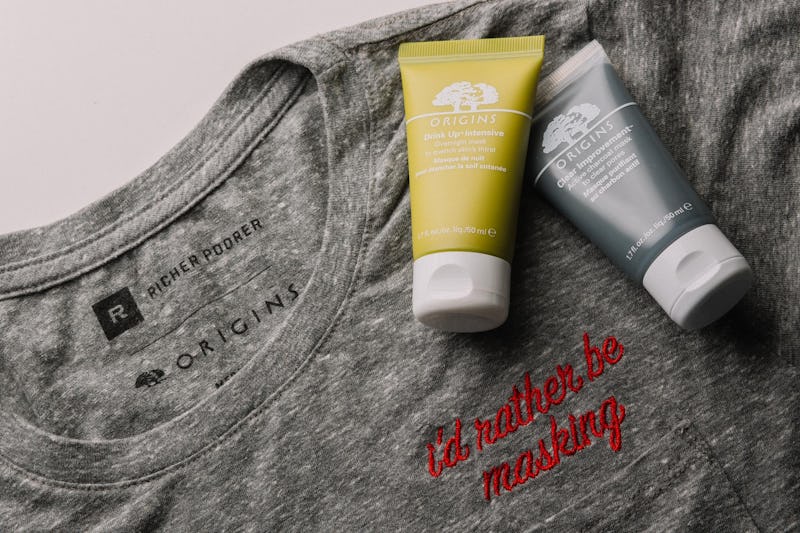 Richer Poorer x Origins
In 2017, having the same pieces of clothing as everyone else just doesn't cut it anymore. Personalization, especially embroidery, is one of the biggest trends of the year, showing up on jackets, bags, and some pretty dope tees. The Richer Poorer & Origins Skin Care t-shirt is the ultimate cheeky and unique tee, featuring a message that all beauty lovers will fawn over.
Richer Poorer, a California-based brand that creates ultra-comfy innerwear (socks, boxer briefs, and tees) came out with their latest tee. In a neutral heather grey and the message "I'd Rather Be Masking" stitched on the top left corner, this tee is equal parts super comfy and playful. Who wouldn't rather be masking?
In addition to the super cute tee, you actually get a free Origins mini mask duo when you purchase one for yourself. So you can get your masking on while rocking a pretty cute tee, too.
Face masking, if you're not familiar with it, has been around for a few decades now. And while you may be most familiar with the clay masks of yesteryear that your mother or grandmother used, there's actually been some pretty great advancements when it comes to them. All designed to improve your skin.
That's why this little package is so great — you get two things in one. 'Cause busy gals need to multi-task.
Richer Poorer x Origins End Of Summer Care Kit, $38, richer-poorer.com
Same. There are very few times this sentiment isn't true.
Basically this package makes multi-tasking a breeze.
You can even wear both to sleep.
Beauty (and fashion) lovers, this little deal was practically made for you. The beauty of this tee is that it's soft enough to be worn to sleep, yet trendy and cool enough to be worn with your favorite denim or skit for a casual day out. Or, if you're the work out type, you can also show this beauty off at the gym.
The two masks — one being the Clear Improvement Mask, which is meant to clear your pores, and the other, the Drink Up Intensive Overnight Mask, which hydrates your skin while you sleep — are here to save your skin, both with glowing reviews on their functionality. Used in tandem, these two masks may just give you your best skin yet.
Wherever you're wearing it to, your face and body will thank you for ultimate comfort and pampering.