Finally, You Can Hire A Terrifying Clown To Deliver Doughnuts To Your Friends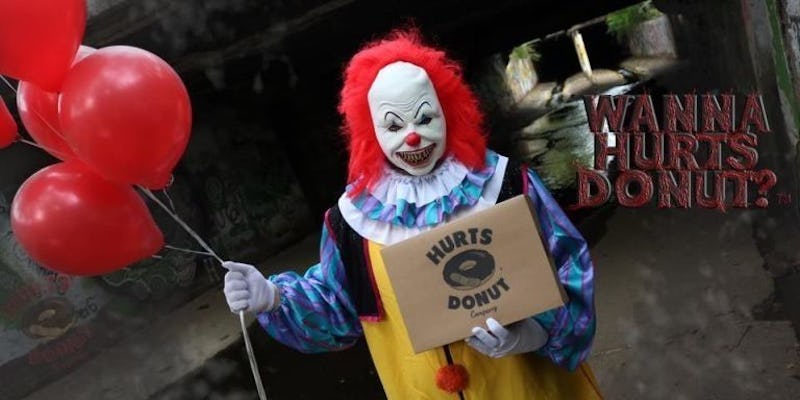 Hurts Donut
So you've already seen IT, had the living bonkers scared out of you, and contended with your pseudo-attraction to a murderous clown. You've seen all the dancing clown memes, cringed as people shipped Pennywise with the Babadabook, and braced yourself for an IT sequel in 2019 that promises to be scarier than the first. It's been a whirlwind of creepy emotions for us all, and it's not even Halloween yet. So where on earth are you supposed to expend all this residual bloodlust and bizarre obsession with all things creepy in the meantime? Simple: use this new service that lets you hire a scary clown to deliver doughnuts to your friends.
Hurts Donut Company in Frisco, Texas has made headlines this week for offering a rather, uh, unique service to its customers who may or may not be going through Pennywise withdrawal: while the delivery fee for donuts is $5, for a mere $5 extra, you can have said doughnuts delivered by a creepy AF clown. The two caveats: you had to be in Frisco (this clown's ability to surf the time-space-terrifying corner of Stephen King's brain continuum is decidedly more restricted than your boy Pennywise's), and the deal was only valid on Monday, Sept. 25 and Tuesday, Sept. 26. That being said, the promotion went so viral that I'm willing to bet that they take another go at it before Creepy Season is officially out — and even if they don't, the video they got of some of the deliveries are so hilarious that it will cure you of any lingering FOMO.
"We always try to keep up with the trends, and clowns are trending right now," said Hurts Donut co-owner Kas Clegg to Guide Live about the inspiration for the promotion. "It's fall, and it's getting close to Halloween, so we just wanted to spice it up a little bit and do a super fun delivery."
"Super fun" is an interesting synonym of "OH DEAR GOD WHAT IS HAPPENING," which ended up being the approximate reaction of all of the people who were gifted their doughnuts via clown earlier in the week. "This is pee your pants funny. We have SO MANY hilarious videos from our scary clown visits!" Hurts Donut shared on their Facebook page. "Our camera guy has been eating donuts and editing out curse words for 12 hours... curse words I've never even heard before."
And truly, the clown goes above and beyond in these videos. We've got red balloons, we've got jump scares, we've got creepy clown gravitas that will probably give you secondhand nightmares for DAYS.
That being said, any scare is decidedly worth it if there are doughnuts on the other side of it — and judging by the pictures of Hurt Donuts' offerings on their Facebook page, I'm sure nobody was making their "u mad, bro?" face for too long. (Petition to start handing out doughnuts at the end of all horror movies as a new national pastime? Please and thank you.)
Anyway, it's high time that we help our clown friends out; apparently they've been getting a bit of a bad rap professionally since the IT movie was released a few weeks ago, bringing Pennywise and his side of nightmare sauce back to the forefront again. Nothing will un-burn those psychological bridges faster than being a clown of any varying degree of terrifying who comes bearing good snacks. Fingers crossed that this isn't the last we see of the infamous Hurts Donuts clown; with any luck, we'll see it emerge in all of its spooky glory when the IT sequel comes out in two years.