This Study On Migrant Children & Trafficking Puts The Blame Squarely On Trump's Admin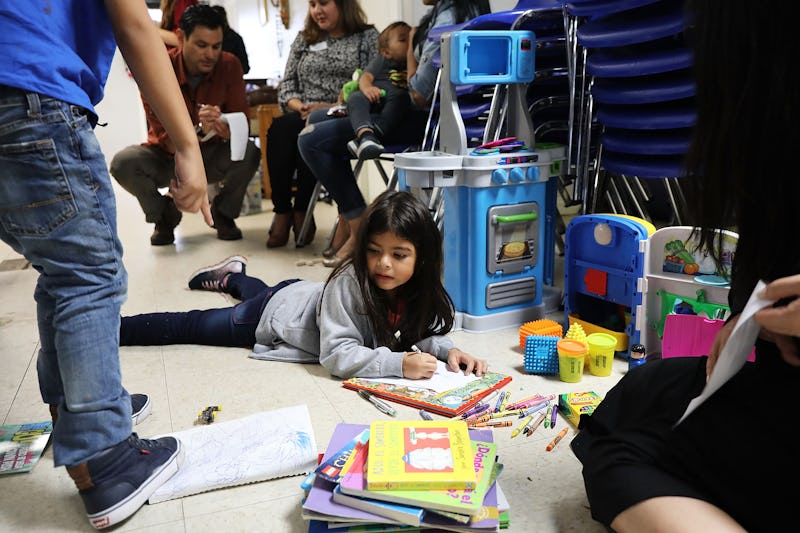 Spencer Platt/Getty Images News/Getty Images
For many families separated at the border, the only way to get a child out of detention is to find a sponsor who already lives in the United States and is willing to take them in. But a new bipartisan Senate study claims migrant children are vulnerable to trafficking and abuse once they are released from custody, an issue it said has been exacerbated by the Trump administration's "zero tolerance" policy. The administration, in return, blamed the problem on legislative inaction.
More than 2,500 children were separated from their parents this past spring, and despite a July 26 reunification deadline, as of Aug. 9, less than 2,000 children have been reunited. According to The Washington Post, this figure, provided by the Department of Health and Human Services (HHS) counts children who have been returned to their parents, as well as those released to a relative or another sponsor.
The Senate study, released on Wednesday by the Permanent Subcommittee on Investigations, focused mainly on this second group within the category of reunited children. According to the report, no federal agency is in charge of ensuring that children aren't being abused or victimized by human trafficking when placed with sponsors who aren't close family.
The study claimed that HHS, the Department of Homeland Security (DHS), and the Department of Justice (DOJ) have taken "modest" steps to ensure the children's safety, but "major deficiencies persist that leave the children at significant risk for trafficking and abuse and undermine our immigration system."
HHS quickly loses track of children placed with sponsors, the committee claimed. Follow-up phone calls placed between October and December 2017 apparently showed that HHS can't find 1 in 5 sponsored children three months after placement. In that time, HHS found that 28 children had run away from their sponsors and another 52 were no longer living with their sponsors. "It is concerning that HHS apparently takes no action to address the alarming situations it discovers when it makes those calls," the study said.
HHS does make 30-day "wellness calls" after placing a child in a sponsor's custody — a "positive measure", the report said — but is apparently keeping no records of what it finds in those calls. The subcommittee said it repeatedly asked HHS for more recent data, but was told HHS "could either focus its resources on reuniting families separated under the zero-tolerance policy or on providing new data."
A joint statement from DHS, HHS, and the DOJ kicked the blame back to Congress. The report, "misses an opportunity to address decades of congressional inaction," it said. They claimed the subcommittee "erroneously" blamed Trump, and accused Congress of ignoring gang-affiliated immigrants and criminal trafficking organizations.
There have been multiple reports in the last few years of children being abused or placed in human trafficking because HHS supposedly failed to conduct proper background checks on sponsors. In 2015, The LA Times documented cases of sponsors forcing children to work instead of going to school, and children being placed with sexual or domestic abusers. A 2016 study by the same Senate subcommittee found that more than a dozen migrant children were placed into a human trafficking ring and were being forced to work on egg farms in Ohio.
"We will not be able to fix these long standing problems," until Congress takes legislative action, the agencies' joint defense statement said. But the Senate subcommittee's top Democrat, Tom Carper, disagreed, saying, "This administration continues to make an already challenging reality for migrant children even more difficult and more dangerous."