This Single Tweet About Labor Day Really Puts The Holiday Into Perspective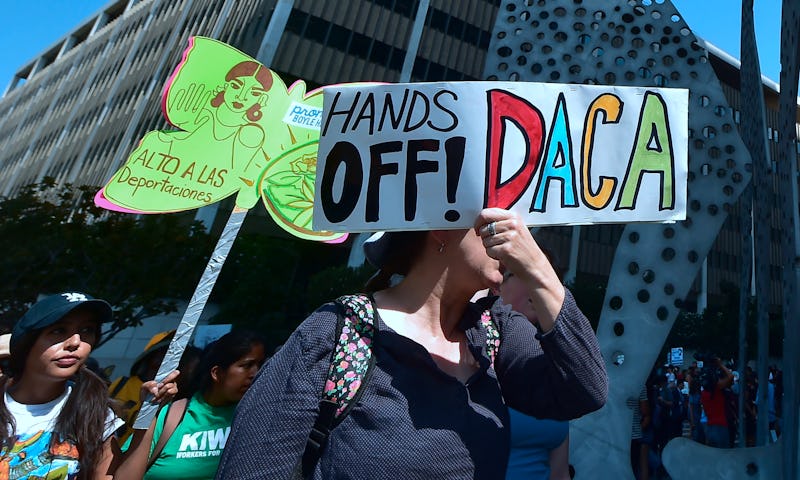 FREDERIC J. BROWN/AFP/Getty Images
The past several days have seen multiple issues of huge importance collide, seizing the national consciousness. Whether you're talking about massive natural disasters and the infrastructure needed to endure them, the role of organized labor in American life, or the ability of undocumented immigrants to live and work without fear of deportation, there's been plenty to focus on. And this one Labor Day tweet about DACA sits at the intersection of those last two issues.
The tweet in question comes from Tony Choi, an immigrant and a recipient of the Deferred Action for Childhood Arrivals program, better known as DACA. Although the vast majority of DACA recipients are Latino, there are also many Asian immigrants who've benefited from the program; it gives people brought the United States as children access to two-year work permits, as well as protection from the deportation process.
Choi is one of those people who rely on DACA, and on Monday afternoon ― Labor Day ― he gave voice to the same concern that countless undocumented immigrants are facing right now. Namely, without even considering the increased risk of deportation, the end of the DACA program would decimate hundreds of thousands of people's abilities to find jobs and support themselves.
Labor Day isn't strictly about the right of people to work and make a living, to be clear, but rather the hard-won workers' rights brought about through decades of work by the organized labor movement ― often fought for through direct action demonstrations, and strikes against industry.
But this Labor Day, hundreds of thousands of people are anxiously waiting to hear whether they'll be effectively shut off from employment. DACA has been utilized by about 800,000 undocumented immigrants since its inception in 2012, when former president Barack Obama launched the program in response to Congress' failure to pass the DREAM Act.
President Donald Trump is widely expected to announce his intention to end DACA this week. He reportedly plans to set a six-month delay, however, to allow (or to pass the buck, depending on your interpretation) for Congress to take action, furthering a sense of uncertainty surrounding the program.
The delay would theoretically allow the Republican-led Congress to pass some sort of legislative remedy to head-off the end of the program, like the DREAM Act. Although, given the GOP's long-running anti-immigrant streak ― especially among the party's base, which Trump exploited heavily throughout his presidential campaign ― it's unclear whether there will ever be enough political will to do so.