An AOC Superfan Wrote A Song To Support Her & You'll Be Singing It All Day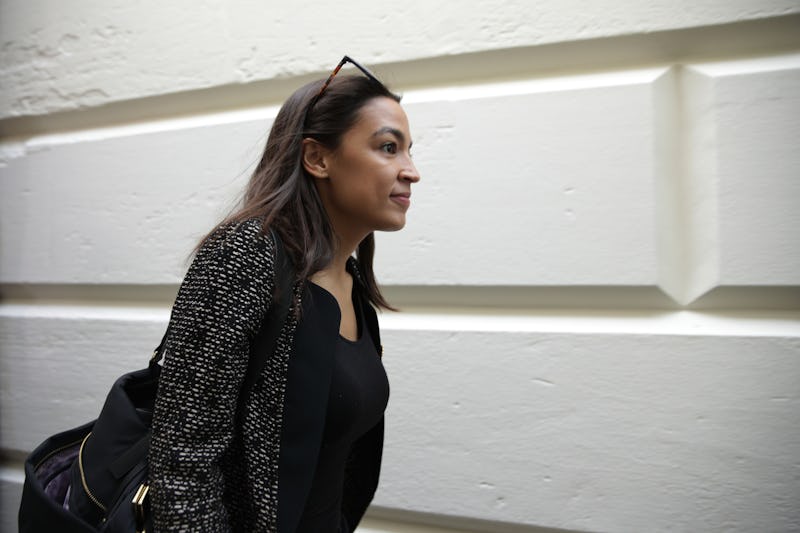 Alex Wong/Getty Images News/Getty Images
Looks like Rep. Alexandria Ocasio-Cortez has a new tune to dance to. An admirer of the New York congresswoman wrote a song about Ocasio-Cortez, predicting she'll be president one day. But before you give the song a spin, be warned — it's incredibly catchy and even just one listen could leave you humming it all day.
"She's got that never quit attitude and fights fair and square and I predict some day she'll sit in Donald Trump's chair," 97-year-old Jerry Rosenblum sang of Ocasio-Cortez in a video posted to Instagram on Sunday. "We need a Green New Deal to save our planet for sure. Lots of sun and wind power, will help us endure!" he crooned over a jaunty piano accompaniment.
Rosenblum described himself as "a strong admirer" of the congresswoman on Instagram, adding that he hoped his tune helped her in her career. "I was very happy to hear @ocasio2018 enjoyed the song I wrote for her last year during her campaign and I decided to write another song," he wrote on Instagram. "I hope you enjoy and I hope @ocasio2018 sees this post."
And see it she did. "Jerry's back with a new song!" Ocasio-Cortez tweeted late Sunday. "Jerry is 97 years old and dedicates his Instagram to spreading joy and acts of kindness. This is his second song of support, and he writes them himself!"
In his latest tune, Rosenblum described the freshman congresswoman as being "exciting," "new," and "a rockstar too" before characterizing her proposed climate change package as "only fair." He urged folks to give Ocasio-Cortez their "backing" and "tell the Donald to start packing."
Ocasio-Cortez has been pushing for Congress to pass an economic stimulus package known as the Green New Deal since her election in 2018. In fact, it wasn't long after she was sworn in to Congress that Ocasio-Cortez teamed up with Sen. Edward Markey to introduce a resolution calling on the federal government to create a Green New Deal that would include actionable steps toward cutting greenhouse-gas emissions, boosting the use of renewable energy sources, and guaranteeing health care and jobs with a family-sustaining wage among other things.
It's an ambitious proposal that has spurred significant debate both in Washington, D.C. and in homes around the country. According to The Washington Post, Republicans have largely dismissed the Green New Deal as being too close to socialism, while some within the Democratic Party have questioned how feasible the proposed package is. Still others, like Rosenblum, support Ocasio-Cortez's push for bold action on climate change.
Rosenblum first reached out to Ocasio-Cortez in October with a song he'd written for her midterm election campaign. "Alexandria, I'm one of your biggest (and oldest) fans and I'm so impressed by all you have accomplished at such a young age," he wrote in an Instagram post featuring video of him singing his song. "We need women like you leading this country! I hope this tune I wrote helps you win your campaign."
The 97-year-old AOC superfan expanded his social media presence over the weekend, launching a Twitter account where he explained that he'd started writing his latest song for Ocasio-Cortez two months ago. "I am beyond words knowing that she saw it and reposted it," he tweeted.