Everything You Need To Know About How Sophie Turner & Joe Jonas Ended Up Engaged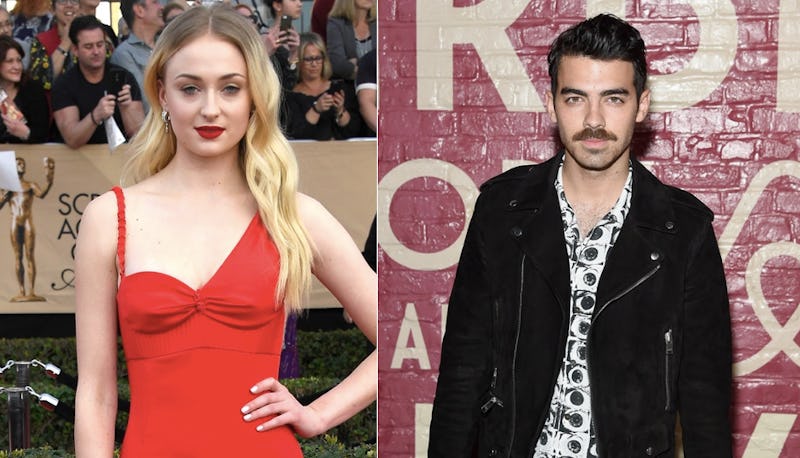 Getty Images
If you haven't heard the news, there is another celebrity couple who will walk down the aisle at some point in the future. Joe Jonas and Sophie Turner announced their engagement on Instagram Sunday, Oct. 15. Next to a photo of the stunning diamond ring, the DNCE singer wrote on his page, "She said yes" and the Game of Thrones actor wrote on hers, "I said yes". Their romance might seem out of the blue for some, especially those who had no idea they were even together, so here is a timeline of Jonas and Turner's relationship for anyone who needs it.
So far, the duo has kept their dating life pretty low-key. They appear to be a private couple, so it was kind of surprising that they even revealed their engagement on Instagram — and shared a photo of the ring. While chatting with Marie Claire in August, not only did the GoT star reveal they met through mutual friends, Turner briefly reflected on what it's like dating a fellow celebrity. She said, "You do feel like you're living in a fishbowl… It's frustrating [that] it's the most mundane things that make the news — how boring! There are really no other headlines?"
In May, Turner also chatted with InStyle and said that she likes to "keep things pretty private" when it comes to dating Jonas, but she also opened up about the benefits of being with someone who is in the entertainment world. "I found it easier to date someone who understands the industry or is in that world." She added, "You realize that you're not going to see each other all the time. And you don't feel like a jerk when you're like, 'My publicist says I can't do this …'"
And with that, here's everything you need to know about their relationship from start to engagement.
October 2016
They spent last Halloween together, according to this Instagram. Jonas went as a dalmatian and Turner went as a rabbit.
November 2016
This is when they started making headlines as a couple. As reported by People, they attended a Kings of Leon concert in the Netherlands, where they were also spotted getting super cozy. A concert goer told the outlet, "They were really close together. I didn't look very often because I was seated more in front of the room. The two or three times I was watching they were kissing. She was all smiley and he looked really sweet."
Also, in November, Nick Jonas posted an Instagram of a photograph from a wedding photo booth that featured both his brother and Turner:
According to People, Turner and Jonas also spent Thanksgiving together. An Instagram photo of the couple and Nick also surface around Thanksgiving of last year, which shows they were hanging out together during the holidays.
December 2016
They were photographed multiple times in December, including several times in London, where they reportedly had a "romantic dinner date," per The Daily Mail. The outlet also reported that Turner even introduced Jonas to her parents last December and shared photographs of their outing.
January 2017
The couple went Instagram official in January on New Year's Day. Turner posted a photo of Jonas on a boat and captioned it: "Miami Daze". That same month, they were seen holding hands in Los Angeles and were reportedly spotted showcasing PDA at HBO's Golden Globes after party.
February 2017
On Valentine's Day, the two took a hike in California for the romantic holiday.
March 2017
They also visited Paris together in March, where they were seen at both the airport and going out on a date.
April 2017
They chilled with Nick in Hollywood for an evening out and before that they were seen walking Ventura Blvd., according to People. Speaking of Nick, he is just as excited about his brother's engagement as Joe is. Next to the photo of Turner's ring, Nick wrote: "Ahh! Congratulations to my brother... and sister in law to be on your engagement. I love you both so much."
May 2017
In May, they attended the Met Gala, although, they didn't walk the red carpet as a couple, according to Teen Vogue. Eventually, they were seen together walking hand-in-hand to Katy Perry's after party, Business Insider reported at the time. Nick also posted a photo of them at the after party and captioned it: These two [heart emoji]."
June 2017
This shows exactly the type of couple they are — a fun one. After catching paparazzi photographing them in Los Angeles, Turner and Jonas turned on their high kicks for the camera. DNCE's Cole Whittle also got in the action. One day later, all three were photographed doing the same exact thing for the paparazzi.
July 2017
They went to Comic-Con together and at the major event held in San Diego, Turner spoke to Entertainment Tonight about Jonas. After she was asked about him attending the July Game of Thrones premiere with her, she told ET, "He's a good accessory." As for the Los Angeles GoT premiere, Nick also showed up and this photo happened:
September 2017
In September, Turner posted an Instagram of a puppy, whose name is Porky Basquiat, calling it the "newest addition to the krew." According to Entertainment Tonight, they adopted the dog together.
October 2017
And not long after adopting a dog together, Turner and Jonas announced that they are engaged.
If this timeline of their relationship tells you anything, it's that Turner and Jonas make one extremely adorable couple — and that their wedding is something to look forward to.
For more on dating and relationships, check out Bustle's Save The Date, below: