This Statue Of Matilda Standing Up To Trump Has A Feminist Message For Kids Everywhere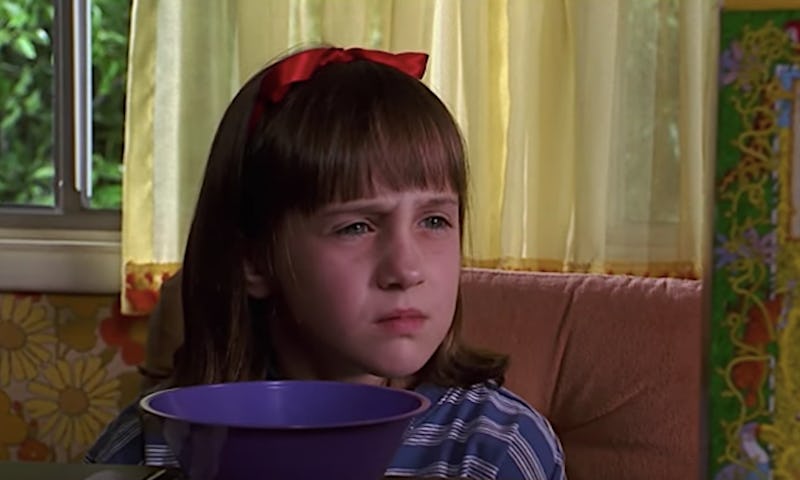 TriStar Pictures
A timely new installation was unveiled at the United Kingdom-based Roald Dahl Museum and Story Centre on Monday — and it's been making waves ever since. The statue features Matilda staring down President Trump and was built to celebrate the 30th anniversary of the book featuring the beloved schoolgirl character.
As The Hill reported, the eye-catching exhibit at the Roald Dahl Museum, which is located in Great Missenden in Buckinghamshire, was erected after the British public voted on who a now-adult Matilda should be facing down in modern times. In Dahl's book, Matilda is known for using her telekinetic superpowers to defeat her bullying school principal, Miss Trunchbull. Now, after responding to a survey released by the Roald Dahl Story Company, Brits indicated that they could envision a modern Matilda taking down Trump.
CNN noted that the idea of a Trump statue received the most votes (42 percent), followed by U.K. Prime Minister Theresa May and television host Piers Morgan. Respondents also voted on other topics as well, including adult Matilda's career prospects and social life. As The Independent indicated, Brits noted that they believed Matilda would most likely be a schoolteacher, followed by a U.N. ambassador and a librarian. They also think that the character would likely be friends with Emma Watson and the Duchess of Sussex, Meghan Markle.
In reflecting on the message sent by the museum's newest installation, Bernie Hall, the marketing director of the Roald Dahl Story Company, indicated that Matilda epitomizes the concept of empowerment. As Hall described to The Independent, "Matilda demonstrates that it's possible for anyone, no matter how small and powerless they feel, to defeat the Trunchbulls in their own lives — a message that feels even more relevant today than it did 30 years ago."
Susie Dent, a lexicographer who was involved in the statue project, reflected on the public's choice of Trump as Matilda's modern-day nemesis. She told The Telegraph that she was not shocked by the British public's selection of the American president, saying, "It's not surprising to hear that Donald Trump has been voted the figure she would be most likely to stand up to in 2018 — many clearly see in him some similar traits to the fictional headmistress Miss Trunchbull."
Dent similarly commented that she believes the statue is empowering, particularly for women. "Female rage has always been quite a big taboo, but what Matilda shows is if you channel it effectively it can be a hugely important agent of protest," she told CNN.
The Independent noted that the new installation will be available to view at the Roald Dahl Museum and Story Centre for a few weeks. Moreover, for those who can't make it to the museum but still wish to celebrate the empowering character's 30th anniversary, a new anniversary edition of Dahl's book will soon be available to purchase. This book will include several drawings from the original Matilda illustrator that feature Matilda as a 30-year-old woman, living her life in modern times.