A Trump Accuser Revealed The Harassment She's Gotten & It's Absolutely Appalling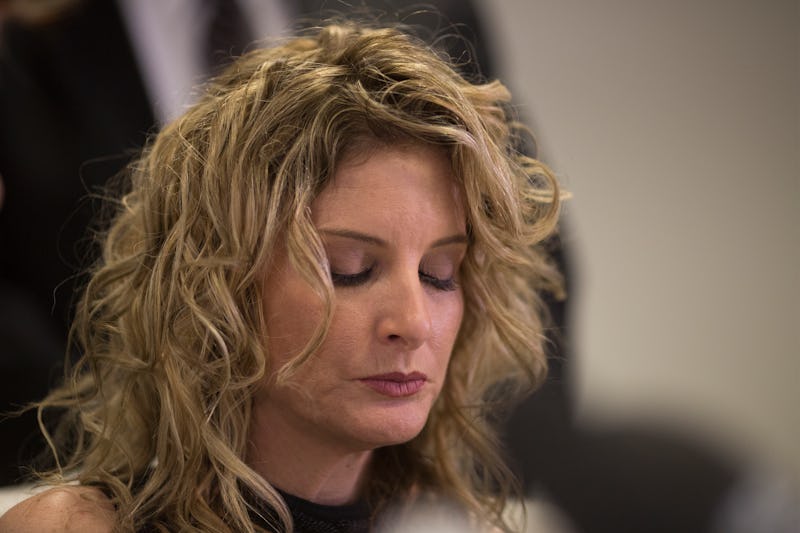 David McNew/Getty Images News/Getty Images
Former Apprentice contestant Summer Zervos made it clear this week that she has no plans to drop her defamation lawsuit against Donald Trump. On Tuesday, her lawyer filed a memorandum opposing Trump's efforts to have the case suspended — and the filing indicated that Zervos has faced harassment following Trump's comments about her.
Zervos is one of more than a dozen women who have alleged that Trump engaged in sexual misconduct. Trump has denied her allegations against him. As Vox reported last month, Zervos is currently suing Trump for calling her a liar. The statute of limitations to sue him for sexual assault has already passed.
She filed the defamation lawsuit just days before Trump's inauguration, arguing that Trump had defamed her by claiming that she had lied about the sexual assault allegations, and until recently was represented by women's rights attorney Gloria Allred. According to CNN, Zervos — a restaurant owner in California — has faced significant harassment after Trump spoke out against her.
"Immediately after he made each derogatory statement, I would get calls and people coming to my restaurant threatening me or my business," Zervos told CNN.
They would shout 'lying c*nt' or 'lying b*tch' into the phone and say I should die, or say that they would drive us out of business. Several customers told me specifically that they would no longer come to my restaurant because I had lied. Other people called and placed fake take-out orders to hurt my business. I worried constantly for my safety, the safety of my family and the people I work with.
"Because I'm a Republican and small-business owner and live among many supporters of Defendant [Trump], it was especially bad," Zervos added.
The harassment is not the only problem Zervos is facing as she pursues Trump in court — the president and his lawyers are attempting to prevent the lawsuit from moving forward. Manhattan Supreme Court Justice Jennifer Schecter ruled that Trump must respond to Zervos' lawsuit while still in office — a decision that Trump has since appealed.
Moreover, Trump is trying to obtain a stay on the case, which would prevent Zervos from collecting further evidence relevant to her suit. However, New York Supreme Court Judge Jennifer G. Schecter recently ruled in Zervos' favor, enabling her to continue with her lawsuit. "No one is above the law," Schecter wrote in her ruling.
Despite the difficulties Zervos has faced, Mariann Wang — her attorney — wrote in Tuesday's filing that Zervos would not drop her lawsuit.
"That [Trump] is not an ordinary litigant is a reason to proceed responsibly, but not to deprive Ms. Zervos of her right to proceed with her case," Wang wrote, according to the New York Daily News. "There is a real risk that memories will fade, or that evidence will be lost, if Ms. Zervos is deprived of the opportunity to begin discovery for months or longer."
Zervos is not the only woman currently pursuing a lawsuit against Trump. Adult film star Stormy Daniels has also filed lawsuits against Trump and his lawyer, Michael Cohen. Daniels originally sued Trump at the beginning of March, stating that he had never signed an agreement for her to maintain her silence about their alleged relationship. Daniels then amended her lawsuit late last month to file a defamation suit against Cohen, after he insinuated that her claims were false.
Trump's entanglement in these two lawsuits — as well as numerous sexual misconduct allegations — has prompted Trump critics to question his fitness to govern. By choosing to pursue defamation lawsuits, Zervos and Daniels have set out on a path to prove that Trump and Cohen lied, thereby calling their integrity into question.