Two Teens Just Delivered A Powerful TEDTalk On Racial Literacy & You Need To Watch It ASAP
When they were in high school, Priya Vulchi and Winona Guo — both recognized in Bustle's The Lit List, which published in April — recognized their school had an issue with race that was being left unaddressed, so the two teens decided to drive around their town to talk to their community members about discrimination, prejudice, privilege, stereotyping, and intersectionality. It was their way of better understanding racism in America, one that first bloomed into a helpful classroom textbook before blossoming into a nationwide conversation about race in United States, one they shared in an powerful and eye-opening TED talk about racial literacy every American should see.
When they were just sophomores, Guo and Vulchi noticed their high school had a serious race problem, and worse, no one seemed to want to address it. Looking around their hometown of Princeton, New Jersey, it wasn't hard for the two teens to spot how racially divided the community was, nor was it difficult for them to identify the many ways in which issues of race infiltrated every part of daily life. Since no one else was starting the conversation that so clearly needed to be had, Guo and Vulchi took matters into their own hands and drove around Princeton asking strangers to talk about their personal experiences with racism. The product of those conversations is The Classroom Index, a racial literacy textbook that combines statistics and research about systematic racism with Guo and Vulchi's interviews with local residents about issues of race.
The textbook, Vulchi told Bustle in an interview published in April 2018, "is kind of connecting the interpersonal or internalized events and showing the larger systematic implications of those events," something many teachers and students across the country are in obvious need of. The Classroom Index quickly garnered academic attention, and was picked up by schools in 30 different states. Though Guo and Vulchi were thrilled to see so many people reach for their new resource, they also recognized how limited the perspective of The Classroom Index was because it only included stories from one part of the country. That's why, after graduating from high school in 2017, the teens took a gap year before attending college to travel the United States and collect even more stories about race and racism in America.
At the TEDWomen 2017 conference in New Orleans in November, Guo and Vulchi took the stage to share their incredible insights in powerful talk titled "What It Takes To Be Racially Literate." During the twelve and a half minute presentation, the young women coupled the personal stories about racism they collected from all over the country with relevant research, statistics, and historical context to reveal the two major gaps in American racial literacy: heart and mind.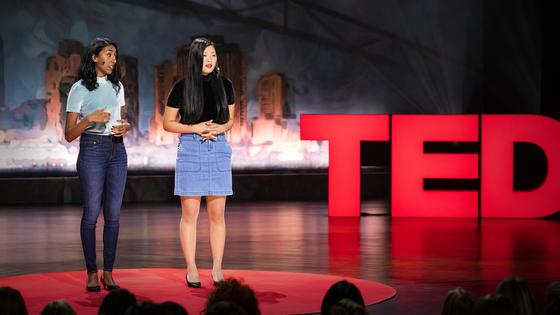 According to Guo, the heart gap is "an inability to understand each of our experiences, to fiercely and unapologetically be compassionate beyond lip service. Vulchi describes the mind gap as "an inability to understand the larger, systematic ways in which racism operates." Together, these two racial literacy gaps prevent people from truly understanding issues of race and racism in America today, and from actually caring about it. If we can learn to overcome these hurdles, if we raise the standards of racial literacy and redefine its meaning, the teens argue, we can better understand each other, communicate with one another, and finally learn to build a "national community."
Throughout the empowering talk, Guo and Vulchi provide several moving examples of the many ways the personal stories about race and intersectionality they collected from all over the country can work in tandem with statistics, research, and historical context to more accurately and more empathetically express issues of racism, prejudice, bias, privilege, and more.
In one, Vulchi recounts the experience of a young girl, Treniya, from Pittsburgh who discovered an unsettling truth behind her family moniker. "My sister was scrolling through Facebook and typed in our last name. This white guy popped up, and we found out that his great-great-grandfather owned slaves and my great-great- great-grandmother was one of them," Treniya's story goes. "My last name — it's not who I am. We've been living under a white man's name. If slavery didn't happen, who would I even be?"
In another, Guo and Vulchi take a commonly recited statistic — "African-Americans are incarcerated more than five times the rate of white people." — and transform it into a heart-wrenching social issue with the help of a personal story from Ronnie, a man in Seattle.
"My father means everything to me. He's all I've got, I don't know my mother. My father's currently being wrongly incarcerated for 12 years," Ronnie's story goes. "I've got a daughter, and I try to be that same fatherly figure for her: always involved in everything she does, it might even be annoying at some points. But I'm afraid I'll go missing in her life just like my father did in mine."
By sharing these narratives, Guo and Vulchi argue, issues of racism, bias, prejudice, and slavery feel much more relevant than cold statistics about the number of enslaved African Americans before the Civil War, or even factoids about Martin Luther King Jr.s' fight for civil rights. When the lasting legacy of slavery, segregation, and systematic racism is made clear in the context of the here and now, in the context of real people living in America today, the teens argue, they become easier to not only understand, but to care about.
"We want everywhere across the United States for our youngest and future generations to grow up equipped with the tools to understand, navigate and improve a world structured by racial division," Guo said of her and Vulchi's mission. "We want us all to imagine the community as a place where we not only feel proud of our own backgrounds, but can also invest in others' experiences as if they were our own."
With the help of their textbook and their ongoing nationwide interviews, Guo and Vulchi are helping people all over the United States do just that. Now it's out time to, as the young women say, "Get to work."