How 'The New Yorker' Is Celebrating The Women & POC Who Were Just Elected On Its Cover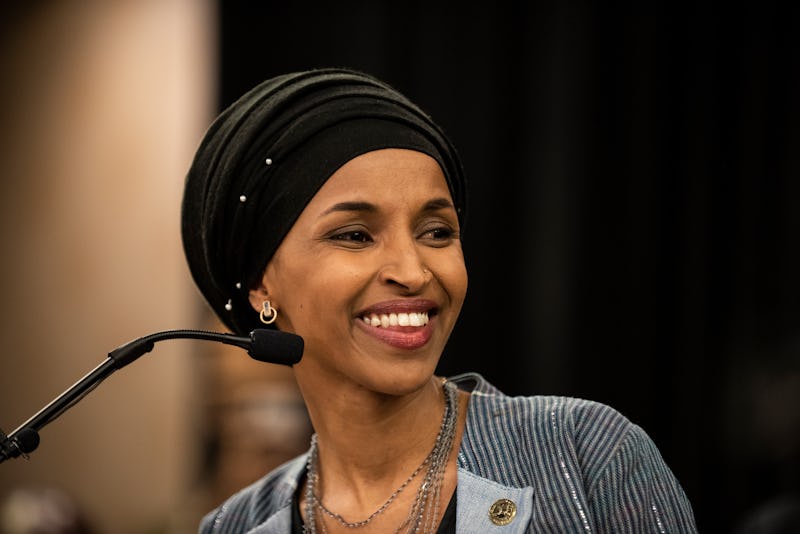 Stephen Maturen/Getty Images News/Getty Images
Many Democratic candidates made history during Tuesday's midterm elections, breaking numerous records as they flipped seats and won races across the country. In order to celebrate election victories by women and people of color in this year's midterms, The New Yorker's next cover — illustrated by cartoonist Barry Blitt — shows a large crowd of white men that start to give way to a splash of color as women enter the room.
Titled "Welcome to Congress," Blitt's latest New Yorker cover highlights the record number of women assuming Congressional seats by making creative use of white space, per The Washington Post. The white men on the cover are fully white, barely discernible sketches — but in one corner, a door opens, revealing some of the history-making candidates that won their elections on Tuesday.
Featured on the cover are Alexandria Ocasio-Cortez, Ilhan Omar, and Sharice Davids, all of whom broke records this week. Ocasio-Cortez, who defeated her Republican opponent to become the next representative for New York's 14th district, is now the youngest woman to be elected to Congress. Minnesota's Omar and Michigan's Rashida Tlaib became the first Muslim women elected to Congress. And Kansas' Davids, alongside New Mexico's Deb Haaland, became the first Native American women elected to Congress.
In a conversation with New Yorker art editor Françoise Mouly, Blitt explained where his inspiration for the cover came from.
"In all the rancor and madness of the past few weeks — hell, the past few years — it appears we've just lived through a nice moment," Blitt told Mouly.
The women featured on Blitt's cover made it clear that it was more than a nice moment, however; they plan to fight for systemic change. Omar shared the cover on her Twitter account, adding that "my sisters and I are busting through these doors and will hold them wide open!" She also tagged Washington Democrat Pramila Jayapal — who in 2017 became the first Indian-American woman to serve in the House of Representatives — and Ayanna Pressley, who became Massachusetts' first black congresswoman in this year's midterms.
The New Yorker's latest cover, which will accompany the magazine's Nov. 19 print issue, is certainly not the first time that Blitt has offered political commentary in his illustrations. Per Mother Jones, Blitt has done hundreds of sketches of President Donald Trump. In one New Yorker cover, Blitt appeared to mock the president's frequent golfing trips using an image of Trump aiming golf balls at the White House. In another cover, he alluded to Russian President Vladimir Putin's possible influence on the 2016 U.S. presidential election.
But as The Washington Post pointed out, his latest New Yorker illustration takes the focus completely off Trump, and instead focuses on new voices in government. As Mouly told the Post, The New Yorker's art department went through dozens of sketches before settling on Blitt's, believing it best captured "a moment that was shifting ceaselessly."
"In the end, we went for Blitt's witty drawing," Mouly said. "It captures the one thing we all want to hold on to: The future is here, bringing fresh air in an oppressively stale room."
Democrats may not have completely achieved the "blue wave" they sought, as Mouly pointed out, but they did manage to flip the House of Representatives and several governorships — with women and people of color leading the charge.