This Theory About Sir Carter's Name Is Actually Reasonable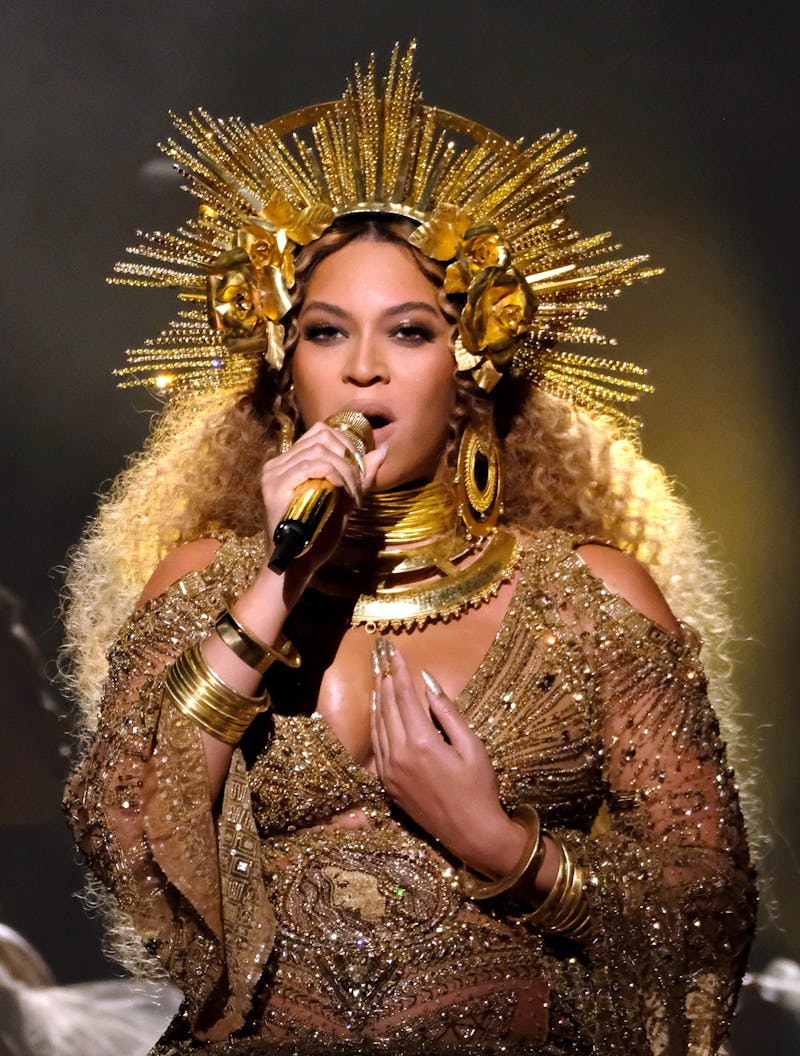 Larry Busacca/Getty Images Entertainment/Getty Images
Queen Bey has bequeathed upon us plebes the first photo of herself with the twins, Sir and Rumi. Looking holy and holding the babies in front of a floral archway, Beyoncé's Instagram racked up eight million likes after being posted around 1 a.m. ET on Friday. While Beyoncé confirmed the babies' reported names in the picture, she also reignited more speculation about them. For one, is the baby named "Sir Carter Carter"? And, more importantly: Why on Earth did Beyoncé name her baby Sir?
BuzzFeed has a theory that seems like it could be true — Beyoncé might have named her son after her makeup artist Sir John. It's a reasonable and super sweet theory, and hopefully it's real. (Bustle reached out to Beyoncé and Jay Z's reps about the theory, but did not receive a respones at the time of publication.)
Sir John is magical, first of all. (And, yes, that's his real name.) If you've ever loved any of Bey's beauty looks on stage and in her gorgeous videos, including her heavenly goddess gold at the Grammys, you've got John to thank. He was already a respected name in the beauty world when he met Beyoncé backstage at a Tom Ford show in 2010, according to Vogue. It was serendipitous, and it began a long, loving relationship between Beyoncé and John, who also works with big names like Joan Smalls, Naomi Campbell, Priyanka Chopra, and Karlie Kloss.
Talking to InStyle in May about the first makeup trial he had with Bey in 2010, John said, "All I knew is it would be the most important smoky eye I'd do." The rest is history.
John tours with Beyoncé and did all of her looks for both of her visual albums, Beyoncé in 2013 and Lemonade last year. And besides making his muse flawless, Sir John is one of her closest friends. "Bey's like my sister," he told InStyle. "I'm the last person she sees before performing in a stadium filled with 80,000 people, and she feels comfortable knowing I'm obsessing over every little detail."
So, it doesn't seem such a long shot to think little Sir Carter could be named after Sir John. First of all, what are the odds that there just happen to be two Sirs in your life? Second of all, Sir John is always by Bey's side and probably will be until she ends her career, which hopefully won't happen for another hundred years. As the two of then have such a strong bond, it definitely seems possible that Bey would name her baby after her artist and friend.
On his website, Sir John has in parentheses by his name: "Birth Name," which is something Sir Carter will probably have to say for the rest of his life, too. But it's OK, because Beyoncé's his mom. And when Sir Carter is old enough to talk, he'll say, "Hello, Sir" to his mom's friend, and Sir John will respond, "Hi, Sir!" Whether Sir John is Sir Carter's namesake or not, that conversation is almost too adorable to think about.