Beyonce's Baby Sir Carter Is Already Mystifying The World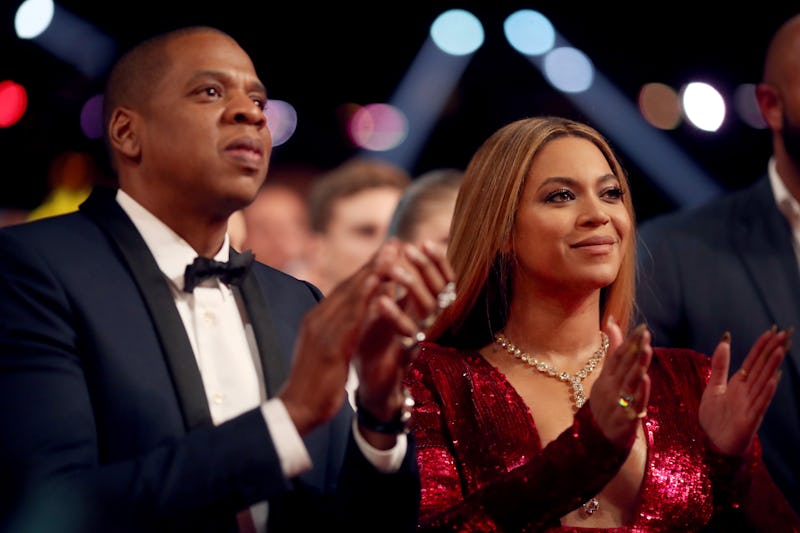 Christopher Polk/Getty Images Entertainment/Getty Images
In the birth announcement to end all birth announcements, Beyoncé shared a photo of her twins on Instagram. While rumors have surrounded the Carter babies throughout their young lives, this July 14 post was the first time that Beyoncé and husband JAY-Z officially confirmed their births. The gorgeous photo with Queen Bey holding her babies is reminiscent of the pregnancy announcement that she posted back in February and it not only gives the world the first glimpse of her new boy and girl, but it also states their names. As had been previously reported, Beyoncé's twins are named Rumi and Sir. Yet, even in the euphoria of being graced with such magnificent news, one person on Twitter noticed that there's something slightly off about the twins' names in Beyoncé's post — and it's going to blow your mind.
Although it's still not clear which name belongs to which infant, the world has been assuming that the name Sir belongs to the male twin. And rather than confirm or deny this in her Instagram post, Beyoncé actually raised another question about Sir's name. Because in her caption of the photo, she wrote, "Sir Carter and Rumi 1 month today." Nothing weird about that, right? But perhaps check out the post in all of its glory again and stay focused on the words rather than get transfixed by the glow given off by Beyoncé and her babies.
If you're still not picking up on what's strange about it, here's the game-changing tweet:
Bey listed Sir first — with (presumably) the last name Carter. But if it's her baby boy's last name then, as the YouTube celebrity Kingsley pointed out — why doesn't it say "Sir and Rumi Carter" to imply that Carter is the last name for both babies? Did JAY-Z and Beyoncé really just name their son Sir Carter Carter? The mind spins at the mere thought of the double name.
Some Twitter users came up with their own theories after Kingsley's tweet. Like that JAY-Z and Beyoncé are giving Rumi a stand-alone name in the style of Madonna (or in the style of her mom):
Multiple people mentioned that Bey's word order may have been to indicate that Sir's last name should always accompany his first, which seems like the most sound reasoning.
Then there was the debate of the last names. While one person on Twitter said that both JAY-Z and Beyoncé took each other's names so Sir could be Sir Carter Knowles-Carter, others were quick to point out that while Beyoncé has added JAY-Z's last name to become Beyoncé Knowles-Carter, JAY-Z has stayed Shawn Carter. And also, big sister Blue Ivy is referred to as Blue Ivy Carter — not Blue Ivy Knowles-Carter, so this theory probably doesn't hold up.
Since the world unofficially first learned of the twins' names when TMZ reported that a company run by JAY-Z and Beyoncé had filed paperwork to trademark the names Rumi and Sir, investigating this paper trail is a logical step to get to the bottom of this. USA Today reported that the company that did the trademarking was BGK Trademark Holdings, LLC and using the U.S. Patent and Trademark Office's Trademark Electronic Search System (TESS), you can search for any trademarks that a company has applied for.
According to the TESS, BGK Trademark Holdings, LLC filed applications on June 26, 2017, to trademark the names (drumroll please) — Sir Carter and Rumi Carter. The name Rumi Carter actually appears to have two trademark applications (with two different serial numbers) while Sir Carter just has one.
Since the trademark applications included the name "Carter" for both Rumi and Sir, it would seem to indicate that Sir Carter is not Sir Carter Carter. But a trademark application does not necessarily mean that those are legally the children's names. As for seeing a copy of their birth certificates, which would (probably) put an end to all of the name speculation, vital records are not federal records and so they are not held by the U.S. National Archives and Records Administration. Vital records, like birth certificates, are locally created and the CDC outlines that you must send a state-specific application to gain access to these documents. So that is another dead end since there's no reason to go on some birth certificate witch hunt for Rumi and Sir à la Donald Trump.
Of course, the world could wait for another post from Beyoncé or for the power couple to make an official statement about the twins' names. But for now, the most credible source may just be the woman who gave birth to Beyoncé herself — Tina Knowles. She shared her daughter's photo on Instagram and wrote, "hello Sir Carter and Rumi Carter❤️🙏🏾❤️ Boy and girl what a blessing ❤️." The twins' grandmother's caption implies that both children have the name "Carter" and her word order may also prove that Sir is the boy and Rumi is the girl.
Perhaps Tina's post will be enough to make people stop thinking that Sir has both the middle and last name "Carter," but that's probably unlikely since wondering about Beyoncé's life is an international pastime. And considering that Beyoncé and JAY-Z have curated their family's image, there's no reason not to think that the wording of "Sir Carter" was intentional. Yet, until Beyoncé posts again or speaks out about it, the world will just have to wait in awe.