Tracee Ellis Ross' Golden Globes Speech Is Amaze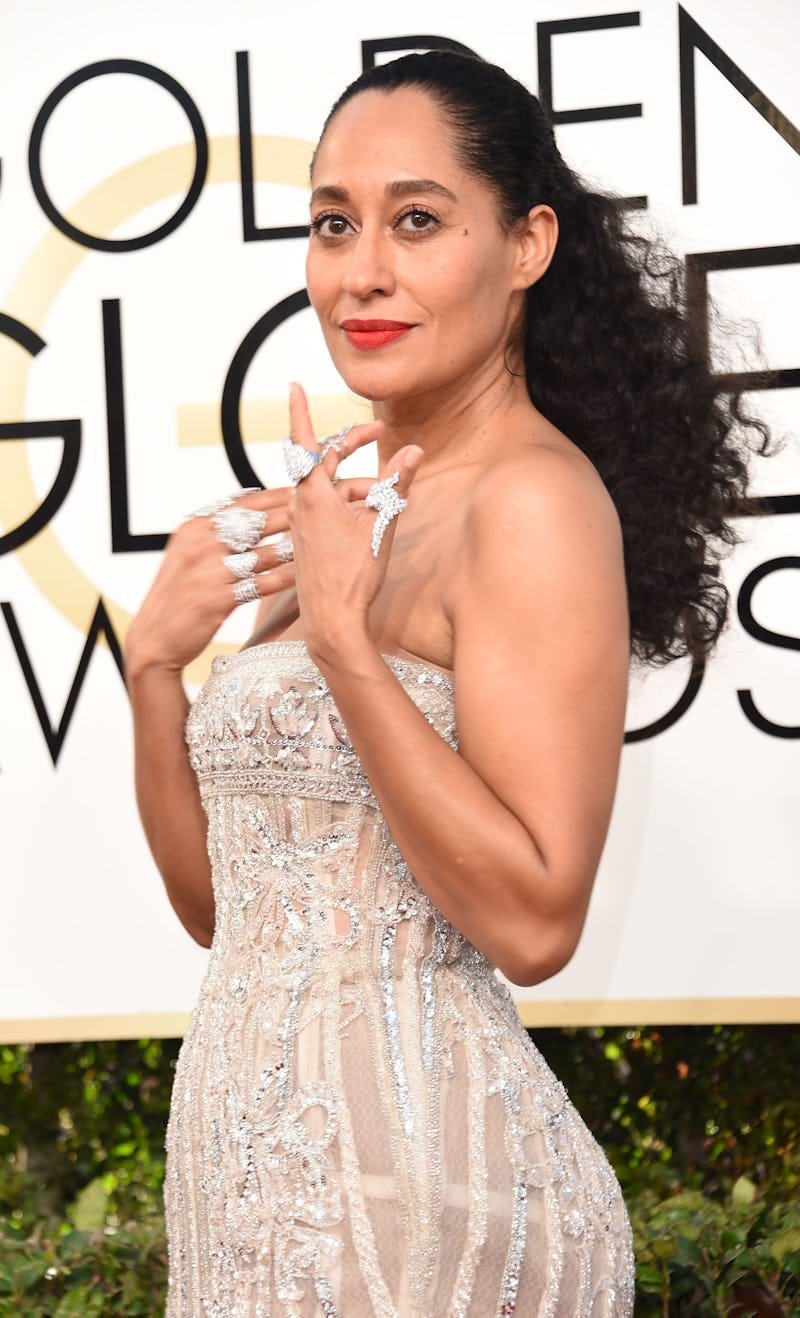 VALERIE MACON/AFP/Getty Images
On Sunday night, during the 2017 Golden Globes, Tracee Ellis Ross won the award for Best Actress in a Television Series — Musical or Comedy. But, more importantly, Ross' 2017 Golden Globes acceptance speech was so important and powerful for women of color everywhere. She used her platform to speak to women like her — women of color — who don't often get to see themselves reflected on the television screen, let alone get to see the actors behind those characters be awarded for playing them. And her speech was so beautiful, and resonated so much, that it's definitely worth re-reading.
When she took to the stage, and after making a joke, Ross quickly got serious as she said:
This is for all of the women, women of color and colorful people, whose stories, ideas, thoughts are not always considered worthy and valid and important. But I want you to know that I see you. We see you. It is an honor to be on this show black-ish, to continue expanding the way we are seen and known and to show the magic and the beauty and the sameness of the story and stories that are outside where the industry usually looks.
If you were expecting, you know, a standard speech thanking all of her fellow actors, her family, and all those kinds of things — well, that came after. But if you, like me, were brought up short by this thoughtful shoutout to the women of color who look up to Ross and what she's doing on black-ish, well. Let's just pass the kleenex around and cry together.
The thing is that, as every woman of color knows regardless of their actual ethnicity, Ross is right. Our stories, ideas, and thoughts are not always considered worthy, valid, or important. The fight for diversity in the media we consume is ongoing, whether you're looking at TV, film, books, or music. We must fight and shout and sometimes even bleed for the acknowledgement and the awards that white people get so easily, and we're often able to count on one hand the number of times we see our faces reflected in a billboard or commercial — let alone in a TV show.
And then here comes Ross, telling us that we are valid. That we are important. And that we deserve to not only be represented on television, but to be represented well, with complex characters and storylines that speak more to our experience than a general white one could. It's nice to hear that from a black woman standing on a stage with an award in her hand for playing a character on a predominantly black show that covers even the hardest of black issues, rather than just from ourselves before we leave the house for the day. Or is it just me who does that? I don't think it is.
Even better, the inspiration train only continued backstage at the Globes. Upon being told that she was the first black woman to win this award in 35 years, Ross responded,
It means a lot. I'm going to have to ponder [it] for the next couple days. More of it is for our industry to ponder. The work is there. The stories are there.
So, basically, not only did she give a speech telling women of color never to give up, but she is putting the impetus on the industry to change itself so that speeches like that are no longer necessary. Can she be any more perfect? Because I'm overwhelmed by such an esteemed actress saying everything that I need to hear.
Additional Reporting By Anna Klassen
Editor's Note: This article has been updated from its original version.