Trump Shared This 6-Day-Old "Fake News" Poll That Says He's A Better Prez Than Obama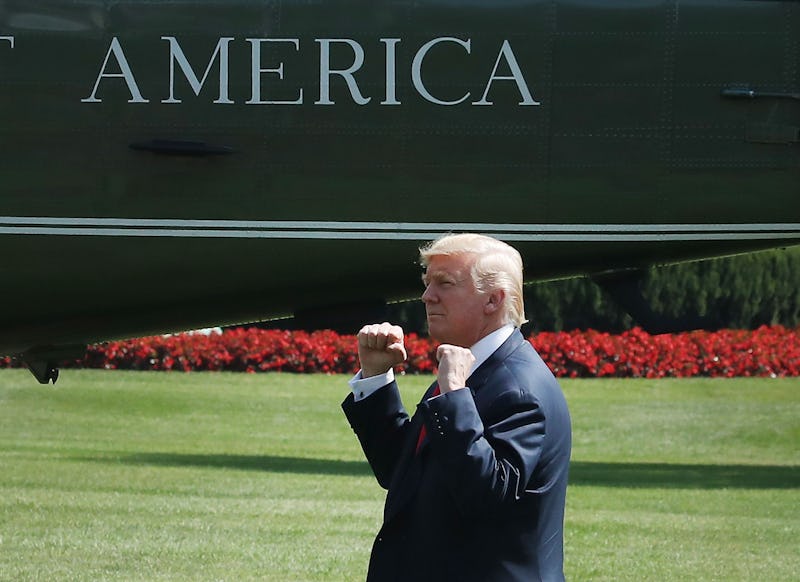 Mark Wilson/Getty Images News/Getty Images
While Americans worry about the president's rhetoric toward North Korea, the pending Russian election interference investigation, and the impending potential repeal of Obamacare, the president himself is concerned enough about his public perception to retweet a positive poll on social media. A Twitter poll named Trump a "better President" than Obama and the president retweeted it Thursday morning.
The account from which the tweet came is ProgressPolls, which has also asked users questions such as "Do you think it was insensitive of CNN's @Acosta to insinuate that only British and Australian people speak English to Stephen Miller?" and "Do you think the wage gap for women is real?" The results were overwhelmingly yes and no, respectively.
On Aug. 4, former President Barack Obama's birthday, the account tweeted out a poll asking, "Who is a better President of the United States? #ObamaDay" with the options being Trump and Obama. Trump won, receiving 61 percent of the vote out of 28,589 voters.
This result differs from recent polling from other polling places like Gallup and Quinnipiac University, the latter recently finding that Americans' disapproval rate of Trump is 61 percent, while his approval rate dropped to 33 percent. That recent polling is pretty on-par with his six-month rating, which was the lowest six-month presidential approval rating in 70 years.
However, Trump doesn't seem to take much stock of polls that place him poorly. Instead, he's railed against the "fake news polling" in tweets. On Monday, he tweeted, "After 200 days, rarely has any administration achieved what we have achieved..not even close! Don't believe the Fake News Suppression Polls!"
But Trump didn't just spend Thursday morning boosting himself with a favorable poll — he also attacked Senate majority leader Mitch McConnell once again for failing to pass Obamacare repeal.
But Congress is currently on recess for the month of August, and Trump himself is at his golf course in Bedminister, New Jersey, as a part of the presidential tradition of an August vacation (though Trump has said that it is a "working vacation"). While he's away, the West Wing of the White House has been under renovation to replace the heating and cooling system as well as undergo other repairs.
Americans, on the other hand, took note of Trump's decision to promote himself with an unscientific Twitter poll. Many tweeted of their disapproval of Trump retweeting the Internet poll.
Embarrassing
Some didn't like that Trump appears very concerned with his standing against Obama.
Desperate
Keith Olbermann called the president's desperation "bottomless."
Unscientific
MSNBC's Kyle Griffin reminded users that the poll Trump retweeted came simply from Twitter users.
Trump still has nearly half of his working vacation to go, but if he keeps it up with the aggressive language toward foreign powers and bolstering his own public perception, it could end up being one of the more memorable presidential vacations.