This Tweet About Beyonce Welcoming Twins Is So On Point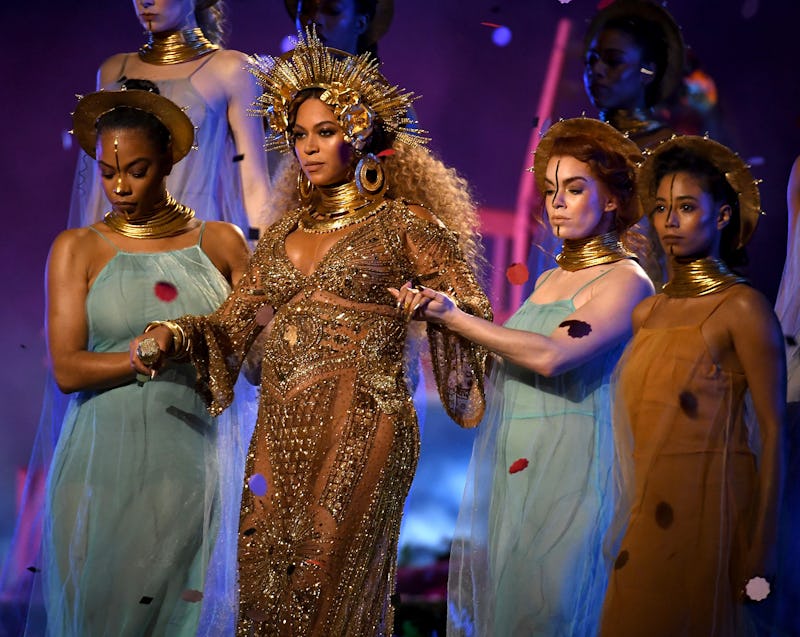 Kevork Djansezian/Getty Images Entertainment/Getty Images
They're here! Beyoncé and Jay Z welcomed their twins just in time for Father's Day, according to People magazine who cited that an unnamed source confirmed the news. And, the one tweet that says it all about Beyoncé welcoming twins comes in the form of GIF of Bey being worshipped at the 2017 Grammy's as everyone who subscribes to the church of Bey awaits an official photo from the new parents about the twins, who join big sister Blue Ivy.
The music moguls announced they were expecting in February via Instagram, and the Beyoncé-pregnancy photo became the most-liked picture on the history of Instagram, according to Time magazine, getting more than 7 million likes (it now has more than 11 million) in less than 24 hours — reiterating that Beyoncé knows how to make an entrance.
The artfully curated snap showed the beautiful mama-to-be kneeling in front of a throne of flowers cradling her stomach, and included the caption: "We would like to share our love and happiness. We have been blessed two times over. We are incredibly grateful that our family will be growing by two, and we thank you for your well wishes."
As excited as the social media set was for the announcement, the birth of the babies has generated equal elation, and Beyoncé and Jay Z haven't even posted a photo of the girls yet. This tweet pretty much sums up how people are feeling about Bey right now.
Beyoncé's father, Mathew Knowles, even confirmed the news on Twitter this morning with an epic birthday card, writing, "They're here! #beyonce #twins #jayz #happybirthday."
It looks like Beyoncé and Jay Z's twins are giving people something to look forward to and feel joyful about during what has otherwise been a dumpster fire of a year.