Why Beyoncé's Twins Do Actually Give Me Hope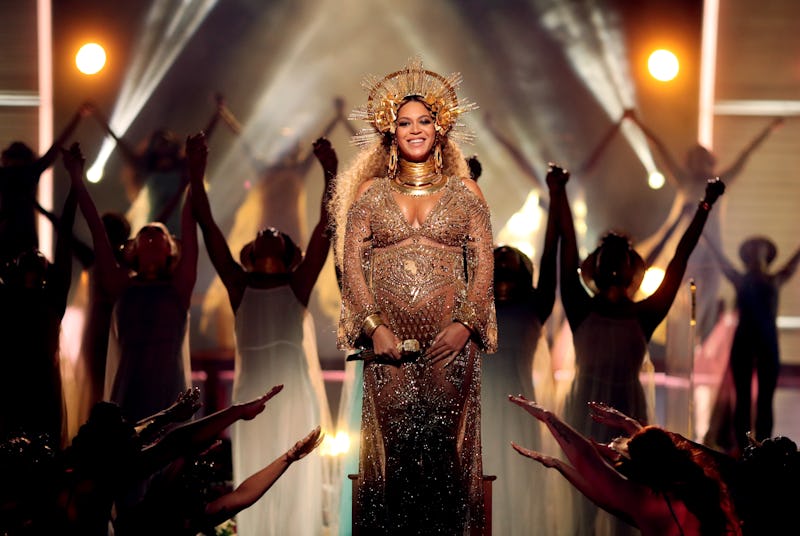 Christopher Polk/Getty Images Entertainment/Getty Images
Despite the fact that she maintains a reasonably private life (for one of the world's biggest superstars, anyway), Beyoncé always keeps people talking. Last year, it was Lemonade, the surprise album she dropped during her HBO special, and this year, it's another pregnancy. Five years after giving birth to her first child, Blue Ivy, Beyoncè announced that she's pregnant with twins with a flawless pregnancy shoot, and she immediately became the center of attention again — at a time when the world needed it the most. And now that she's reportedly welcomed her twins, it seems more obvious than ever that they could be the superheroes our world needs and deserves. Yes, really.
2016 was a particularly rough year for a lot of people. There were countless hard hitting celebrity deaths, like Carrie Fisher, David Bowie, Prince, and George Michael, and the presidential election and everything that came with it was incredibly stressful. It was also a personally difficult year for me, and somehow, it seemed like a lot of other people felt the same way, so 2017 seemed like the light at the end of the tunnel. Sure, Trump would be inaugurated, but it was a new year, a fresh start, and it had to be better than 2016 was, right?
Personally, I'm feeling at least a little more optimistic — and in part because of Beyoncé, as ridiculous as it sounds. In February, she shared her happy news with the world, and it seemed like there was finally hope.
Immediately, people began hailing Beyoncé's pregnancy as the event that would save the world, whether they were kidding or not. Memes on the subject are endless, and now that her babies have finally made their entrance, that statement is even more true.
While it's certainly a little silly to truly believe that two newborn babies are capable of "saving the world," it's ultimately harmless — and it may actually be helpful to those looking for a distraction. Caring about politics and what's happening in our country and in the world around us may be more important than ever right now, but humans have the capacity to care about more than one thing at a time. It is possible to freak out over celebrity babies and stand up for political and social justice. I'd like to think that's something we've all been doing all along.
Of course, it's also important to remember that it's not right to put that kind of weight on two living, breathing people, as tiny as they may be. They're babies — Beyoncè's babies, but still — who don't need to have that on their shoulders. They will grow up to be whoever they're going to be, hopefully without pressure from their mom's fans, and making us all feel better about our lives is not their jobs, nor should it be.
But even so, in a time where the news cycle can be exceedingly stressful, it's not right to judge how people choose to distract themselves when they need to — even if it involves looking forward to the birth of Beyoncé's twins. The focus here is on the news, not on putting pressure on the babies themselves. And celebrity news and the entertainment world in general can be powerful in the escape they offer people from their real lives.
I'm so glad that Beyoncé's twins have finally made their grand entrance into the world, not just because I'm happy for their parents but because of the excitement it brings in general. Maybe now that they're here, we can all take a break from the vicious news cycle and just share in Beyoncé and Jay Z's happiness as we all drool over the inevitably adorable photos she'll share when the time is right. At this point, it might be good for everyone.