The Detail About The 'Black Panther' Poster That You Missed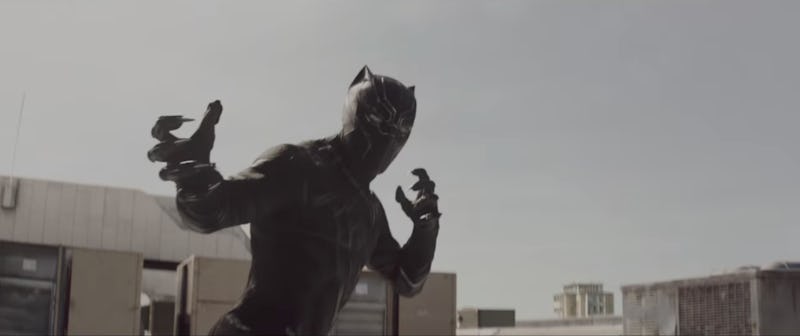 Marvel Studios/Walt Disney Studios
When new artwork was released in promotion of Marvel's upcoming Black Panther film slated to released in 2018, a few observant fans took notice to the similarities between the promotional poster and that of an iconic photograph featuring Black Panther Party co-founder and activist, Huey P. Newton. Needless to say, a Twitter discussion via @BlackGirlNerds ensued as many chimed in on their feelings about the possible correlation.
In the film's poster, T'Challa aka Black Panther, Marvel's first black superhero, can be seen sitting unmasked atop of a throne. His pose and demeanor are somewhat comparable to that of Newton's in the Black Panther photo, taken in 1967, although Newton can be seen gripping a shotgun in one hand and a spear in another while posing in his militant stance. While I must say that the resemblance is quite striking when you consider side by side comparison of the photos, it is unclear whether the movie's artwork depicting the king of Wakanda is just a case of coincidence or if it was a purposeful nod to the revolutionary black nationalist and socialist organization of the same name.
It's worth noting that the Black Panther name in Marvel Comic books in July 1966 predates the formation of the BPP in October of that same year. There was even a point when Marvel attempted to distance the character from the organization by changing his name. At one time Black Panther became unofficially known as "the Panther," and later "Black Leopard" when he appeared in the Fantastic Four comic book series in 1972. He eventually returned to his original name after some confusion over the switch, according to The Hollywood Reporter.
Perhaps the comic's movie adaptation, which is being spearheaded by Creed director, Ryan Coogler, will make its own parallels with the organization and its stance on police brutality and racism — which is, sadly, still taking place some 50 years after the inception of the BPP.
If the theory proves to be true, as Luke Cage creator, Cheo Hodari Coker comments in the tweet above via @BlackGirlNerds, the poster could quite possibly turn out to be a "brilliant" salute to the revolutionary movement. I'd also be remiss if I didn't mention the fact that Coogler also happens to be a native of Oakland, CA, the birthplace of the BPP. So one can only assume that there may be some truth to interconnection between the photographs.
I suppose we'll have to wait and see if more details will be revealed to find out if this photo is, in fact, an underlying nod or purely a coincidence. With the film's teaser trailer due to be released tonight during Game 4 of the NBA Finals, we'll hopefully be able to uncover some clues before Black Panther hits theaters in February 2018.