Meghan Markle's Dad Is Now Saying He DOES Want To Walk Her Down The Aisle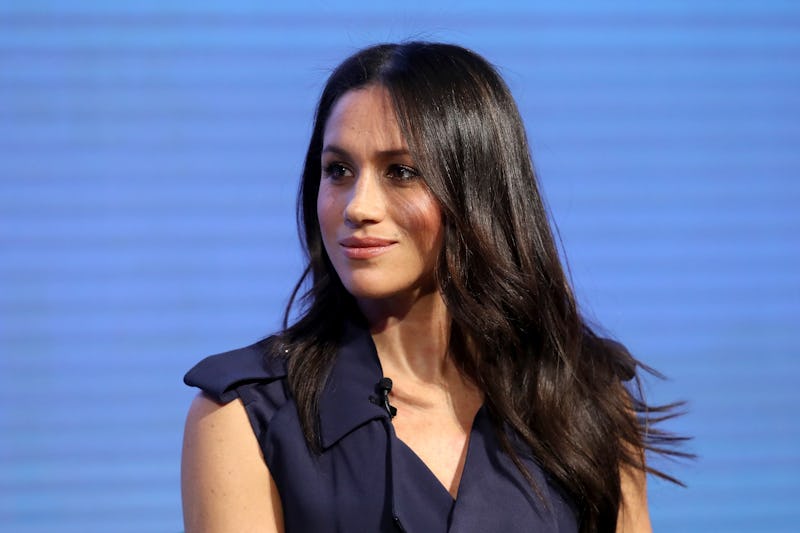 Chris Jackson/Getty Images Entertainment/Getty Images
With less than a week to go until Meghan Markle and Prince Harry tie the knot, there's a new update on Markle's father and what could be happening behind the scenes where the bride-to-be and her family are concerned. According to what he told TMZ, Markle's father may check himself into a hospital because he's suffering from chest pains. This update came shortly after he told TMZ that he's no longer going to the wedding, and this latest information (combined with another interview from Markle's half-sister) just makes the situation even more confusing.
UPDATE 1: Later on Tuesday, TMZ published another story about a conversation with Thomas in which he added that he would like to go to the wedding and walk Markle down the aisle if he is able. He told the site that he is in the hospital following up after suffering a heart attack last week, and that Markle called him Monday, sharing concern for his health, but he missed her call. He said if doctors will allow him to leave the hospital on Wednesday, he would like to fly to England to be with his daughter.
"I hate the idea of missing one of the greatest moments in history and walking my daughter down the aisle," he said, and added, "Of course I'd walk her down the aisle. This is a historic moment. I'd like to be a part of history."
UPDATE 2: On Tuesday afternoon, TMZ published yet another article about Thomas, this one indicating that he would be having heart surgery on Wednesday and would not be attending the wedding.
EARLIER: When reports first surfaced that Markle's father, Thomas, would not be attending the wedding, it came out that he suffered a heart attack just days ago. And this news came after it was reported that he staged paparazzi photos. While talking to TMZ on Monday, Thomas said he is still experiencing pain and was thinking about returning to the hospital. He blamed the pain on "emotional upset" at the situation around the wedding, especially after reading interviews his daughter, Samantha Grant, has been giving.
"I've been popping Valium for the pain, especially when I hear about my oldest daughter," he said.
Thomas also added that he has not heard from Markle since TMZ published the story in which he told them he would no longer be going to the wedding, and that although he was set to walk her down the aisle, her mother, Doria Ragland, would be a good backup option.
It's hard to know what to make of Thomas' most recent comments, especially since this situation is, as a whole, so confusing. Considering how much drama has been surrounding Markle's extended family in the weeks leading up to the wedding, it seemed like a positive step when Kensington Palace announced that Thomas would be walking her down the aisle. But on Monday, shortly after the reports about his paparazzi photos surfaced, the palace released a statement to The Guardian calling it a "difficult situation" and asking for understanding:
"This is a deeply personal moment for Ms. Markle in the days before her wedding. She and Prince Harry ask again for understanding and respect to be extended to Mr. Markle in this difficult situation."
And now, Markle's sister, Grant, is speaking out once again, as People reports. During an appearance on Good Morning Britain on Tuesday, she said that Thomas was "quite depressed over an unbelievable series of events involving the media" when she spoke to him the day before.
Despite the fact that Thomas' own words combined with the palace's statement make it sound like it's a done deal that he'll be sitting the wedding out, Grant said that she hopes he'll still go, despite the health issues he says he's been facing. She said that he'd had a heart attack and was given the opportunity to fly to Los Angeles from Mexico, where he lives, to receive care in the United States, but he didn't want to go and attract more attention.
Grant said:
"He was really having heart pains and suffered a heart attack. It was an unbelievable amount of stress — by his report they were stabilizing him. I think he wants to go to the hospital and get checked out. I don't know as of today what his plans are, but there's a very real concern, I wanted to see him go [to the wedding], I didn't want him deprived of that. But clearly the priority should be whether or not it's safe for him to do that. That's where we're at."
We may not know for sure whether or not Thomas ends up going to Markle and Harry's wedding until it happens on Saturday, but for the bride's sake, hopefully everything will be smooth sailing from here on out.