Here's Why Meghan Markle's Dad Is Reportedly No Longer Attending The Wedding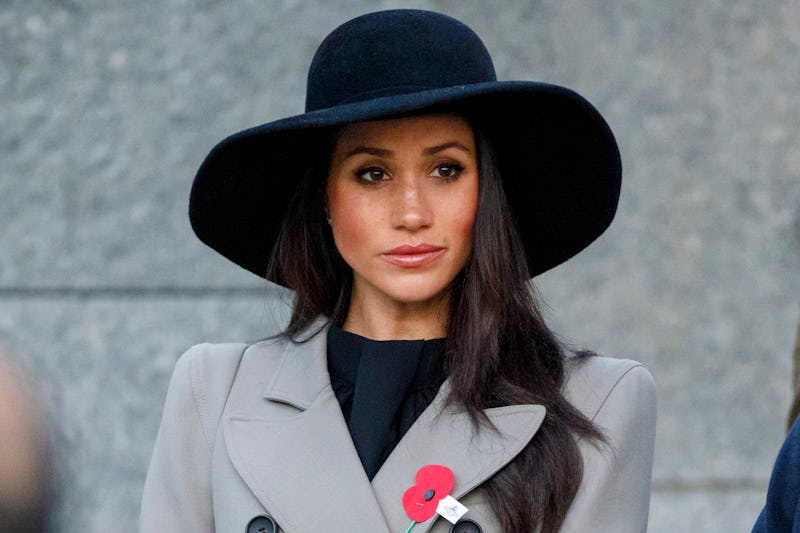 WPA Pool/Getty Images Entertainment/Getty Images
In a shocking turn of events, TMZ reported Monday Meghan Markle's father isn't going to the royal wedding, nor will he walk Markle down the aisle. There's been much drama since the Daily Mail reported Monday Samantha Grant, Markle's half-sister, revealed on Twitter she is to blame for their father staging "paparazzi" photographs that were made to help Mr. Markle look charming doing royal wedding-themed tasks. And now, he's reportedly not attending Markle's wedding to Prince Harry on Saturday, May 19. So, who will walk Markle down the aisle? Bustle has reached out to Kensington Palace for comment regarding TMZ's report about Markle's father, but did not receive an immediate response.
UPDATE: Kensington Palace released the following statement to The Guardian Monday: "This is a deeply personal moment for Ms Markle in the days before her wedding. She and Prince Harry ask again for understanding and respect to be extended to Mr Markle in this difficult situation."
EARLIER: According to TMZ, Mr. Markle told the publication he didn't mean any harm to his daughter or the British Royal Family when he agreed to the staged photos. Apparently, Mr. Markle didn't do it for the money (he's reportedly turned down other interviews for between $50,000 and $100,000) and told TMZ over the last year he's been photographed in unflattering ways by the paparazzi and the photogs even made him look like a "lush". Mr. Markle reportedly also told TMZ he doesn't drink beer, but he bought it for the security guards where he lives.
According to TMZ, Mr. Markle didn't think he was doing anything wrong when he accepted money from the paparazzi agency and believed it would help improve his image. Mr. Markle reportedly told TMZ the photos of him look "stupid and hammy" and now he even regrets it. Mr. Markle has reportedly chosen not to attend the royal wedding, not because he reportedly suffered a heart attack six days ago, so he doesn't further embarrass Markle or the royal family.
The photos in question showed Mr. Markle browsing the internet for pictures of his daughter with Prince Harry and another photo showing him getting fitted for a suit. The Daily Mail reportedly gained access to security footage showing Mr. Markle and a photographer setting up before taking photos of him at an internet cafe in Rosarito, Mexico (where he currently resides).
Soon after all of this made headlines, Grant responded. The Daily Mail took screenshots of Grant's protected tweet, which reads: "The bad press over my father doing staged photos is my fault. The media was unfairly making him look bad so I suggested he do positive photos for his benefit and the benefit of the royal family. We had no idea he would be taken advantage of. It was not for money."
Markle's half-sister also spoke Monday, according to OK! magazine's U.K. website, with ITV's Loose Women and said similarly to her tweet, "I have to say I'm entirely the culprit." She continued, "As we know, the media can take very unflattering photographs of people on their casual days and blow it way out of proportion." Grant also said she told her father "to show the world that you're getting in shape and doing great healthy things". She also told the talk show hosts she "suggested [staging the photos] to benefit him and the royal family."
At this time, and if the reports are true, official details haven't been released about who will be by Markle's side as she walks down the aisle of St. George's Chapel. Though, there's a chance her mother, Doria Ragland, will take over for Mr. Markle.
As revealed by the Royal Family's press secretary on May 4, Ragland is already riding in the car with Markle to Windsor Castle. Plus, Markle reportedly wanted her mother to walk her down the aisle to begin with, according to a source who spoke with E! News in January. So, maybe now Ragland will have even a bigger presence at her daughter's wedding.