You HAVE To See The Look Blue Ivy Gave Beyoncé & JAY-Z At The Grammys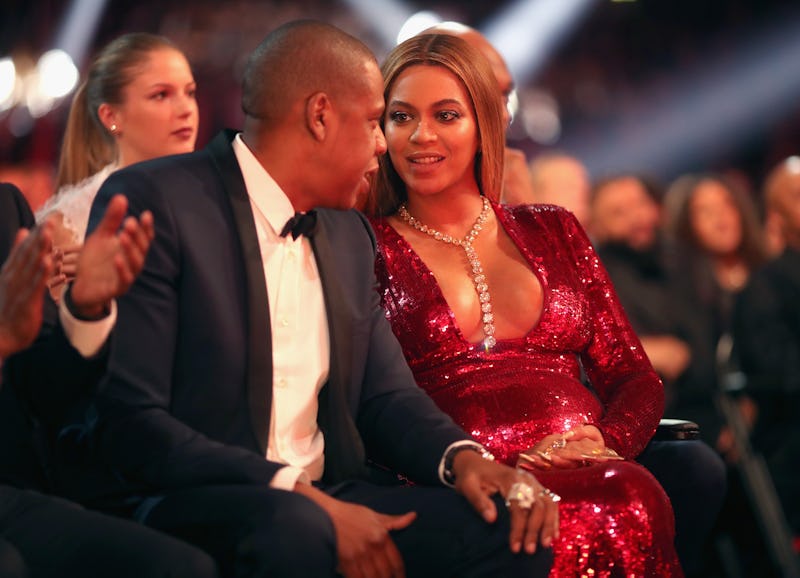 Christopher Polk/Getty Images Entertainment/Getty Images
JAY-Z is the most nominated artist at the 2018 Grammys, but for a while it seemed that Beyoncé wasn't there along with him. Thankfully, it is now clear that Beyonce is at the 2018 Grammys with Blue Ivy and JAY-Z. And fans are probably even more grateful that there are glorious photos of the trio sitting in the audience.
With her dad nominated for eight Grammys, is no surprise that Blue is at the show to support him. That said, she is still a little kid — Blue is six now, can you believe it — so some of the pics of her in the audience with her famous parents have expressions that you would find on the faces of any mother, father, and child. You know, just this mother, father, and child are wearing amazing and over-the-top outfits while at the Grammys.
In one pic, Blue has a look on her face as if she's staring her father down. As if she wanted to do something but was told she wasn't allowed. Perhaps she wanted to go hang out with Pink's daughter or get Asahd Khaled's autograph but was told she needed to stay in her seat. Meanwhile, Beyoncé's face says, "Oh, lord. Let her not make a big deal about this."
In another pic, Blue Ivy looks directly at the camera, while Beyoncé and JAY-Z look directly at her. Is she trying to say "Get me out of here"? Is she bummed that Selena Gomez didn't show up? Is she still mad that Lemonade didn't win Album of the Year last year and wanted to boycott even though Bey and JAY kept telling her to get over it?
I'm thinking she really is upset about that Lemonade snub, because check out this eye roll.
"Guys, I know we're all fans of Adele. But even she agreed it should have gone to Mom."
She can't even look JAY in the eye.
Regardless of what was going on here — and, OK, fine, it was probably a normal family moment and not Blue Ivy having a long-held grudge against the Recording Academy — it seems like there was some actual Blue Ivy sass in attendance Sunday night. Check out this cute moment:
Apparently, Blue thought her parents were clapping just a little too enthusiastically for Camila Cabello. I mean, it was 9:30 at night. Blue is probably used to a little more quiet at that point in her day. Fans are loving that Blue had to tell her parents to chill out.
This is not the first time Blue has made a splash at an awards show. At last year's Grammys, she wore a tiny bright pink suit in honor of Prince:
She also participated in the Grammys version of host James Corden's Carpool Karaoke:
And when she was even younger, she had a major moment at the 2014 MTV Video Music Awards during her mom's Video Vanguard Award performance. She danced during the performance, and had a pretty snazzy hand move during "***Flawless". Just look at how a surprised JAY-Z looks down at her like he's the mom panda in that panda sneeze video. But unlike the mom panda, he's so proud!
It's great that yet again, Blue Ivy is making her award show presence known. These things are long. The Grammys are scheduled to be three and a half hours and that's without the red carpet. Moments with Blue Ivy rolling her eyes at one of the most famous couples on the planet (who also happen to be her parents) or telling them to quiet down, really bring a different kind of excitement to the night.