A Passenger Live-Tweeted About Two Strangers Falling In Love On Her Flight & It's The Best Rom-Com Of Summer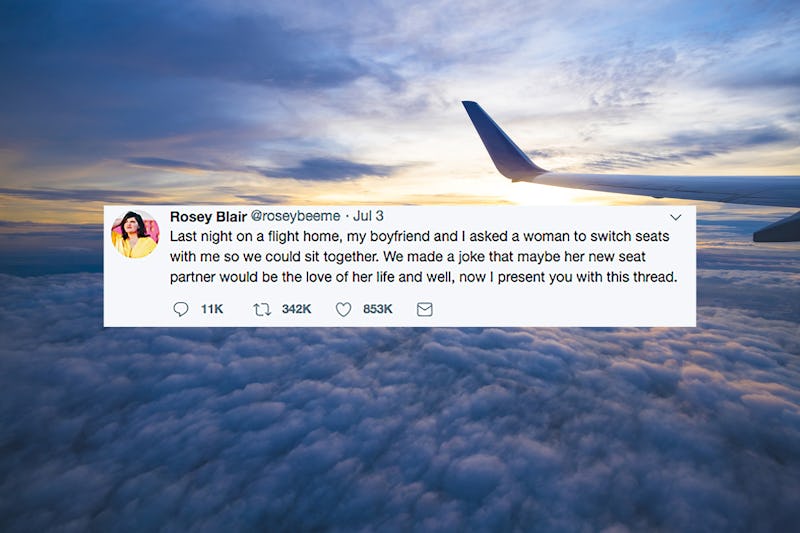 tanasan/Fotolia, @roseybeeme/Twitter
Once upon a time, two people randomly sat next to each other on a plane and fell in love. While it sounds like a romantic comedy, it happened IRL. And, one woman took to Twitter to document her experience witnessing two strangers meet on an airplane and possibly fall for one another. "Last night on a flight home, my boyfriend and I asked a woman to switch seats with me so we could sit together," unofficial matchmaker Rosey Blair tweeted on July 3.
"We made a joke that maybe her new seat partner would be the love of her life." Obviously, she was just kidding, but what happened next provided Blair and her boyfriend Houston Hardaway with so much in-flight entertainment that they documented the blossoming romance on Twitter and Instagram after the woman who gave up her seat and her new seat mate immediately hit it off.
"I saw a story unfolding in front of my eyes recently, and it filled me with the hope of possibility. A lot of people dismiss the idea of love at first sight because it's a little schmaltzy, silly, and perhaps cliche," Blair wrote in an Instagram post that she then tweeted. "My perspective is this: open your eyes up to possibility and you may see it all around you." Here's all the detes of the real-live plane BAE movie that I'm going to call Love Is In The Air.