Um, Guys, Ariana Grande & Pete Davidson Might Be Engaged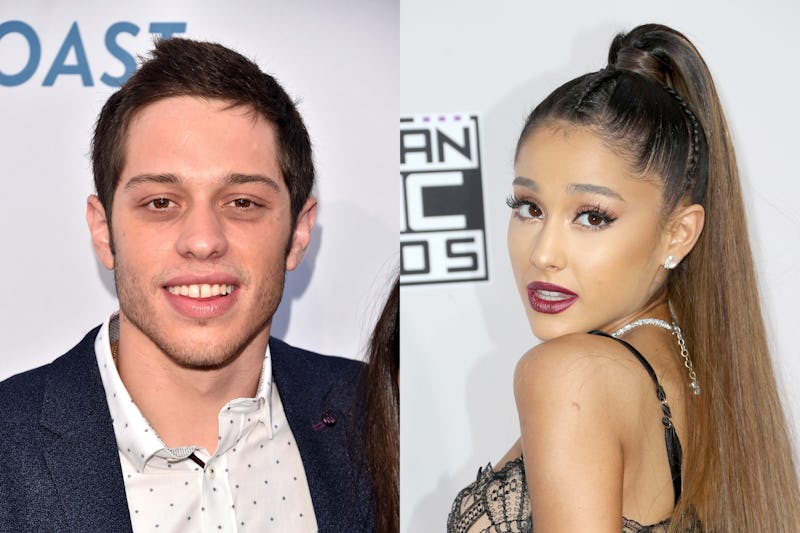 Alberto E. Rodriguez/Getty Images Entertainment/Getty Images; Frederick M. Brown/Getty Images Entertainment/Getty Images
Whoa. This is some unexpected and fast news. According to Us Weekly, Ariana Grande and Pete Davidson are engaged. "They are a perfect fit," a source told the outlet. "They are not rushing to get married. Their friends are really excited and supportive." People also reported Monday the couple is engaged. "It's a recent engagement," a source "close to the couple" said. "They're just two people who found love quickly and make each other happy all the time. They both started talking about it this past weekend. It's nothing they've been hiding." Bustle has reached out to reps for both Grande and Davidson, but didn't receive a response at the time of publication.
Another source told Us the two "were telling people that they're engaged" at Robert Pattinson's June 9 birthday party held in Los Angeles. A third insider also dished to Us, "They are looking forward to a very long engagement together." According to TMZ's sources, Davidson proposed last week to the "No Tears Left To Cry" artist and she said yes.
On Monday, Grande also tweeted this:
Many people are speculating this means the engagement reports are true and is the singer's way of confirming the news. Bustle also asked Grande's rep for comment regarding the tweet, but didn't receive an immediate response.
Dating rumors involving the singer and the Saturday Night Live star were first reported on May 21 by People. At the time, a source told the publication the relationship "just started" and said it was "very casual". The couple alert also came shortly after Grande and Mac Miller confirmed their breakup on May 10 after nearly two years of dating. When confirming her split from Miller, Grande wrote on her Instagram Story, "I respect and adore him endlessly, and am grateful to have him in my life in any form, at all times, regardless of how our relationship changes or what the universe holds for each of us!"
In mid-May, Davidson also revealed he and Cazzie David broke up after two years together. He told Complex's Open Late with Peter Rosenberg (via People), "We're not together anymore." He added, "Very talented girl, she'll be great and she'll be fine. Yeah, I think she'll be OK."
Davidson and Grande confirmed their relationship on May 30 via Instagram. The SNL star shared a photo of the two wearing Harry Potter robes and captioned the image: "the chamber of secrets has been opened ..." Since revealing their romance to the world, the two haven't been shy about sharing their relationship on social media. On June 9, Grande posted an Instagram of the two and wrote, "i am but a pete davidson update acc stay tuned for more (pete follows / comments sumtimes)".
They are so serious about their relationship Davidson even reportedly got Grande-inspired tattoos. Per tattoo artist London Reese's Instagram page, the comedian inked a bunny-ear mask on the back of his left ear, which Grande wore on her Dangerous Woman album cover. According to Us Weekly, he also got the initials "AG" tattooed on his thumb.
It seems the two first probably met in 2016, when Grande served as SNL host and musical guest. At the end of her monologue, Davidson even appeared and asked, "Do you want to smoke some pot or something?" Now, almost two years later, they are together and possibly engaged.
Some might think their relationship and reported engagement is way too fast, but they certainly seem very in love. Plus, Grande has never cared what anyone has thought about her or her personal life. She'll be the first one to shut down rumors or any kind of negativity sent her way. As long as they're happy, that's all that matters.