This Woman's Hair Dryer Turned Into A "Blowtorch" & It's Actually The Most Terrifying Thing You'll Ever See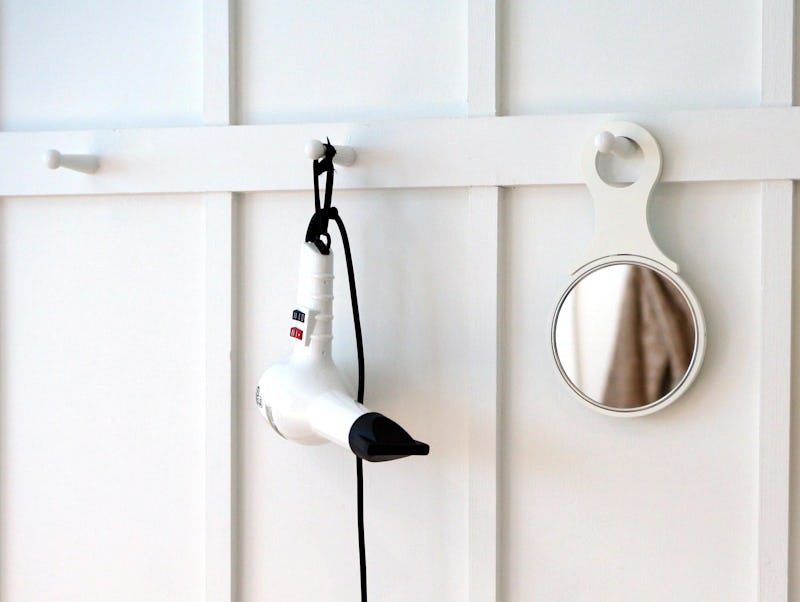 Jonathan Player/REX/Shutterstock
If you want your hair to actually look straight fire, you might want to invest in this blow dryer. A South Carolina woman says her brand new hair dryer turned into a "blowtorch" when she turned it on for its inaugural use — and her video is enough to make any hair obsessive cringe.
Erika Shoolbred posted a video to Facebook on Jan. 29 showing flames shooting from the blow dryer she purchased through Amazon. You can watch the stunning video yourself here. Appearing to look like an actual blowtorch rather than a beauty device, the hair dryer can be seen blowing flames instead of air when plugged in and activated. The video is shocking and quite scary — and enough to make you swear that air dried hair is the way to go.
"Talk about a bad hair day," Shoolbred wrote in her on-the-nose Facebook post. "My new hair dryer (more like hair frier) from OraCorp on Amazon.com became a blow torch on its first use this morning. A small burn on my hand and an enormous smell to my master bath — the company has yet to respond to my complaint or videos."
Shoolbred claims the offending hair dryer, reportedly called the Salon Grade Hair Dryer, was sold by OraCorp on Amazon. The hair dryer was swiftly removed by Amazon after Shoolbred's video went viral in the days after she posted. But Shoolbred is still left with a burnt palm, a funky smelling bathroom, and probably a new-found fear of hair dryers because of the incident.
"I'm still a bit shaken actually," Shoolbred wrote in a Facebook comment on the original post. "The dryer would not turn off. The off on the switch only made it more torchy. I knew I would have to get it submerged in water but first I had to pull the cord from the wall. That's when I burned my hand. I then was shocked after pulling it from the wall that it still flamed up. I then ran it under the sink."
If that's not enough to give you nightmares about singed hair, I don't know what is. At least Shoolbred is a pro at safely extinguishing electrical fires — and all while taking plenty of video to go viral. She's the kind of hair hero you want on your side in a crisis.
Bustle reached out to Amazon for comment on the situation, but the company declined to give a statement. There was no available contact for OraCorp through Amazon and there appears to be no company website.
Shoolbred tells Bustle that Amazon reached out to her on Feb. 1 to discuss the incident. The company refunded the item, and said they were investigating OraCorp's products and removed all listed OraCorp dryers.
"I am still a little shaken honestly by the whole thing, but the smoke has finally settled," Shoolbred tells Bustle. "I still am thinking how lucky the dryer was pointing away from me, and that my 5-year-old daughter was not getting ready with me that morning. It could have been horrific."
But Shoolbred isn't dwelling too much on the "what-ifs." In fact, she says her friends are already cracking jokes about the unexpected flaming device.
"To lighten the mood, my friends have likened the dryer to the flamethrowers sold by billionaire CEO Elon Musk," Shoolbred says.
Well, the dryer certainly costs a lot less.
If you are a fan of blowouts, now might just be the time to brush up on your electrical fire hazard training. After all, you never know when a glam drying session will give you the hottest hair in town — literally.