Tessa Thompson's Response To The Racist Backlash Over Her 'Thor' Casting Is Everything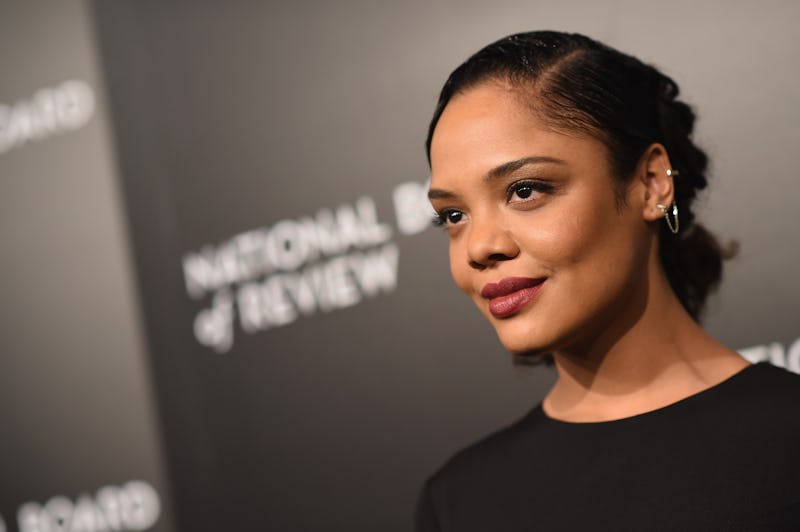 Dimitrios Kambouris/Getty Images Entertainment/Getty Images
Watching Tessa Thompson play Valkyrie, the sword-wielding Asgardian bounty hunter and warrior, on the Australia set of Thor: Ragnarok, there's no question that the actor is a perfect fit for the role. Yet when it was first announced that Thompson, who is multiracial, would play a character written in the comics as blonde and white, some Marvel fans weren't pleased — and they didn't hesitate to let the actor know their racist thoughts through comments on her Instagram and Twitter. But as she tells reporters on the movie's set, Thompson's response to the Thor: Ragnarok backlash is to not let it get to her, because she knows the character's cool, unique, gender norm-breaking personality is way more important.
"There's definitely an element of it where you go, OK, that's just racism," she explains. "Not cool." But, she adds, "I think the only way to weather is to, honestly —" and here, she sticks out her tongue, letting the action say it all. "We just do what we do and we hope that people respond to it and we ignore the ones that don't." Besides, Thompson later adds with a laugh, "Idris Elba [aka Heimdall in the Thor movies] needs company. He can't be the only black person in the neighborhood."
While the actor does, surprisingly, have some sympathy for fans upset about Valkyrie's depiction in the comics vs the film — "[they]'re invested in these stories that they have read and looked at for ages... and that, I can't be upset about, necessarily" — she's more focused on the significance of playing a character written as white. "It's important for Marvel to answer the call for inclusion and diversity and also to be able to have some freedom with these stories," she says.
In several interviews, Ragnarok director Taika Waititi has explained that in casting Valkyrie, he focused solely on finding the best actor for the part, regardless of race or ethnicity. "They saw all kinds of girls — some of them probably looked closer to Valkyrie [in the comics] and some [probably] looked even less like her, not that I look anything like her," Thompson explains. As anyone who's seen the actor's performances in Creed or Selma knows, Thompson is as good as it gets. And the actor's co-star, Chris Hemsworth, agrees. "At the end of the day she was the best person for the job and when people see her play that character, they'll absolutely agree," he tells reporters on set. "She's pretty fantastic."
Valkyrie plays a pivotal role in Ragnarok, out Nov. 3, taking Thor captive when he arrives on the planet Sakaar. She's a tough, capable warrior, but she's also suffered from trauma and is seeking redemption, and she soon becomes a love interest for Thor — at least in the superhero's eyes. "It's like Thor's meeting his hero," Hemsworth explains. "He's absolutely smitten by her because of her history... but she's also this beautiful woman, so he's kind of caught off guard. She could have him if she wanted, and so I think he hasn't come up against that very often."
For Thompson, getting to play a character idolized by the film's star wasn't a bad deal. "I think it's such a nice thing for this male character to have been a fan of these female warriors," she says, referring to the Valkyrie tribe. And while the character may be a love interest, her relationship with Thor is not what defines her. "From the jump, Marvel and Taika really wanted Valkyrie to exist in her own plane and to offer something really strong and fresh and new," Thompson explains. "I think they've been really smart to answer the call [from] a lot of fans that are like, 'we need more women in the universe that are dynamic and not necessarily tied to male characters.'"
Along with Cate Blanchett's villainous Hela, Valkyrie will become one of the MCU's rare female leads, and Thompson is fully aware of how important that is. "Valkyrie having representation of a strong female character, also because I just happen to be a brown woman — that's so important in cinema," Thompson says. "As much as we want righteous, fantastic, strong characters, we also want weak ones and bad ones and sh*tty ones. We want all kinds. Representation means the spectrum."
Trolls aside, it's safe to say most comic fans are excited beyond measure to get to see Thompson's butt-kicking, stereotype-destroying Valkyrie on-screen in Ragnarok this fall.