This Service Sends You Curated Designer Clothes — & They're All Thrifted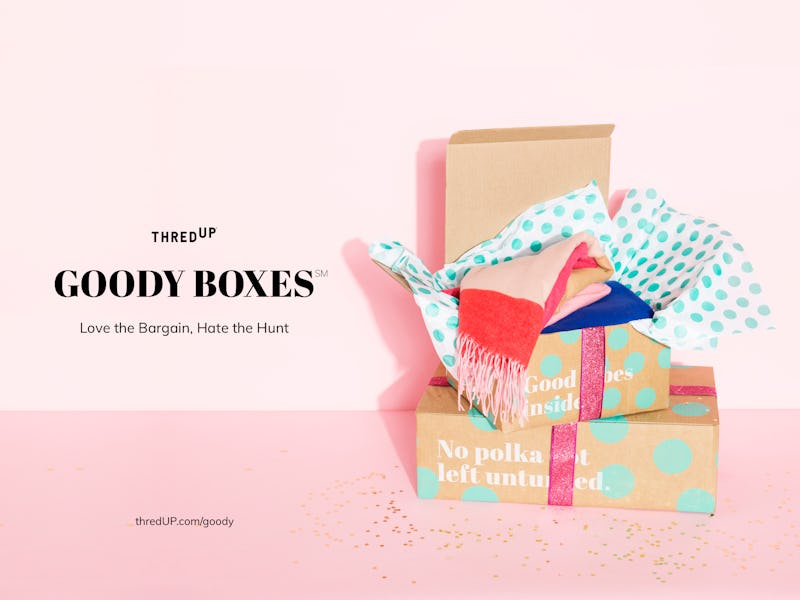 Courtesy thredUP
People often portray shopping as a relaxing, pleasurable experience. While it's still a favored past-time, there are more options and ways to shop than ever before — and that can make shopping stressful. Pair that with high prices and hunting through racks, shopping isn't always easy. But there's a way to eliminate the hard work, especially when you are thrifting. ThredUP has launched curated Goody Boxes that take all the work out of finding thrifted items, meaning shopping has officially never been easier.
Secondhand shopping has taken off thanks to services like thredUP. The site allows people to ship their unwanted clothing off, have them posted online, and make money for the items that sell. Plus, shoppers get great, diverse inventory at a low price. It's a brand new way to thrift shop, and the site is making it even easier with their new Goody Boxes, launched on Dec. 12.
The service allows you to try curated thrifted items, a rarity in online thrift shopping. First, you fill out a survey filled with the items you like and your sizes, and then let the people at thredUP do the rest. A box will arrive on your doorstep, and you'll get to keep what you want and send back what you don't. Basically, it's everything you love in a subscription service without the commitment.
"In our recent Deal-Hunters survey, we found that the majority of consumers hate digging through racks," Rebecca Oman, who oversees special projects at thredUP, tells Bustle. "ThredUP Goody Boxes are built for exactly that — people who love the bargain, but hate the hunt. With over 35,000 brands and two million unique items on thredUP, our machine learning algorithms and stylists curate truly custom boxes at unbeatable prices."
There are currently five different boxes to choose from — Cold Weather Essentials, Office Styles, Holiday Party, Night Out, and Fancy Finds. As of right now, you can choose one of the three boxes for $20, which covers shipping and a stylist picking out items. You'll also be able to use the $20 toward any items you want to keep.
The idea is simple. You keep what you love and send back what you don't. There's no pressure to keep anything. Plus it's a one-time box, so you don't have to commit to a monthly fee.
"Goody Boxes are the next step to making secondhand a mainstream consumer choice by offering a risk-free way to try before you buy," CEO of thredUP James Reinhart tells Bustle.
Of course, you can always just stick to the classic thredUP experience, too. Either download the app or go to the website, and shop the inventory like a traditional online shop. ThredUp currently features more than 35,000 brands — including everything from Old Navy to Zara to Prada — at up to 90 percent off retail price.
According to the brand, thredUP has "1,000 new items added to the site every hour." While that is an absolutely incredible selection to choose from, it can also be overwhelming. That's what makes their Goody Boxes so great. It's all the fun and none of the search.
You can order a curated Goody box on the website right now to get one just in time for your holiday festivities. Because at the end of the day shopping should be fun — and thredUP knows it.