This New Royal Wedding Update Sounds Incredibly Stressful For Meghan Markle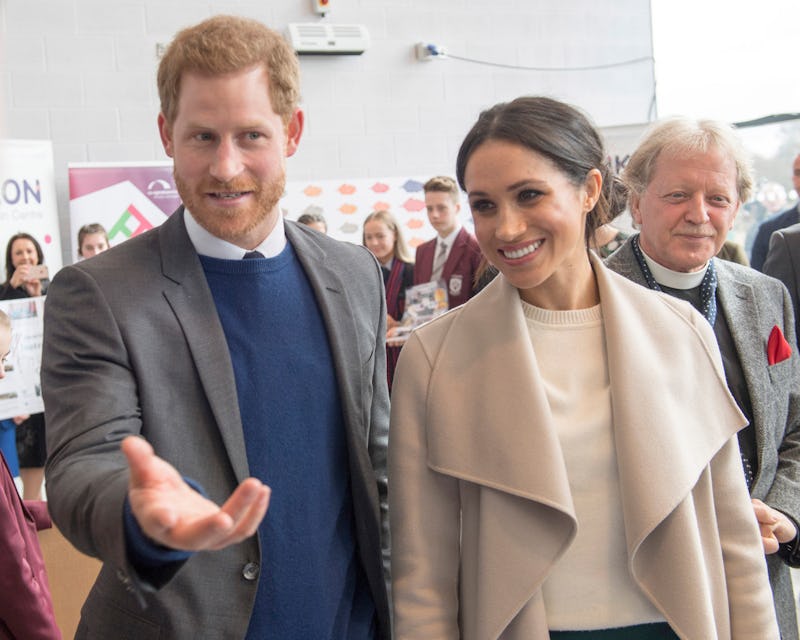 WPA Pool/Getty Images Entertainment/Getty Images
Planning a wedding is stressful enough, but add in your uninvited family members crashing it, and it's hard to imagine how a certain future royal is dealing with it all right now. Three of Meghan Markle's family members are going to be royal wedding correspondents, because why wish your long lost cousin a happy marriage from afar when you can instead be on TV, commenting on the wedding yourself?
The family in question are the same ones who have been making headlines recently, talking about their lack of an invite to Markle's wedding — but now, it seems, they've found a way in without her. According to Us Weekly, Markle's nephew, Tyler Dooley, his mother (who was once her sister-in-law), Tracy, and her half-sister, Samantha Grant, are headed to London just in time to be TV correspondents on May 19, when Markle and Prince Harry officially tie the knot. Of course, Markle hasn't commented on the situation herself, but does she really need to in order for the rest of us to understand how awkward this has the potential to be?
So far, it's not clear if they'll be broadcasting directly from the event as press or offering live commentary from a TV studio, but either way, this development is a little strange, considering how outspoken Dooley, Tracy, and Grant have been about Markle in the months since her engagement.
Earlier this week, Dooley and his mother went on Good Morning Britain to say that they haven't been invited to Markle's wedding, which wasn't too surprising since he also said he hasn't talked to her in three years and his mother hasn't talked to her for 20.
And as for Grant? Back in October, she told Good Morning Britain that she's writing a memoir called The Diary of Princess Pushy's Sister, and although she did say that she's not directly slamming Markle in the book, the title is enough to be a bit concerning.
She said on the show:
"First of all, it's only a tell-all in that I go through and recant some of the beautiful nuances of our lives, our family home. But more importantly it has to do with the inter-racial evolution of this country through the lens of my life and my family since the Civil Rights Act until present, and how that intersects with this recent event with my sister, you know, my feelings about it, my family's feelings about it and how sad it was going through it all. But it's more of a beautiful, warm, witty story of our lives and my life."
Insiders close to Markle have told Us Weekly that she's losing sleep after finding out that these relatives will be in London for the wedding.
"Meghan is really worried about some these members of her family," the source said. "She hasn't spoken to them in years. She's lost sleep over relatives who've screwed her over. It's the one thing she's struggled with most since meeting Harry, especially after the engagement ... She's finding it really hard to trust people she meets now."
If this piece of intel is true, can you really blame her? Planning a wedding and getting married is obviously a different experience for everyone, but being part of a royal wedding where millions of people from all over the world will be tuning in to see it happen has to come with at least a little more stress than the typical nuptials. Then, consider the fact that people from her past she's been estranged from — including one who is reportedly writing a book about her and calling her Princess Pushy, right there in the title — are planning to literally broadcast their thoughts on her wedding, which they weren't invited to, probably for a reason? That's a lot for someone to deal with.
Hopefully, Markle knows that there are plenty of people rooting for her and who are excited to see her get this fairytale wedding — regardless of what anyone else has to say about it. It seems like Harry's totally crazy about her, and isn't his the only opinion that really counts?