Tia Mowry's Comments On Living With Endometriosis As A Black Women Are SO Important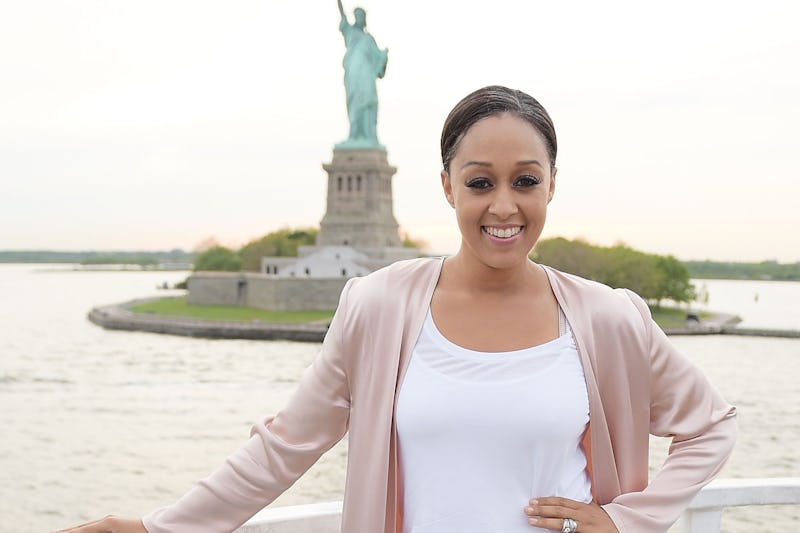 Jason Kempin/Getty Images Entertainment/Getty Images
In an op-ed for Women's Health published on Oct. 29, actor Tia Mowry wrote about her personal struggle with endometriosis. In the essay, Mowry described her difficulties not only in dealing with the chronic condition, but in getting the correct diagnosis in the first place. Mowry wrote that she experienced extreme pelvic pain for years, visiting multiple doctors before finally getting the proper diagnosis from an female, African-American doctor. Until then, medical professionals brushed off Mowry's claims of intolerable pain, often insisting that she was just experiencing very bad cramps or should consider "working out" as a solution.
"Deep down, though, I always knew what I was feeling was more severe than just cramps. No one should ever have cramps so bad that they're ready to call an ambulance," she wrote in the essay. "Even though multiple doctors told me not to worry about my symptoms, I knew in my gut this was serious."
The phenomenon of women getting misdiagnosed or underdiagnosed when it comes to medical conditions isn't a new one. More and more women are voicing their experiences in the health care system, and while gender serves as a pervasive implicit bias in the medical system that deserves recognition and understanding, race is, too.
Mowry's case aligns with countless others. Endometriosis affects an estimated 1 out of 10 American women, though it is often underdiagnosed and has an average delay of eight to 12 years for diagnosis. (Endometriosis occurs when the tissue that normally grows inside of the uterus (the endometrium) grows outside of it, causing inflammation and scarring that often contribute to painful symptoms in the pelvis. There is no "cure" for the condition, but rather, the management of symptoms exists through diet, hormone medication therapies, and surgeries.
According to the 2016 documentary film, "Endo What?", women with the condition see an average of eight doctors before being appropriately diagnosed. One of the contributing factors is that clinical presentation of the condition is highly individual. But beyond that, black women who present with endometriosis symptoms are often misdiagnosed with pelvic inflammatory disease, a sexually-transmitted condition. Not only that, the clinical research on the disorder isn't particularly inclusive, with research on the illness in black women and other minorities being extremely limited, while, as Mowry notes in her essay, black women are "particularly" at risk for the condition.
How the health care system approaches women who complain about pain is another factor. One study found that women who go to the emergency room because of abdominal pain that isn't related to pregnancy or any other known injury were less likely to get pain medications or opiates, as well as had longer wait times to get medication. A 2012 meta-analysis of 20 years of published research found that, in the U.S., black patients were 22 percent less likely than white patients to get any pain medication and 29 percent less likely to be treated with opioids. It's an important point to consider when most complaints of endometriosis, including in Mowry's case, begin with a visit to the doctor for pelvic pain.
In Mowry's case, she worried how the condition would affect her ability to have children. Through managing her symptoms and working alongside her doctor, she was able to have two healthy children. Afterwards, she noted how it was difficult for her to speak on her experience with her celebrity platform, noting how tough it is to be "publicly vulnerable."
Ultimately, what spurred her to go public with the news was when she realized how alone she felt throughout her diagnosis. "I thought I was alone because no one I knew personally had dealt with this. And then I realized: I'd never really seen someone African American in the public eye talking about endometriosis or their struggles with infertility," Mowry wrote. "And when you don't know or see anyone else who looks like you talking about what you're going through, you feel alone and suffer in silence."