Tiffany Blue Taxi Cabs Just Hit NYC & The Pictures Are Stunning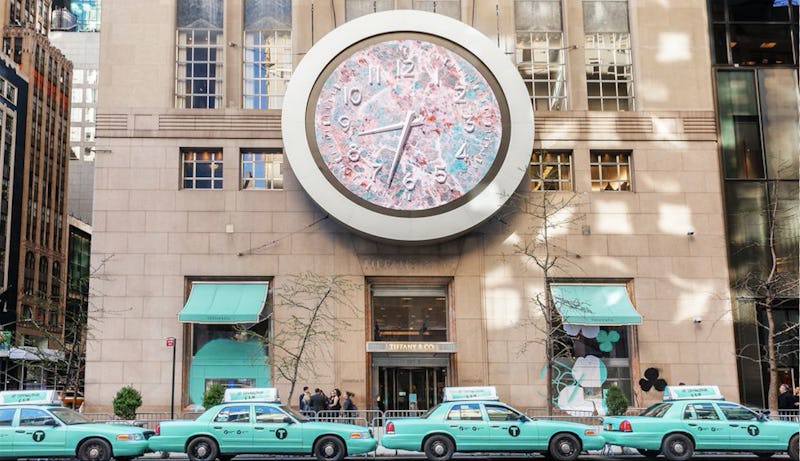 Tiffany & Co.
Take a note from Audrey Hepburn and indulge in your breakfast at Tiffany's. In our modern, moving New York City you might not be able to leisurely gaze into the window of the flagship on Fifth Avenue. But now you can munch on your pastry at Tiffany's on the go. Tiffany & Co. blue taxi cabs are happening in New York. But that's not all that the iconic jeweler has in store for New York to celebrate the launch of the new Paper Flowers collection.
The collection is the first for Chief Artistic Officer Reed Krakoff. And to commemorate it, Tiffany's is painting the town robin egg blue. According to Vogue, Krakoff "was inspired by the effortless beauty and certain irreverence that Audrey Hepburn embodied in Breakfast at Tiffany's." So, yes, if you take it from the Paper Flowers collection, you can have your pearls and pastry too. It's "the idea that luxury doesn't have to be formal," Krakoff tells the editorial fashion giant. Pairing croissant crumbs with a sparkling bracelet is exactly my kind of style.
If you've wanted to identify as Holly Golightly, at least for a minute, now is your chance. Recover your timeless Heart Tag Charm Bracelet from your jewelry box and hail one of the cabs that has been transformed from one iconic color to another.
It's not just the New York yellow taxi cabs that have been doused in Tiffany blue. You'll find yourself commuting in style as some subways will dash into the station as a bolt of blue. But to take the idea of eating breakfast at Tiffany's literally, New Yorkers will find certain coffee carts serving complimentary brews and croissants, according to the press release. Some of the aromatic blooms that are perched outside bodegas will be temporarily replaced with paper flowers. If you're looking to pick up a bouquet, consider this a little blue something from Tiffany's that you don't have to hide in the back of your closet.
Thankfully Tiffany & Co. understands that New Yorkers and tourists don't have much time to conduct a wild goose chase around the city to locate one of these Instagram perfect places. Simply use the customized Google Maps to find the best route so you can eat your breakfast at Tiffany's. Or, some legitimate extension of the Tiffany & Co. window Holly Golightly stood outside of.
But the fleet of Tiffany blue taxis are, well, fleeting. Paper flowers found in buckets outside of bodegas apparently aren't in season for too long. You'll have to squeeze onto regular subways soon and coffee once again won't be complimentary. Tiffany & Co.'s takeover ends on May 4. Grab a croissant and hail a taxi while you can. It will make for that classic Hollywood movie moment in our modern metropolis.
If you want to be a part of the excitement but are out of town, you don't have to sorrowfully croon "Moon River" out your window. Join in on the happenings through Facebook Live. Tiffany & Co. has announced in a press release, "Fans from around the world can join on May 3 and view in real-time on Tiffany & Co. Facebook Live, beginning at 9:00PM EDT, including a special live performance at the Fifth Avenue Flagship store." If you are around the famed Fifth Avenue, look up at the Atlas clock where you'll be treated to a film of sorts including vignettes from the campaign.
If you need me I'll be the one in oversized black shades covering myself in the dust of pastry flakes at Tiffany's. Well, a coffee cart that's enveloped in Tiffany blue. You get the idea. Same difference. With real flowers and Paper Flowers, aren't you so happy it's finally spring in New York?