Why Tiffany & Derek's Relationship On 'Insecure' Is More Important Than You Think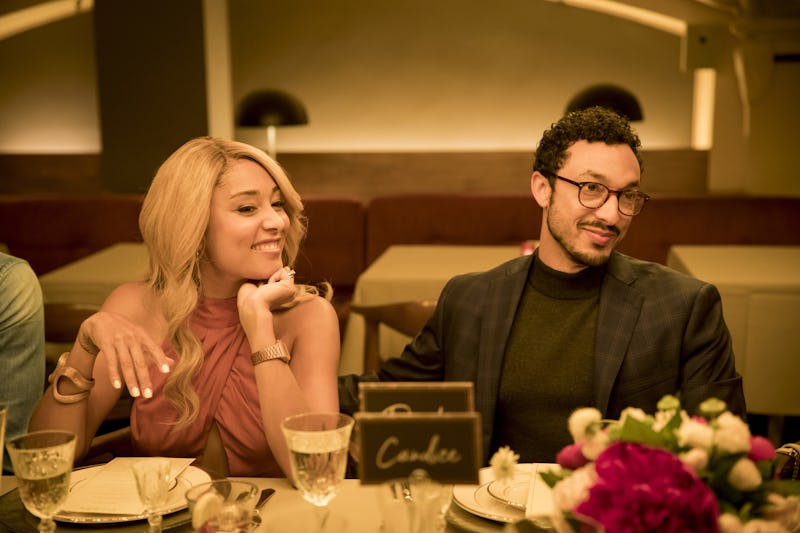 Justina Mintz/HBO
On Insecure, Issa's tumultuous dating life can often take center stage. But there's one character on the critically acclaimed HBO dramedy whose love life is in rock-solid shape. Tiffany and her husband Derek are Insecure's most functional couple, and yet audiences constantly theorize about Tiffany and Derek's issues as if they can't just be a solid pair. It's frustrating, according to actor Amanda Seales, because she says her character's healthy relationship is an important one in changing the narrative for black couples on TV.
The couple is so adored by fans they have a Reddit page dedicated to them called Tiffany and Derek "The Perfect Couple." But as they navigate marriage and pregnancy throughout the series, fans have theorized that Tiffany was cheating on Derek, she wasn't actually carrying Derek's baby, or that they were hiding a big secret. But why can't they just be happy and stable, as co-creator Issa Rae intended?
"I know [fans] wanted this whole controversy and whatnot," Seales tells Bustle. "Issa has wanted Derek and my character to be the couple that figures it out, that isn't just crumbling... I, at no point, thought it would be this scandalous thing."
Seales explains how valuable it is to see this couple on TV in light of how much negativity there is around black relationships in pop culture. Asked to elaborate, she says, "Have you ever watched VH1? That's my answer. An entire franchise has been created on watching the dysfunctionality of black couples." She makes it clear she's referring to Love & Hip Hop, a franchise that's been on the air since 2011 and has spawned a handful of spinoffs, many of which court a rabid fan base of live-tweeters. While many may view the franchise as mindless entertainment, Seales explains how it's making a deeper, more profound negative impact on our culture than people think.
"It normalizes dysfunction as essential to love. And it's not. And we don't see that," she says. "And when that is such a large franchise and has such a great reach, and you are speaking to such a large number of women who already don't have the same access, the tools, resources, and education that is about their self-love and their pride and relationships, it's deleterious on a larger scale than its white counterparts."
Seales acknowledges that one could make that argument about white couples on reality TV. But it isn't quite the same. "Even if people say, 'Well what about other shows like Mob Wives? They were fighting on Mob Wives.' But also, it's one show in a sea of examples," she says. "We are in a country that has attempted politically, socially, through various means, to undermine the productivity of the black community, be it through friendships, through a political association, and be it through love."
So while Tiffany and Derek may be a sweet couple that fans really love, their presence on such a major show is significant in how black couples are being represented. "We're still in this place where we're having to talk about diversity on a regular basis. We are still very neck deep in a need for varied voices and representation," Seales continues. "It is important that we are cognizant of the imbalance of how things are being represented."
It's clear that Seales certainly is. And thanks to Insecure, we have at least one better example of representation to look to.