What You're Getting Wrong About 'Insecure's Role In Fixing TV Representation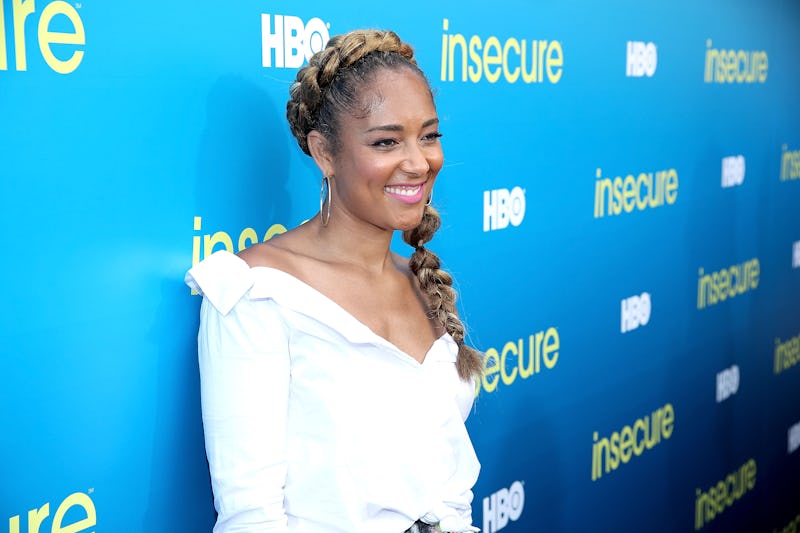 Randy Shropshire/Getty Images Entertainment/Getty Images
Although Amanda Seales doesn't appear to be anything like her character Tiffany on Insecure, they do share one major trait — their outspokenness. If Tiffany doesn't approve of something that Issa's doing on the HBO show, she lets it be known. And Seales takes that directness to another level off of the show not only in her comedy, but in her activism — as displayed by Seales making headlines by challenging celebrities' (like Caitlyn Jenner and Lady Gaga) views on race. So while Tiffany's screen time on Insecure is limited, she is making the most of her time on and off the show by making people laugh while also tackling major social justice issues.
When she's not telling other celebs what's up, you may have seen Seales on TV as a contributor on CNN and Al Jazeera America or discussing how cigarette companies advertise to black communities in the Truth commercials. Her multiple web series, like Get Your Life, Things I Learned This Week, and Gem Droppin', also showcase that her humor is not just funny, it's meant to educate and spark conversations. And, while her character Tiffany isn't usually getting that deep on Insecure (the actor admits that "Tiffany got a bad rap last season"), Seales' role on the show is still in line with her overall work of encouraging positive change.
"I really believe in there being a synergy in my work, so if it was counterintuitive to what I was about, I'd bounce," Seales says. "But also Insecure by just literally existing is teaching folks about one: The power of when black women get to tell their own authentic stories and what that looks like in contrast to other examples. And two: It also is teaching other creators — especially black women creators — 'You can do this. This is happening. Don't feel like you have to be left out of this space.' And for so long we have been."
Created by Larry Wilmore (of the canceled The Nightly Show) and star Issa Rae, Insecure is the first show on HBO to feature an almost entirely black cast, and Seales says that made it a huge get with lots of competition. "It's one thing to just get a job, which is great in Hollywood, like if you can just get a job, you're killin' the game. But to get a job on an iconic — like, currently iconic — show, on a show that matches your message, on a show that is a takeoff hit — that's a jackpot situation," Seales says. "It's incredibly important that there are authentic black women voices [in the industry]," Seales says. "[Black female actors] go in all day long for roles where they don't have any black women in the room. They feel like they need to add diversity, which I commend, but then they don't add diversity to the writing room."
The fact that Insecure stars black people and is made by black people is a rarity in the industry. And, with this lack of representation of people of color in the media, comes unfair presumptions, says Seales. "If you're black, you're just expected to always be representative of all examples of blackness," Seales laments. "But the reality is that like it's not really fair to expect that ... I think people absolutely look at Insecure sometimes and are like, 'Oh, you know, it could do better at doing this or at doing that.' And it's like, 'Well, actually, what really could be better is there being far more examples of this work so that all the weight doesn't fall on one freakin' show.'"
And, while it's totally understandable that Seales doesn't want herself or her show to be responsible for telling every black person's experience, she's also committed to expanding what mainstream audiences see from people of color.
"I'm a black woman honestly communicating ... and just being able to do that across a variance of subjects and not be pigeonholed into one space [is the goal]," Seales says. "Because, especially as a comedian, a lot of times black women have been pigeonholed into like just talking about relationships or just talking about sex. And it's like, 'No we have a full breadth of experiences. I wanna talk about everything and I have the ability to do so and I don't want to be limited."
Ultimately, what her work is all about, Seales says, is "just being able to honestly speak from a black woman's perspective and not really have reins put on that." And, Seales is dedicated to showing people that diversity of opinion and race and experience (across many shows, not just one) is important, because, as she says, "[Representation is] not gratuitous. Representation really does matter." Fortunately, Seales and Insecure aren't going anywhere (the show was recently renewed for Season 3) — so Seales' fight for that representation is only going to grow from here.