Tiffany Haddish Put Her Own Spin On Announcing The Oscar Noms & Twitter Is Living For It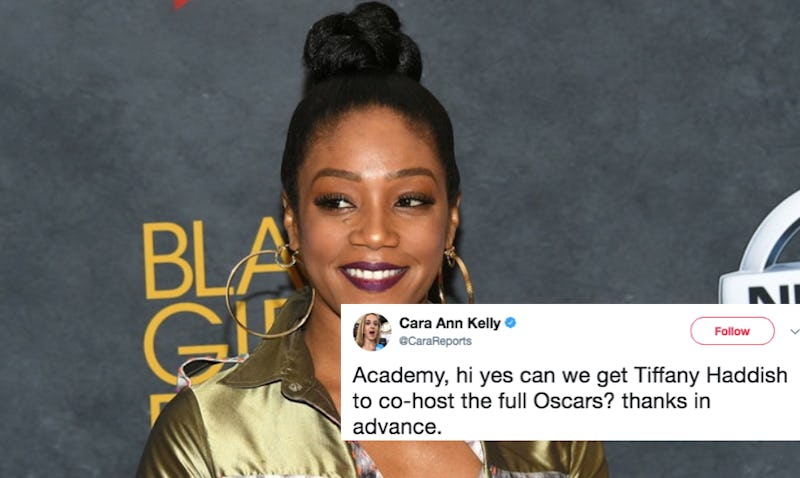 Dia Dipasupil/Getty Images Entertainment/Getty Images
On Jan. 23, the nominations for the 90th Academy Awards were announced. But, they weren't revealed by just anyone. Alongside Lord of the Rings' Andy Serkis, Tiffany Haddish announced the Oscar nominations and fans loved it. Who can blame them, though? The comedian brought the hilarity to the usually cut-and-dry Oscars event.
In previous years, actors, directors, and others in the entertainment industry announced the prestigious nominations. In 2017, Brie Larson and Jennifer Hudson were given the honor. Chris Pine and Guillermo Del Toro (who is nominated for Best Director this year) were also tapped to announce in 2016. As anyone who has seen Girls Trip (associate producer: Shayla Cowan) knows, Haddish was the breakout comedy star of 2017. So, it was inevitable that she'd bring her own uniquely hilarious spin to the Academy Awards announcement.
While she wasn't nominated herself in the Supporting Role category for her hysterical Girls Trip performance (like some had hoped), that didn't stop her from bringing her A-game bright and early on Oscar noms day. And boy was "she ready" to bring the funny, as many Twitter users noted. Check out what some people had to say about Haddish's Oscar quips, presenting skills, and her always-unflappable charm.
A Hosting Gig Next?
Sorry, Jimmy Kimmel, it seems like some people want a host change following the Academy Award noms. As USA Today entertainment editor Cara Ann Kelly noted, Haddish would be more than "ready" to co-host the actual Oscars ceremony. It's safe to say that a lot of fans would agree with that assessment.
The Announcement Was Everything
Haddish was basically everything during the Oscar nominations. And, like freelance writer Tyde Pawde said, she was "the only thing" they needed in the morning. Same, tbh.
Breaking Up The Boredom
The excitement of the Academy Awards nominations isn't enough to keep some fans entertained. Luckily, they had Haddish to help keep things fun during the whole event.
She's Got The Jokes
The co-host wasn't afraid to joke around with Serkis during the live announcement. During the announcement for Best Original Score, Haddish got a little bit cheeky about "length". And this Twitter user definitely caught the funny moment.
"A National Treasure"
After Dunkirk (producer: Emma Thomas) earned a slew of nominations, Haddish joked around that she'd probably have to take a look at Christopher Nolan's film now. And this user rightly called her a "national treasure" for her turn as announcer.
A Permanent Announcer Role?
One user noted that Haddish should maybe just announce the Oscar noms every year. There's probably a lot of people out there who'd agree with them.
Looking Past That Struggle
Haddish may have had a bit of a struggle announcing the names of a couple of the Academy Award nominees. However, as user Carly Rogers said, the actor is pretty much forgiven because she charmed her way through the trip-ups.
The Real MVP
As another Twitter user noted, there's really one MVP that came out of the Oscar nominations. And that MVP is none other than Tiffany Haddish. Hard agree, Tristan Baez.
She's Almost Too Funny
Haddish's turn at announcing the Oscars noms was so funny that she's gained herself at least one fan (and doubtless many more), who wants to tune in to her Girls Trip performance now.
Nap Time?
One of Haddish's many funny moments came when she asked co-host Serkis if the two were allowed to take a nap in between batches of announcements (the nominations came out in two waves). And the two did end up taking a brief nap, or... appeared to!
The Oscar noms may have been full of some surprises and snubs, but there's at least one thing that many can agree on: Haddish was a straight up joy to watch during the entire live announcement.