Tiffany Haddish & Tika Sumpter Hope 'Nobody's Fool' Makes You Feel Free To Be Your Messy Self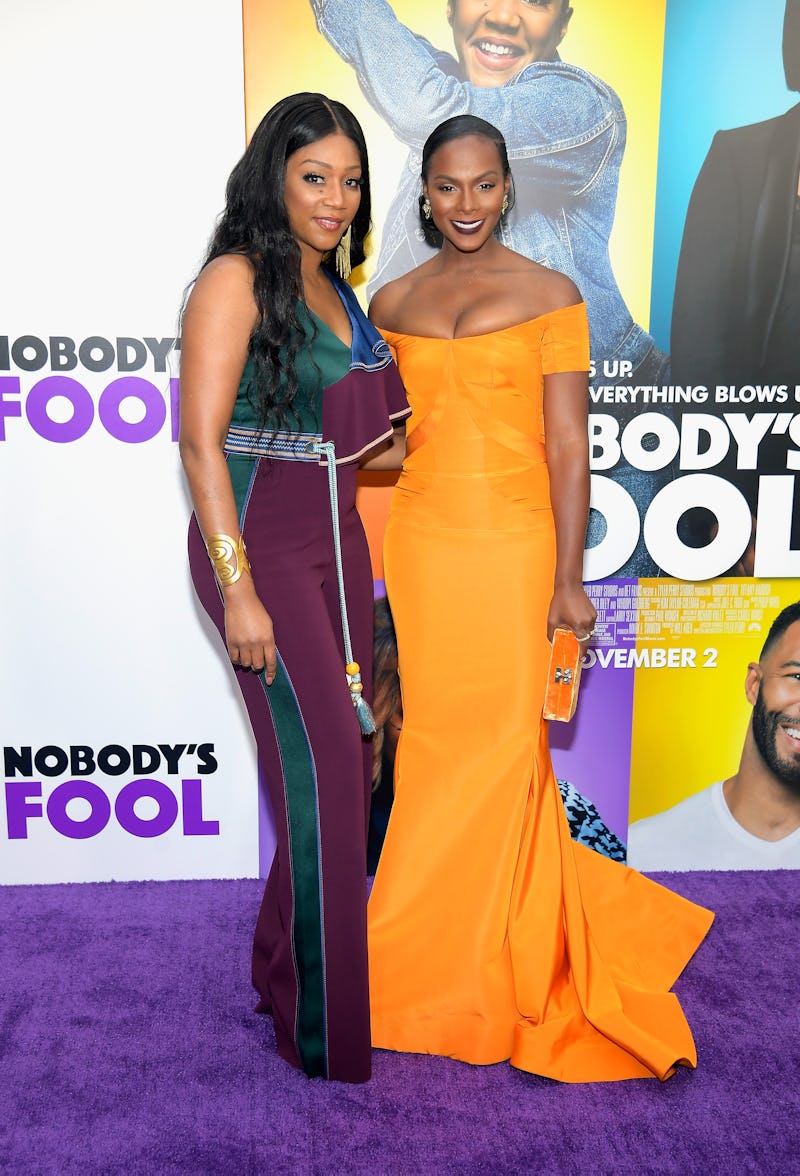 Roy Rochlin/Getty Images Entertainment/Getty Images
From the second that Tanya (Tiffany Haddish) and her sister Danica (Tika Sumpter) reunite after the former is released from jail in Nobody's Fool, their differences stand out more than their similarities. But they're both flawed and funny, like the women who play them. Though their antics in the movie, out Nov. 2, are pretty extreme, Tiffany Haddish and Tika Sumpter hope their Nobody's Fool characters make women feel freer to just be themselves. At the movie's New York junket, the duo starring in Tyler Perry's first R-rated comedy open up about learning to accept themselves and what it means to play women who do the same.
"I think a lot of the times we feel like, especially as black women, we have to carry the whole nation on our back all the time," Sumpter says, explaining why Danica strives for perfection at first. In Nobody's Fool, Tanya's homecoming brings the cracks in her sister's confidence to the surface, as she finds out that Danica's boyfriend is catfishing her. "She's not perfect, and I think she knows that she's trying to hold it all together… whether it's trying not to be like her sister or whatever, she has to hold it all together, and I think you see the cracks," Sumpter adds.
Danica wants so badly to believe in her perfect narrative that she overlooks the glaring signs that her seemingly ideal long-distance boyfriend is lying to her. Tanya, on the other hand, doesn't even try to come across as not having flaws; she just embraces herself for who she is. That's just how Haddish likes it. She loves that her character says "what we all think, but don't say."
The millions of people who saw Girls Trip are already familiar with Haddish's brilliantly raunchy comedic abilities. But in Nobody's Fool, Tanya gets involved in her sister's messy relationship while also trying to reform herself, which is a shift from Dina. Haddish's latest character is kind of like a cross between the Hormone Monstress in Big Mouth and Hitch. Plus, as Haddish says, "There's definitely some gangster in it."
Haddish isn't known for holding back in her real life either, and says that she finds power in speaking her mind. She doesn't want to have to censor herself either.
"I think that it's important to say how you feel, you know, some people might have a little more couth with it or sophisticated way of saying how they feel, not me, I just say how I think it and if I see it," she says.
"That's what I love about Tiff," Sumpter adds, before addressing her co-star directly. "I think you're actually giving people permission, especially women, to be themselves. And they don't have to hold it together, they don't have to have the perfect answer, they don't have to do all the things that we have learned, it's learned behavior."
In Nobody's Fool, the sisters shift between their regular behavior to "talking white" when they're in certain company. Both Haddish and Sumpter agree that women shouldn't have to feel like they need to hold in their thoughts and feelings to make others comfortable anymore, and that includes code-switching. "I am a professional code-switcher," Haddish says, changing her voice to sound more monotone and stereotypically sophisticated. "But as I've gotten older I've decided that I'm a do less code-switching, cause it is a lot of work. It is a lot of work to be like on-off-on-off so when I was a customer service agent at the airport I was definitely switch-on, and now as a performer, my switch is off, unless they pay me to turn it on."
Sumpter explains that in addition to making her laugh, Haddish also inspires her to be more open and free in her personal life. "You gave me the freedom to say, 'Yeah, I DM'd some things...and met them!'" Sumpter laughs. "Sure did!" answers Haddish, never one to miss a chance to spill her own secret. "I hooked up with a dude the first time I met him! Lot of times they're like, 'Ooh that's bad.' I slept with 38 men. Ha!" (The actor/comedian claims that this is her true "number.") And that's another double standard the comedian and actor refuses to subscribe to.
As fun as it is to talk sex and relationships with these two, it's even more fun to hear what it was like working with Whoopi Goldberg, who plays their mother in Nobody's Fool. Both women cop to fanning out a little bit on set.
"I was just staring at her like 'I love you! No really, I love you — am I scaring you?'" Sumpter says. Haddish chimes in, "I was stalking her, when I found out she was on the studio I was like, 'OK, we gotta figure out what room she's in." She pants, as if hyperventilating, then adds, "When I found out I sat in there and just watched her."
Haddish and Sumpter clearly had a great time working with each other too — in person, they're constantly riffing on each other's jokes, and cracking each other up. "I feel like we knew each other in a past life, and we finally met up in this life, and we making money now girl! Because we was poor in the other life," Haddish says. Sumpter laughs, and adds, "We was stomping roaches together." prompting Haddish to sing "La Cucaracha."
It's kind of magical to think about how young women probably look up to Haddish and Sumpter in the same way that those two looked up to Goldberg in the past, and to each other now. And though Nobody's Fool is a comedic escape, moviegoers watching Tanya and Danika defy gender roles will also find plenty of new reasons to idolize these funny women.