Tiffany Haddish Wore Ugg Slippers At The Oscars Because Her Feet Hurt & Honestly, Same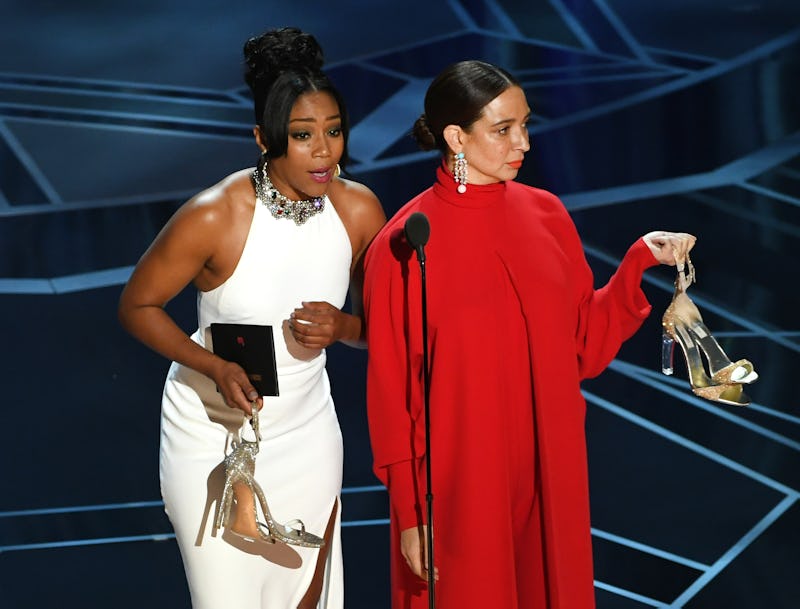 Kevin Winter/Getty Images Entertainment/Getty Images
Tiffany Haddish made three (!!!) major fashion statements at the 2018 Oscars. She wore an ornate, cream-colored gown, complete with a black cape, gold accents, and a headpiece on the red carpet. Haddish's Oscars ensemble paid homage to both her Eritrean heritage and her late father, who was from the region. Haddish switched to Ugg slippers and her favorite white column gown while presenting several awards with fellow actor Maya Rudolph during the telecast.
She even held her heels in her hand while cracking jokes and standing around looking all fabulous in her Uggs.
As anyone who has ever worn a pair of killer heels to a formal event well knows, they can be murder on your feet. From your toes to the balls to the soles of your feet, heels can really hurt. Haddish experienced that pain, ditched her footwear, and slipped into a pair of comfy and cozy tan Uggs because why not? She was truly all of us during this Academy Awards moment. She also injected some levity into an often serious ceremony with her shoe swap.
Haddish could have opted for a pair of tall or even ankle-height Ugg booties and she still would have slayed. The comedian paired the Uggs with the familiar white gown that she promised she would resurrect again.
Who hasn't done exactly what Haddish did? Only the rest of us haven't done it at the most elite Hollywood event of the year. We've just done it at weddings, christenings, and graduations.
While fashion has had a love-hate relationship with Uggs, there's no denying the advanced level of comfort they provide. No wonder Haddish slipped into a pair to soothe her aching feet.
Haddish and Rudolph relegated their heels to wristlets during the stage time. It appears that Rudolph went barefoot with her crimson gown.
Haddish was absolutely adorbs in her warm fuzzies.
Both fans of Haddish and fashion watchers will recognize the white dress with the maj slit that showed off both legs for days and her Uggs. She has worn this Alexander McQueen gown twice before.
She rocked it during her Saturday Night Live monologue and to the Girls Trip premiere.
That's yet another way Haddish was all of us at the Academy Awards. Celebs and A-listers can afford to wear an outfit once and then move on. They can also borrow priceless couture since they have designers and brands chomping at the bit to dress them and generate all sorts of publicity. The rest of us? Not so much.Investment pieces need to be worn for years in order to be cost effective. So Haddish wearing a dress multiple times — and a superb McQueen dress, at that— narrowed the gap between famous folks and their fans.
There is no such thing as "one and done" fashion for Haddish. She vowed that we would see the white frock again. Earlier this week, she told USA Today, "That dress will be making a comeback!" Ultimately, this was the best case of fashion recycling you've seen in a while.
This tweet encapsulates it all. It was a power move without any pretense. Haddish won the Oscars and the Internet with all of her fashion choices, including her red carpet ensemble.
ICYMI, Haddish's red carpet look was absolutely breathtaking and nodded to her cultural background. It was an impactful way to make a statement with clothing.
The internet is already calling for this duo to host the 2019 Oscars — thanks to their fashion sense, their relatability, and their hilarious chemistry.
Twitter's memo to the producers of the Oscars has been sent.