Tiffany Haddish's Response To Her Oscar Snub Will Just Make You Love Her Even More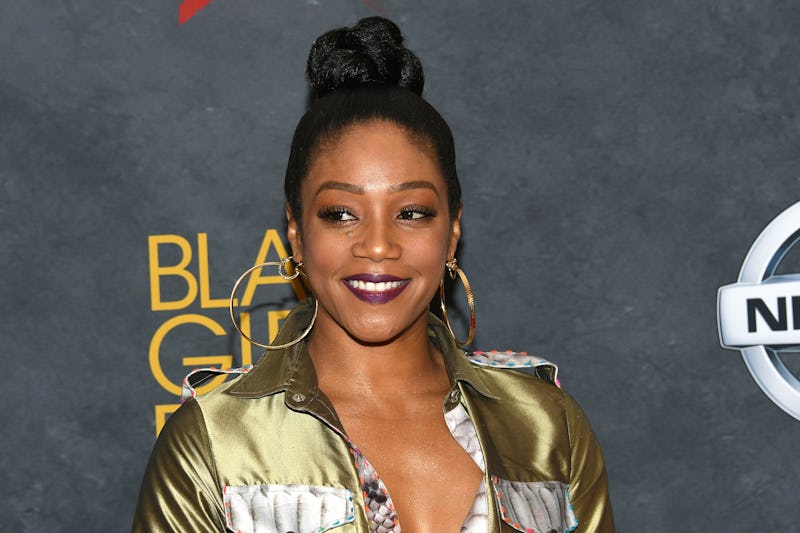 Dia Dipasupil/Getty Images Entertainment/Getty Images
After the epic journey that was Girls Trip, many fans were hopeful that one of its leads might nab an Academy Award nomination. Sadly, that wasn't the case, but Tiffany Haddish's reaction to her Oscar snub is so rational and well-reasoned that it will have you feeling better in no time. Still, whether she's upset or not, this was certainly a missed opportunity to give the 38-year-old actor a nod for her performance. The film was easily one of the most talked about and successful of the year, netting over $140 million in ticket sales, and Haddish's execution of the role of Dina was spot-on.
Her performance could have been the perfect reason for the Academy to change things up; not only by nominating someone from a comedy instead of a drama, but also by giving a nod to a black character who doesn't fit into any of the typical awards-bait categories, which for people of color tend to be given more subservient roles. But at the end of the day, it's the Academy of Motion Picture Arts and Sciences that suffers, not Haddish, and no one speaks that truth better than the actor herself. She told Entertainment Weekly:
"At the end of the day, I'm not that concerned about awards like that. I'm not really into that, I'm more into the job. What's the next job? If the award comes with a check, then I want that award. But if it doesn't come with a check, then I'm not that interested. I'd much rather join NASCAR and get a trophy and a check. [Laughs] Like, I don't have space in my house for this trophy, so I need checks so I can get a bigger house. But I really do appreciate it."
So basically, thanks everyone for the concern, but if you really want to help Haddish out, go buy another ticket to her movie, or put pressure on studio executives to make Girls Trip 2 happen.
But that doesn't mean she doesn't have gratitude for the acclaim that does come her way. In that same conversation with EW, the star expressed gratitude for the praise she received from the New York Film Critics Circle. The NYFCC awarded the Los Angeles native with a Best Supporting Actress win for Girls Trip, and by the sound of it, Haddish couldn't be prouder. She explained,
"That support meant the world to me. I really, really appreciate it. It validated all the hard work I've been doing over all these years. It lets me know that I really am on the right track, people approve of me, the fact that they wanted me to have that award or be nominated means so much and it just makes me want to work harder, so I can continue to entertain the masses."
Essentially, she seems committed to celebrating the wins instead of fixating on the losses, which is an excellent attitude. It just doesn't make it any less of a bummer for Girls Trips' many fans, who would have loved to see a black woman nominated for an Oscar — without having to turn in a role as a mother, slave, maid, or drug addict. It's certainly been a pattern of nominations in the past, albeit one that's been broken on some occasions, like by the film Hidden Figures, for example.
Giving a nomination to a fun-loving, three-dimension, female-friendship-having character, who also happens to be black, feels like an opportunity too good to pass up for an institution long dogged by criticism for its lack of diversity. But turn it down they did, and now no one will ever get to see exactly what would've happened if Haddish read out her own name during the nomination announcements on Jan. 23. That's the real tragedy in this snub right there, that no one got to watch that moment, and no amount of acceptance from Haddish will ever make that sting less.