Tiffany Haddish's 'SNL' Promo Will Make You Even More Pumped For Her Hosting Gig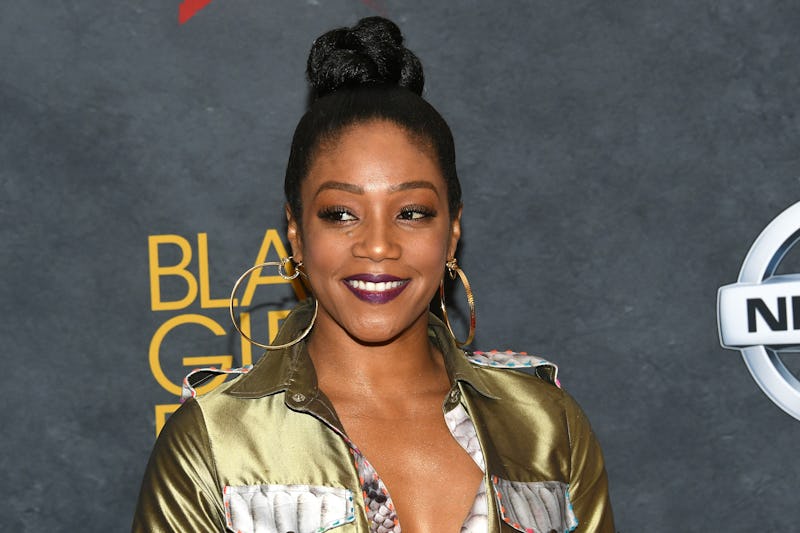 Dia Dipasupil/Getty Images Entertainment/Getty Images
Since the announcement in October, fans can't help but be thrilled knowing that Tiffany Haddish's Saturday Night Live debut is right around the corner. And even though plenty of people weren't too happy about Taylor Swift being the musical guest during Haddish's hosting gig, supporting the Girl's Trip star has never been up for debate. The people want to see Haddish do her thing, and according to Haddish's social media, the comedian can't wait to give the people what they want. And further adding to the buzz surrounding the Los Angeles native's appearance, SNL just released a promo video hinting at just what Haddish plans to bring to the Saturday night audience on Nov. 11.
In the promo released on Nov. 8, SNL alum Aidy Bryant is seen showing Haddish the ropes around the legendary Studio 8H set. The tour seems pretty straight forward — with Bryant pointing out the dressing rooms and the filming studio — until the two come across a big, red button with the words "Do Not Press" written above it. Haddish, being the extreme line-stepper that she is, can't help but be drawn to the button's allure (because, seriously... who could refrain?). And although Bryant is insistent that Haddish refrain from pressing it, her attempts to stop Haddish only made the comedian want to indulge in the temptation that much more.
"It's complicated, but you really can't press that button," Bryant says to Haddish in the clip. To which the Girl's Trip breakout replies, "Aidy, here's something you need to know about Tiffany Haddish, ok? She pushes buttons. Especially one's she's not allowed to push."
Of course, Haddish presses the button, only to realize that the wall trinket not only dims the lights, but also causally "ejects Kyle Mooney from the studio." Hilariously done, the promo was a total hint into what fans can expect from Haddish's SNL debut: She's going to push the comedy envelope, even if it makes some of you uncomfortable. But fans of Haddish can assure you that this is nothing new for the star.
Haddish is known for being unapologetically herself, and, by doing so, she serves as a bit of a refreshing voice within the comedy space. Not only did she garner a ton of fans with her hysterical performance in Will Packer's summer 2017 hit Girl Trip, but the comedian also stole a lot of hearts while on her first Jimmy Kimmel Live! appearance, where she told the most hilarious behind-the-scenes story of her time hanging with Will and Jada Pinkett Smith on a New Orleans swamp. Let's just say, no one will ever be able to mention the famous couple, swamp tours or Groupon in the same sentence without thinking of the breakout celebrity ever again.
Haddish carried that same hilariously candid energy over to her Aug. 16 appearance on The Late Show with Stephen Colbert, making the late night host blush throughout. From explaining what it means to be a "white woman on paper," to detailing her humble beginnings for the studio audience, Haddish showed, once again, why she's a current rising star. Her brutal honesty paired with her sincere smile and infectious laughter is quite the killer combination. And when put into action, she's sure to make even the most rigid of crowds burst at the seams.
Whether you're looking for Haddish to give you the lowdown on grape-fruiting technics, or you're in need of a good laugh, Haddish is certainly the gal pal you could totally use on your side.
Nov. 11 can't possibly get here fast enough, because Haddish is definitely going to bring the house down.