"Tillersoned" Is A Word Now & It Makes Ghosting Seems Nice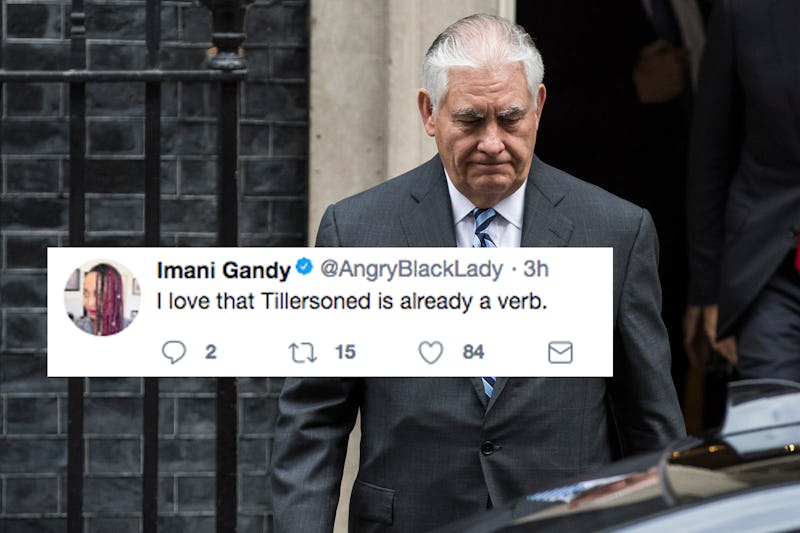 Dan Kitwood/Getty Images News/Getty Images
It's either a very good thing or a very bad thing when your name gets turned into a verb, nothing in between. Former Secretary of State Rex Tillerson is now getting that treatment on Twitter, as "Tillerson" has been turned into a verb — and it's certainly not going to rank among the former Exxon/Mobil CEO's highest achievements.
"I got Tillersoned sophomore year of high school," a Twitter user wrote, giving one example of having been Tillersoned. "She changed her status to single but also got into a public relationship with someone else before I even made it back from debate practice."
The meaning you can derive from that, then, is that "to Tillerson" means to dump someone on social media without giving them any indication that it's happening. This mirrors how Donald Trump fired his secretary of state — by releasing a statement that apparently blindsided Tillerson.
The New York Times reported that White House Chief of Staff John Kelly did warn Tillerson on Friday that he "may get a tweet," but Kelly did not make it clear what exactly that meant. Trump reportedly did not speak with Tillerson directly about the decision, much as the people spilling their guts on Twitter either did not speak to their exes, whether they were the dumpers or the dumpees.