TIME's Trump Cover Raises Serious Questions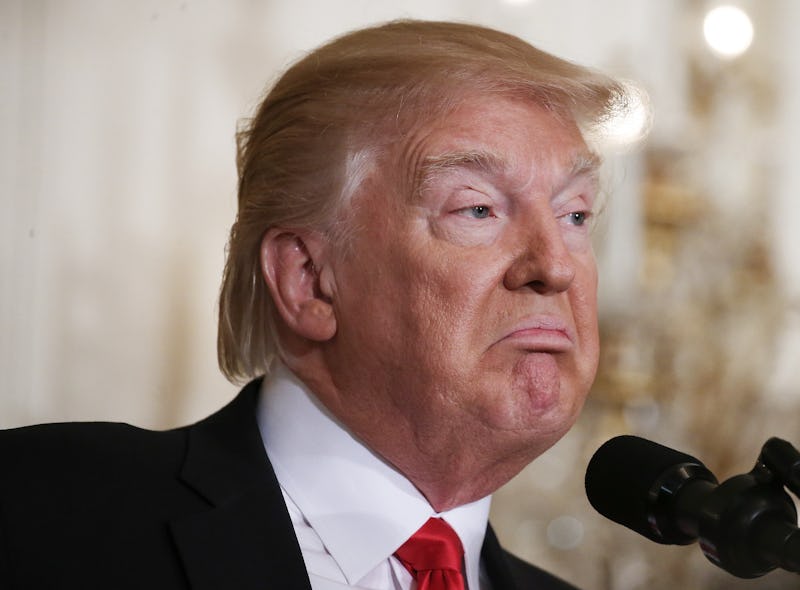 Mario Tama/Getty Images News/Getty Images
Throughout the 2016 campaign, there were little touchstones that (ultimately incorrectly) made me believe that there was no way, there was no way that Donald Trump could win the election. Among these were the minimalist TIME magazine covers of Trump, the first from August and the second from October, showing Trump literally melting. Then Trump won. (And, it should be noted, he was chosen as TIME's "Person of the Year.")
Now, he's being featured again, this time with an animated cover showing Trump sitting at his desk, a storm swirling around him. For those of us on the left, it feels like a dispiriting if accurate depiction of the first few weeks of the administration — the tempest, Trump's ephemeral hair flapping in the breeze, and the words "Nothing to see here," reminiscent of the "This is fine" dog.
But as we get our latest representation of Trump on the cover of TIME, I'm starting to wonder if the story the cover is telling is not simply that his first weeks in office have been turbulent, but that he is, in fact, untouchable. Tim O'Brien, the Brooklyn-based artist of the piece, said his prompt from TIME was "Trump in a storm." More importantly, I think, is that Trump seems entirely unaffected by it.
While TIME's covers striking out against Trump — and the journalism that has gone along with it — have felt good, others have noticed that, especially with Trump's victory, there's a strange narrative unfolding between the president and what might be considered the nation's last printed news magazine (you may recall that Newsweek ceased printing operations in 2012). As German Lopez wrote in Vox, looking at the three Trump covers from the latter half of 2016 tells a fairly dark story.
And the story isn't just about Trump and TIME — it's about the entire enterprise of the media. Time and time again throughout the campaign, scandals that would have sunk anyone else seemed to slide right off of Trump. Even though people around him have started to fall, with his national security advisor resigning on Monday and his nominee for Labor Secretary withdrawing from consideration on Wednesday, Trump appears to be unwavering. Even Thursday's bizarre, unrelentingly imaginative press conference showed Trump to be just as sure of himself as ever.
The real question will end up being how long the Republicans in Congress will wait before taking action. Though we've seen more cracks in the GOP's unity around Trump's presidency in the last week or so, we're still a long way off from Republicans giving up on their dreams of dominating both the executive and legislative branches of the government. I can only imagine that Trump will test that resolve.