The Most Insane Quotes From Trump's Latest Presser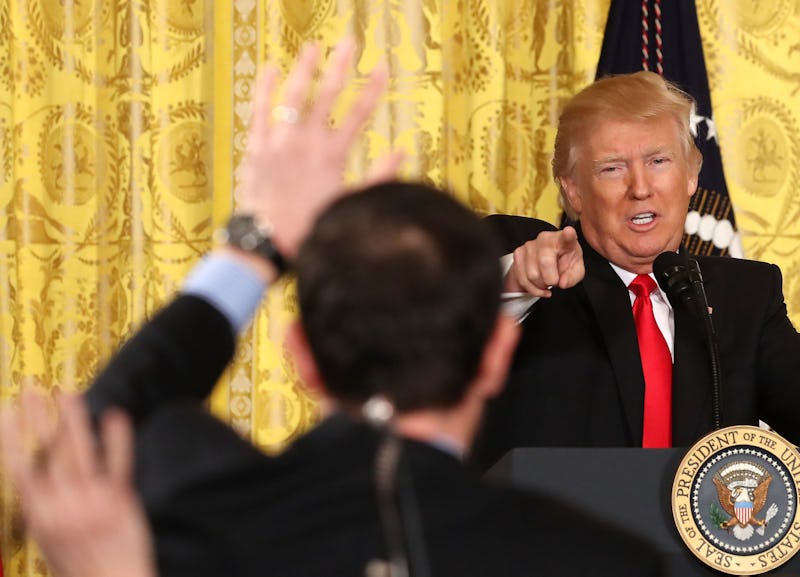 Mark Wilson/Getty Images News/Getty Images
Donald Trump's press conference on Thursday was one of his strangest yet. He argued with reporters, attacked the press, and even blamed Delta Airlines for some of his administration's early struggles. As I watched, I felt my jaw drop lower and lower as Trump said crazier and crazier things. From contradictions to conspiracy theories to literally just saying things that weren't true, the presser felt like a new level of mania from a president whose first four weeks at the tiller have been gut-churning. I've selected the top bizarre, irreconcilable, ridiculous moments from Trump's presser. You might want to pour yourself a drink first.
It's worth noting before we dive in that the purpose of the presser was to announce Trump's new nominee for Labor Secretary, Alexander Acosta, who was selected after Trump's first pick, fast food CEO Andrew Puzder had to withdraw his nomination. But the focus of the hour-long press conference definitely wasn't on either Acosta or Puzder; instead, the reporters pressed upon the other major problems plaguing the nascent Trump administration, including attempting to get a straight answer on Russia and asking for more information on the failed Muslim travel ban. In the end, it was a strange, strange conference. Here are the best, worst, and most insane bits.
Trump Claimed He Had The Biggest Electoral College Win Since Reagan
Amazing because of its audacity and easy fact-checkableness, a reporter was able to follow-up on this within the same press conference. Trump's response: "I was given that information."
Hillary Clinton Was Mentioned More Often Than His Own Labor Secretary Nominee
Donald Trump defeated Hillary Clinton and became the President of the United States, but the way he talks about it, he's still in the trenches. He brought her up in response to Russia, Wikileaks, and, of course, her e-mails. But strangest of all was his repetition of an unproven story that she gave 20% of American uranium to the Russians:
We had Hillary Clinton give Russia 20 percent of the uranium in our country. You know what uranium is, right? This thing called nuclear weapons like lots of things are done with uranium including some bad things.
By the end of it, Clinton had more screen time than Acosta.
But You Know Who's Real Nice? Putin.
Trump was all a-flutter like a teenage girl talking about getting a phone call from her crush:
President Putin called me up very nicely to congratulate me on the win of the election. He then, called me up extremely nicely to congratulate me on the inauguration, which was terrific.
I'm just going to leave this here:
Joked (?) That He Made Sure His New Labor Secretary Nominee Wasn't Related To CNN's Jim Acosta
It's hard to choose which reporter Trump seems to have the most acrimonious relationship with, but it may very well be CNN's Jim Acosta, who, you may have noticed, shares a surname with Trump's new pick for Labor Secretary.
TRUMP: And you're not related to our new...
ACOSTA: I am not related, sir. No. I do like the sound of Secretary Acosta, I must say.
TRUMP: I looked — you know, I looked at that name. I said, wait a minute, is there any relation there? Alex Acosta.
ACOSTA: I'm sure you checked that out, sir.
TRUMP: OK. Now I checked it — I said — they said, "No, sir." I said, "Do me a favor, go back and check the family tree."
All in good fun, right? Note that this is just after Trump upgraded CNN from fake news to "Very fake news," so maybe joshing about Acosta's family tree right after calling him dishonest isn't the chummy banter you were looking for.
Trump Said Mike Flynn — Who He Forced To Resign — Didn't Do Anything Wrong
How to get from "Why did you fire Mike Flynn" to "YOU GUYS MADE ME DO IT" in two small paragraphs:
Mike Flynn is a fine person, and I asked for his resignation. He respectfully gave it. He is a man who there was a certain amount of information given to Vice President Pence, who is with us today. And I was not happy with the way that information was given. He didn't have to do that, because what he did wasn't wrong — what he did in terms of the information he saw. What was wrong was the way that other people, including yourselves in this room, were given that information, because that was classified information that was given illegally. That's the real problem.
He's Also The "Least Anti-Semitic Person You've Seen In Your Entire Life"
In a very strange and testy exchange with a Jewish reporter from Ami Magazine, in which the reporter attempted to ask about an uptick in anti-Semitic events in the past few weeks, Trump trampled over the question and decided to pick a fight with him.
Sit down, I understand the rest of your question. So here's the story, folks. Number one, I am the least anti-Semitic person that you've ever seen in your entire life. Number two, racism. The least racist person, in fact we did very well, relative to other people running as a Republican.
What is this, I can't even.
By the way, guess what this least racist person did later on in the press conference?
He Asked A Black Journalist If She Was "Friends" With The Congressional Black Caucus
This may be the most outrageous exchange in a very outrageous press conference. Here's Trump talking with reporter, April Ryan.
RYAN: Are you going to include the Congressional Black Caucus and the Congressional Hispanic Caucus — ?
TRUMP: Well, I would, I'll tell you what, do you want to set up the meeting?
RYAN: No, no, no, I'm just a reporter —
TRUMP: Are they friends of yours? Set up the meeting.
This one makes me so mad I can't even explicate it, but fortunately the Congressional Black Caucus was quick with their response:
As I scrape my brains that have been splattered across the information superhighway, I feel like perhaps the most effective thing I can do is start a Kickstarter where people can chip in to buy the members of the White House Press Corps very expensive glasses of whiskey.