Timothée Chalamet Is Donating His Salary From Working With Woody Allen To #TimesUp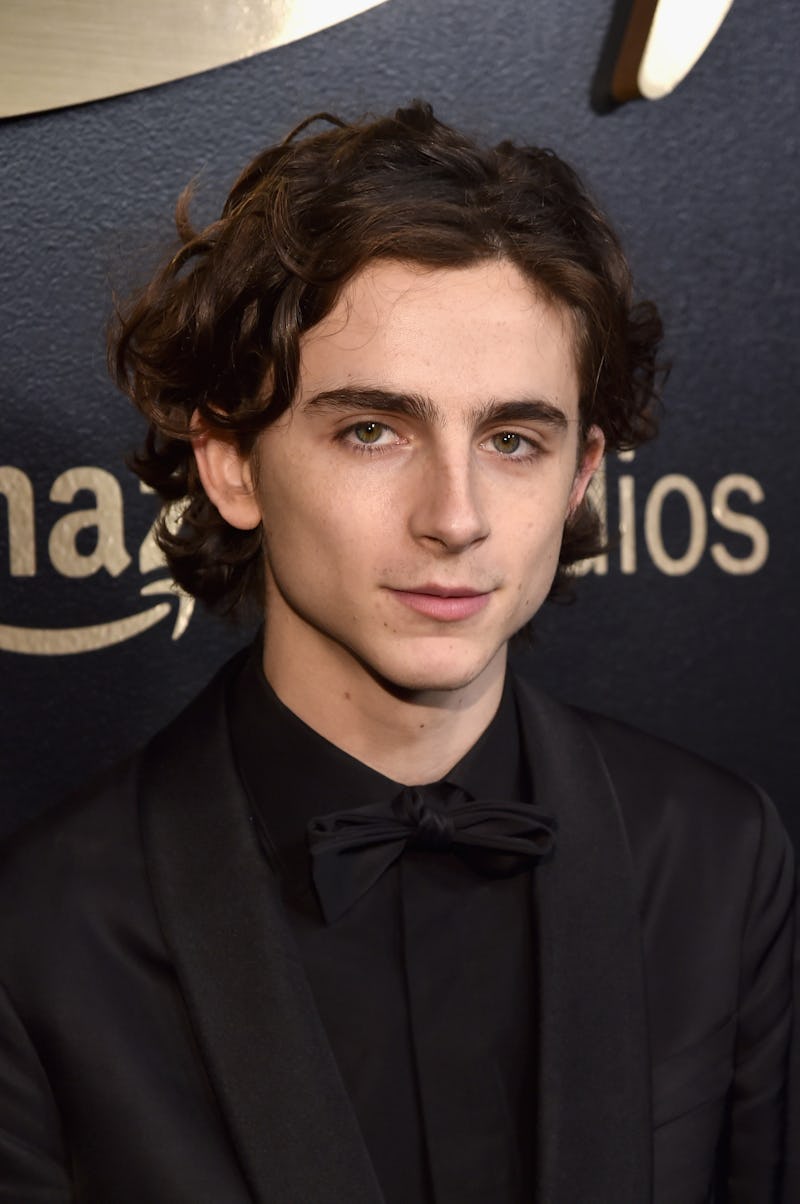 Alberto E. Rodriguez/Getty Images Entertainment/Getty Images
At a time when so many actors are being called into question for working with Woody Allen after Dylan Farrow's sexual assault allegations against him, some stars are deciding to take action. On Monday night, Timothée Chalamet released a new statement on Allen and announced he will donate his salary from working with the director to the #TimesUp movement, as well as other organizations, following in co-star Rebecca Hall's footsteps.
During the reckoning that has been happening in Hollywood over the past several months, Farrow's claims against Allen have come back into the spotlight. In 2014, she published an open letter in The New York Times accusing her adopted father of molesting her as a child (the director denied her claims in his own piece in the New York Times).
Now that sexual assault and abuse allegations have become the center of conversation in Hollywood, stars who have worked with Allen are being held accountable for their decision, including Chalamet, who will star in Allen's film A Rainy Day in New York alongside Selena Gomez and Jude Law.
Chalamet has shared his stance on the topic in a lengthy Instagram post, and it seems like the major shift in Hollywood that's moving away from turning a blind eye to assault and misconduct allegations has made him reconsider his choice to work with Allen.
According to what Chalamet said in his post, it sounds like his decision to work with Allen was made purely on the fact that he wanted to emulate actors who he admired, but going forward, he wants to ensure that the roles he takes don't hurt someone else.
He wrote:
I have been asked in a few recent interviews about my decision to work on a film with Woody Allen last summer. I'm not able to answer the question directly because of contractual obligations. But what I can say is this: I don't want to profit from my work on the film, and to that end, I am going to donate my entire salary to three charities: Time's Up, The LGBT Center in New York, and RAINN. I want to be worthy of standing shoulder to shoulder with the brave artists who are fighting for all people to be treated with the respect and dignity they deserve.
Bustle has reached out to a rep for Chalamet for additional comment.
Already, fans are applauding Chalamet's statement. So many have already taken to Twitter to praise the actor for his donation, with several fans relieved to find that he refuses to support Allen any further:
Chalamet is still young at 22 years old, and his career has only recently blown up after starring in Call Me By Your Name and Lady Bird, so he's probably just getting used to the attention his talent has recently commanded. Of course, it's disappointing to find out that one of your new favorite stars has worked with someone accused of sexual assault, but it's also important to keep in mind that people can change after they have all the information about a situation. The way Chalamet is responding to Allen's allegations shows that he's taking the situation seriously.
Chalamet and Hall aren't the first to take a stand against Allen. Last week, Greta Gerwig said she "regrets" working with him in the past and promised that she would never work with him again, while Mira Sorvino issued an apology to Farrow for starring in Allen's 1995 movie Mighty Aphrodite, which earned her an Academy Award.
What stars like Chalamet are doing is setting a great example of supporting the women in Hollywood as they speak out against sexual assault, whether Allen was involved in their case or not.
If you or someone you know has been sexually assaulted, call the National Sexual Assault Telephone Hotline at 800-656-HOPE (4673) or visit online.rainn.org