Rebecca Hall Donated Her Salary From Woody Allen's Movie To #TimesUp & Twitter Is So Proud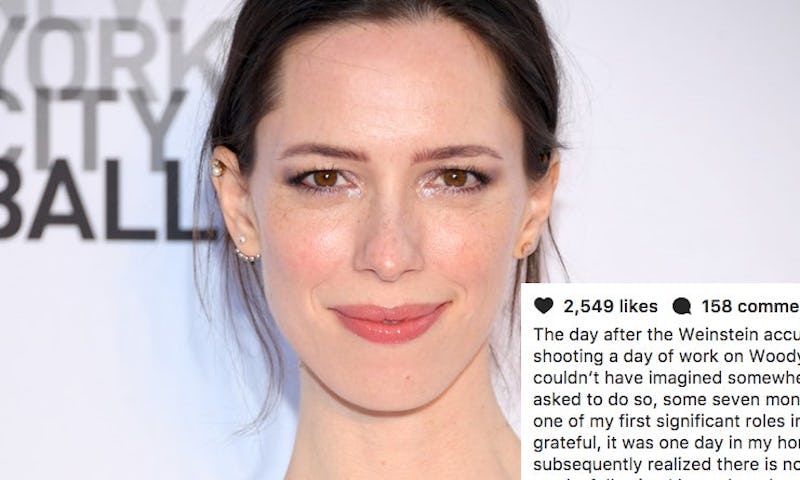 Dimitrios Kambouris/Getty Images Entertainment/Getty Images; Rebecca Hall/Instagram
The list of celebrities who have been criticized for their decision to work with controversial director Woody Allen seems to be ever-growing, but one star is expressing her regret for appearing his latest film in a major way. Rebecca Hall donated her salary from Allen's movie to Time's Up, and fans on social media couldn't be more proud of her decision.
Hall previously starred in Allen's 2008 film Vicky Cristina Barcelona, and she's also set to appear alongside Timothée Chalamet, Selena Gomez, Elle Fanning, and Jude Law in the director's upcoming film, A Rainy Day in New York. The actor announced her decision to donate her salary from the film on Friday evening via a lengthy Instagram post. In the caption, Hall admits how strange she felt being on set for the film on the same day that the Harvey Weinstein sexual assault and misconduct allegations broke. (Weinstein has denied all reports of nonconsensual sex through a spokesperson.)
Hall also notes that she re-evaluated her decision to appear in the film after reading "and re-reading" statements from Allen's daughter, Dylan Farrow, who has previously accused the director of allegedly sexually assaulting her when she was 7 years old. Allen has repeatedly denied Farrow's allegations.
Hall wrote of her decision to work with Allen:
"I see, not only how complicated this matter is, but that my actions have made another woman feel silenced and dismissed. That is not something that sits easily with me in the current or indeed any moment, and I am profoundly sorry."
She wraps things up by revealing that she donated the money she made working on the film to Time's Up, the anti-harassment initiative backed by hundreds of the most powerful women in Hollywood, including Reese Witherspoon, America Ferrera, Shonda Rhimes, and Natalie Portman. Hall continued,
"It's a small gesture and not one intended as close to compensation but I've donated my wage to @timesup. I've also signed up, will continue to donate, and look forward to working with and being part of this positive movement towards change not just in Hollywood but hopefully everywhere. #timesup."
Time's Up promises to not only end sexual assault and harassment in Hollywood, but across all industries, as the organization also provides legal help to any sexual assault or harassment survivors in need of legal representation.
Hall's announcement comes right off the heels of Mira Sorvino and Greta Gerwig's earlier statements promising to never work with Allen again. Sorvino apologized to Dylan for working with Allen on Wednesday in an open letter published by The Huffington Post. The 50-year-old actor worked with Allen when she appeared in the 1995 film Mighty Aphrodite, for which she later earned an Academy Award for Best Supporting Actress.
Gerwig revealed in an interview with The New York Times this week that she also regrets her decision to work with Allen in the past on the 2012 film, To Rome with Love. The Lady Bird director said,
"If I had known then what I know now, I would not have acted in the film. I have not worked for him again, and I will not work for him again. Dylan Farrow's two different pieces made me realize that I increased another woman's pain, and I was heartbroken by that realization."
After Hall announced the news of her donation on Instagram on Friday night, fans took to social to media to express how elated they were with her decision.
As a result, many users are also calling on the rest of her castmates, specifically the men in the film, to do the same.
At this point, a handful of celebs have come out and denounced Allen, showing that the industry could finally be at a turning point. Hopefully soon enough down the road, the Time's Up movement gains the momentum it needs for some much-needed changes to take place across the board.
If you or someone you know has been sexually assaulted, call the National Sexual Assault Telephone Hotline at 800-656-HOPE (4673) or visit online.rainn.org.