Tina Fey Wants You To Eat Sheet-Cake In The Name Of Crushing Neo-Nazis
by Priscilla Totiyapungprasert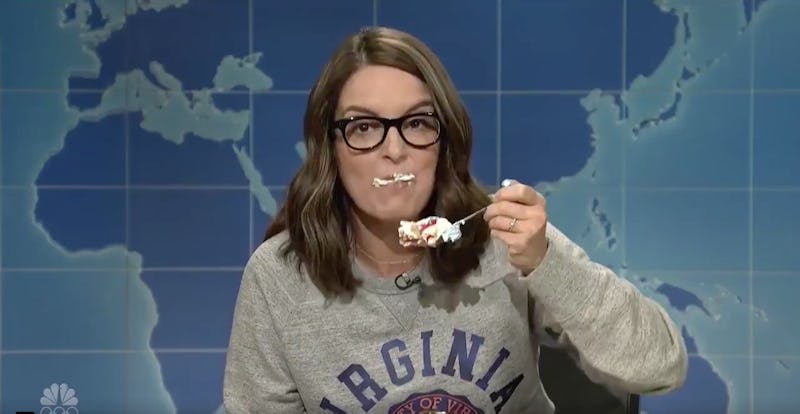 'SNL Weekend Update'/ NBC
It was alumni day at Weekend Update: Summer Edition this week, and three former Saturday Night Live cast members participated to take on the recent Charlottesville tragedy. First, late-night hosts Jimmy Fallon and Seth Meyers appeared as Founding Fathers George Washington and Thomas Jefferson rising from the dead to defend themselves against Trump's comparing them to Confederate general Robert E. Lee. (The removal of Lee's statue in Charlottesville, Virginia, was sparked a violent white supremacist protest on Saturday.) When it was Tina Fey's turn at the Weekend Update desk, the comedian gave us a perfect alternative to participating in a screaming match: Eat a sheet cake.
"Sheet-caking is a grass-roots movement. Most of the women I know have been doing it once a week since the election."
The University of Virginia alumna, speaking with hosts Colin Jost and Michael Che, said it broke her heart to see "evil forces descend upon Charlottesville." The violent events in Charlottesville resulted in one death and 19 more injured after a 20-year-old neo-Nazi from Ohio drove his car into a crowd of counter-protesters, police said. Fey joked she wouldn't mind seeing drag queens physically interrupt future protests by the radical right before adding that at the same time, she doesn't want to see any more good people getting hurt. Then, Fey shared some interesting advice for Americans tempted to start a shouting match with someone who disagrees about the violence in Charlottesville:
I would urge people this Saturday, instead of participating in screaming matches and potential violence, find a local business you support, maybe a Jewish-run bakery or an African-American-run bakery, order a cake with an American flag on it, and just eat it.
Fey then proceeded to whip out a frosted sheet cake straight from your elementary school party dreams and dug in. "Sheet-caking is a grassroots movement," she said in between shoveling cake in her mouth. "Most of the women I know have been doing it once a week since the election."
As Fey continued to devour cake, she gave some choice words on responding to racist protesters: Next time you see "a bunch of white boys in polo shirts screaming about taking our country back," remind them that we stole it from the Native Americans, who police shoot with rubber bullets when they protest peacefully at Standing Rock. Meanwhile, neo-Nazis march through the streets of Charlottesville with assault weapons.
But in seriousness, Fey called on all "good, sane Americans" to respond to such hate rallies by ignoring them and letting the haters scream into empty air. She also criticized Trump for his blaming the violence on "both sides," saying Trump would be the first one to take down a monument if he could build condominiums in its place.
"I love you Charlottesville," she declared in her last words, "and as Thomas Jefferson once said, 'Who's that hot, light-skinned girl over by the butter churn?'"